Top 5 Health and Wellness Blogs by Traffic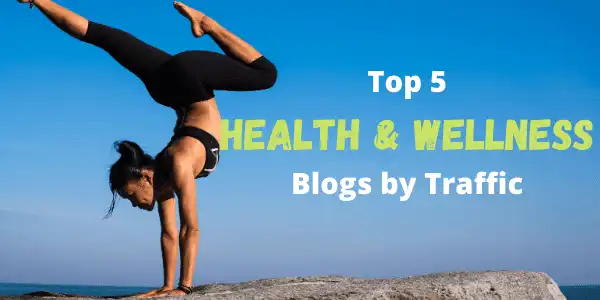 The health and wellness industry is challenging for many reasons.
There's a lot of misinformation on the internet, and readers may be hesitant to trust a new blog with limited content. It's also a competitive industry, so you'll have to work hard to make your site successful.
However, don't be discouraged because the health and wellness industry is booming. A successful health and wellness blog is possible if you have the right strategy and hire writers who can help.
In this guide, we'll rank and analyze the top health and wellness blogs on the internet. We chose these sites based on their relevance within the health and wellness niche, their site traffic according to SimilarWeb, and the unique information they offer regarding content strategy.
Let's get started.
What is a health and wellness blog?
"Health and wellness" is somewhat vague, but for the purposes of this guide, a health and wellness blog is a site that features content relating to health and wellness topics, such as:
Exercise programs and trends

Diets

Vitamins

Trends in medicine

Mental health

Physical health

Therapy

Diseases and illnesses

Healthy lifestyle

Nutrition

Drug and alcohol addiction

Yoga

Meditation
It's a wide variety of topics, and the niche isn't limited to this list. Our goal, however, is to provide a variety of health and wellness blogs to offer as much information as we can regarding content strategy and building organic traffic for your blog.
Though these blogs differ in many ways, they all have a solid content strategy that helps drive traffic.
1. WebMD

WebMD is arguably the most popular, trusted site for medical advice and information.
They organize their content by topic and it's written by medical professionals with sources and statistics to back up important claims.
Readers visit WebMD to find information about their medical symptoms, standard treatment protocols, community support, expert commentary, and more.
The site has won awards for its content and expertise.
How to Copy the WebMD Content Strategy:
WebMD is a fierce competitor in the health and wellness world, and you can certainly learn a thing or two by copying their content strategy.
First, remember to back up any of your claims with credible sources. You need to position yourself as an authority in the health and wellness space, and readers may balk at your content if you don't support your claims.
Second, hire a credentialed medical professional to help with content. This may not be possible for everything you post, but even the occasional expert post helps create a trust between you and your readers, positioning your blog as an authoritative source of information.
2. Harvard Health Blog
The Harvard Medical School publishes and maintains a blog about health and wellness topics. Contributors include licensed medical professionals and community members.
The blog covers a wide range of topics, and content varies from authoritative pieces to personal essays and everything in between.
How to Copy the Harvard Health Blog Content Strategy:
The Harvard Health blog mostly relies on one strategy: providing solid health-related information.
The site doesn't have a lot of bells and whistles. In fact, it's rather plain and boring aesthetically. But it's chock full of useful information, and the content is written well by a mixture of industry experts and experienced readers.
To copy this content strategy, let your blog's readers contribute to the content you offer. Readers appreciate hearing from other people with similar stories. Of course, you'll need to provide sources and research to back up your facts, but that's a general guideline you should follow with any content.
3. MyFitnessPal Blog

MyFitnessPal is one of the most popular fitness and nutrition sites on the web. Their calorie tracking app is incredibly popular in the health and wellness community, and their blog features a variety of tips regarding diet, nutrition, and physical activity.
The writers on MyFitnessPal come from a variety of backgrounds. Most are simply health and fitness enthusiasts who work as professional writers.
How to Copy the MyFitnessPal Content Strategy:
MyFitnessPal has a strong sense of community. The website, app, and blog all have a supportive atmosphere that aims to help readers achieve their health and fitness goals.
The topics on the MyFitnessPal blog trend towards helpful, actionable information. Readers here aren't looking for the latest health news or diagnoses. They want motivation and resources to help them lose weight, get in shape, or maintain a healthy lifestyle.
To copy this strategy, position yourself as a helpful cheerleader for your readers. Offer tips and tricks to help them achieve their goals, and offer support when they need it. You can hire a small team of writers to provide a wealth of content to keep readers coming back for more.
4. Articles on Health | Dr. Joseph Mercola
Dr. Joseph Mercola founded Mercola.com; he's one of the leading "natural health" experts in the world.
Articles on Health is rather controversial within the medical community. Mercola offers opinions and advice regarding every aspect of natural health, and he's regularly attacked by others within the medical community.
Still, he runs one of the most well-known health and wellness blogs on the internet. Most of his information isn't that far-fetched, but it clashes with some advice from reputable organizations like the FDA.
How to Copy the Articles on Health Content Strategy:
Alternative or natural health and wellness blogs have a harder battle than most. Because there's limited information available about alternative or natural health, it's often more difficult to build a solid reputation as an authoritative source.
Dr. Mercola combats this problem by offering sources for many of his claims. He also includes a "fact-checked" stamp on each piece of content he publishes.
To make the information easier to read, Mercola includes a short summary of bullet points at the beginning of each post.
You can follow a similar method for your own site, whether you focus on alternative medicine or not. Readers love scannable content, and Mercola's site offers a lot of it. 
5. Wellness Mama

The Wellness Mama blog is an "online resource for women and moms who want to live a healthier life."
The site covers a variety of topics, including natural living, home and garden, travel, and more.
Most of the blog's content is written by a team of professional writers who consult a medical review board of doctors and advisors as needed. The information is fact checked and written for the "average" mother who is simply interested in improving her child's overall health.
How to Copy the Wellness Mama Content Strategy:
If you want to copy the Wellness Mama content strategy, you'll need to blend a bit of two worlds: parenting and health.
The topics on Wellness Mama revolve around the life of a woman who is striving to make her children's lives better through natural living.
The site's aesthetic is relaxing and peaceful, and content is organized by topic with large featured images to help readers find what they need. Topics include recipes, tips, advice, and information about natural living.
This strategy is fairly easy to mimic. Make sure your content is easy to scan and presented in a clean, organized format. Offer a variety of topics to keep readers interested, but relate all your content back to one single goal (e.g. moms who want to transition to natural living).
How to Increase Organic Traffic for Your Parenting Blog
Your health and wellness blog is unique, so your content strategy needs to be unique, too.
To increase conversion rates and improve organic traffic, you'll need a content strategy that draws readers to your site and ranks high in Google search results.
Studies show that most readers use Google to find information.
If you want to rank in the top results, you'll need a strong understanding of SEO and keyword strategies.
You may need to pivot your overall approach to make this happen, but the results will be worth the effort.
Achieve Your Organic Traffic Goals With Scripted
If you're not up for the challenge, contact Scripted for help.
Our platform features a team of writers who work with you through every stage of the content creation process.
You can post a request for proposals or browse through a list of writers who specialize in the health and wellness industry. Once you find a writer, they'll create the content you need, and you'll have the opportunity to request revisions before the final draft is complete.
Once you find writers who fit your needs, add them to your list of favorites. You can hire them again for your next project.
The writers on Scripted are industry experts who know how to write content that sells. They understand SEO, and the content they create can help increase your organic traffic and boost your conversions.
If you need help creating content that draws traffic, Scripted can help.
Search for a health and wellness writer now to get started.