10 Best Transportation and Logistics Blogs on the Web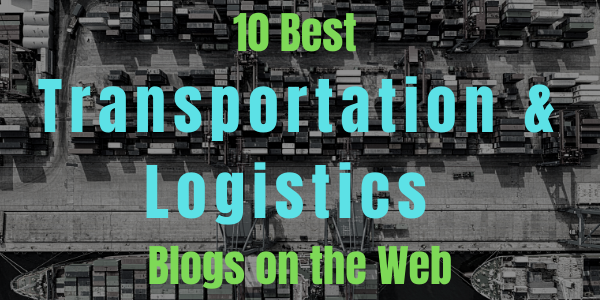 The transportation and logistics industry continues to grow at astounding rates. Despite other areas of the market slowing down, the need for T&L services has never been greater as more people shop from home and the increasing desire for fast shipping remains unstifled. This news represents major opportunities for T&L companies, but managing a blog in this space isn't always easy.
While the company behind a T&L blog may be poised for growth, coming up with unique and insightful content that will attract readers (and potential clients) is by no means a simple process. A content strategy is crucial to success, but how do you go about creating and executing one? If you don't know where to begin, look to these ten blogs for inspiration.
What Defines a Transportation and Logistics Blog?
The world of transportation and logistics continues to grow. Most T&L blogs are backed by companies that offer services in the industry, and the niche that a company falls into will influence the type of content they're publishing.
For instance, a software company providing a platform for T&L management will tailor its content towards logistics companies and their pain points. Meanwhile, a company that offers logistics services for small businesses will not only look to explain the T&L industry to those who may be new, but they may also branch out to cover other topics small businesses care about -- like saving money on shipping and choosing a carrier.
Regardless of where your T&L blog falls, what matters is that you're working to offer the best content you can. That means topics that interest readers, posts that are optimized for keywords, and a design that makes users want to stick around. Here's a look at the ten best T&L blogs to give you some inspiration.
#1 Ryder

As a major logistics company, Ryder's blog is already positioned as an authority in the industry. As a company, they've invested in offering top-quality content that ranges from case studies to road safety and more. Content is aimed at both potential clients and drivers, helping Ryder cement its position as a thought leader.
#2 Flock Freight

Flock Freight covers a number o
f topics that both carriers and shippers care about. From using an online bidding system to freight tracking, sustainability, and emerging technology, the brand has invested the time and energy into creating a content strategy that engages readers, attracts potential clients, and offers valuable information -- all while targeting keywords.
#3 Truck News

Truck News offers content on human resources, business management, health/safety, equipment, and more. As a significant industry source, Truck News knows its audience and has made the investment to be a go-to informant for drivers, trucking companies, and shippers.
#4 DAT

DAT's freight and analytics insights are simply unmatched in the industry. One thing that has helped make DAT an authority in transportation and logistics is having its finger on the pulse of new trends and changes in the industry, helping inform business decisions at every level. Carriers, brokers, and shippers come to DAT for numbers they can trust.
#5 Fleet Owner

A niche blog in the industry, Fleet Owner focuses its content on the people who own trucking fleets. Aside from the basics, like maintenance advice and end-of-year recaps, Fleet Owner branches out to explore impactful regulations, safety considerations, sustainability, and management principles. Anyone who owns or operates a trucking fleet is sure to know Fleet Owner.
#6 Forto

At a glance, Forto may not feel like a transportations and logistics blog, but this modern brand is deeply engrained in the industry. Their global logistics solutions, which include air, rail, and sea transport options, have helped countless companies get their shipments from point a to point b. The Forto blog offers unique insights to clients and potential clients, with advice for covering shipping surges, gaining visibility into the supply chain, and more.
#7 FreightPros

NTG brings you the FreightPros blog, where readers can learn about Bill of Ladings and other technical lingo while exploring different types of shipping services, guarantees, and the solutions that NTG offers. FreightPros is a master of content marketing as they know exactly what keywords to target and how to tie every post back into their business' core offerings.
#8 American Trucker

American Trucker talks driverless trucks, smart technology, and the future of the industry as they seek to reach an audience of drivers. By targeting those behind-the-wheel, American Trucker discusses regulations, advice, policies, and more to help truckers get more out of their day while remaining in compliance with the latest laws, like ETL regulations. The brand does an especially good job at taking legal or technical topics and breaking them down.
#9 Green Fleet

Green Fleet has carved out a niche for itself. With a focus on sustainability in the T&L industry, Green Fleet has grown to be a trusted source for information about biofuel, clean diesel, electric, hybrid, and other green trucks and strategies.
#10 Logistics Management
The Logistics Management blog is accompanied by a professional podcast, which routinely interviews experts to explore supply chain transformation, recovery, and other pressing topics. With input from big companies and thought leaders, Logistics Management gives businesses better insight and guidance on managing their logistics.
Increase Organic Traffic to Your Transportation and Logistics Blog
Are you trying to increase organic traffic to your T&L blog? Do you feel stuck or like you have no idea where to start? Scripted can help. With our writing services, countless businesses have taken their blogs from a place of stagnancy and put them on the path to sustainable growth. Just browse our database of transportation and logistics writers to see how we can help you create and execute a content strategy that brings results.

---
Published by
Carolyn Heard
on Tuesday, May 11, 2021
in
Blogs
,
Logistics
,
Transportation
,
American Trucker
,
Dat
,
Fleet Owner
,
Flock Freight
,
Forto
,
Freight Pros
,
Green Fleet
,
Logistics Management
,
Ryder
,
Truck News
.