10 Best IT & Security Blogs on the Web for Content Writers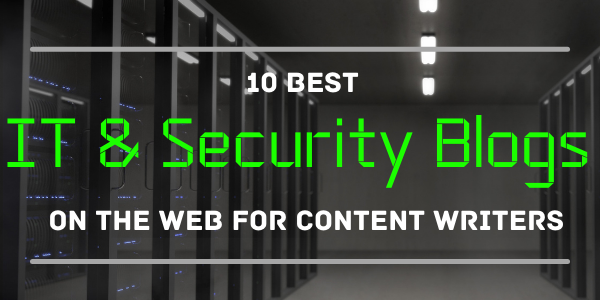 With so much new tech, threats, and trends, creating content for an IT & Security blog can be a challenge. While there's no shortage of information out there to write about, it can be challenging for those in charge of producing content for IT & Security blogs to get a handle on what they want to cover and how best to do it.
Struggling to come up with content for your IT & Security site? Look to these ten blogs for inspiration.
#1 NordVPN
Known for marketing their VPN services across the web, NordVPN offers countless business solutions to help boost security. On the blog, Nord shows that they know their market. With a mix of both individual and business users, Nord's blog seeks to educate readers about VPN services and general security practices.
Nord does a good job keeping its content short and easily digestible. They display a "time to read" alongside the publication date of every article, with most posts averaging just 3 to 5 minutes. Great examples include:
#2 McAfee

McAfee is a well-known computer security software, and their blog helps them reach potential customers of all backgrounds. Neatly organized into "Consumer," "Enterprise," and "Corporate" sections, along with other sections for product updates and news, McAfee helps users locate the content that's most relevant to them.
With the right categorization, McAfee also helps keep high-level content out of the eyes of consumers, who may be overwhelmed with the lingo, protocols, and analytics that don't apply to their personal usage of McAfee. Great examples include:
#3 ZDNet
A clean, dark color scheme ensures ZDNet's content is presented in an appealing, on-brand manner, but the quality of the content truly speaks for itself. Countless categories help readers navigate directly to what they care about, while the main page slider shows off the latest posts followed by trending and recent articles.
While ZDNet has no shortage of ads, they're kept relevant, interesting, and out-of-the-way of reading so as not to annoy visitors. Great examples include:
#4 Journey Notes by Barracuda
Journey Notes, Barracuda's Blog, is a corporate blog that has helped Barracuda build up their employer brand, attract top talent, and discuss its accomplishments as one of the largest security companies.
Barracuda also covers interesting headlines in the world of business, IT, and security, offering insight you won't find elsewhere. Great examples include:
#5 ThreatPost
Offering the latest in security threats and news, ThreatPost has carved out a niche that attracts consumers and businesses alike. The interesting headlines help businesses stay on top of the latest potential security flaws while consumers get news about class action lawsuits and threats that may impact them in their personal lives.
Great examples include:
#6 SecurityTrails
SecurityTrails offers its own APIs and tools to improve security practices for businesses big and small. On the SecurityTrails blog, the company seeks to engage readers and potential customers with the latest product updates, tips and tricks for using SecurityTrails products, and more.
The blog's clean design keeps things organized, and it's highly visual, putting a focus on each post's featured image. Those images are extremely well done, featuring text and graphic elements that give off a highly professional vibe. The top of the blog brings emphasis to the current featured post, with the most recent articles beneath it. Great examples include:
#7 Wired.com
Many people turn to Wired for the latest in tech news, but the blog has deep roots in the world of IT and security. Offering the latest news and updates regarding cybersecurity, smart tech, and more, Wired is known for making technical topics interesting and attracting a reader base that spans all age groups and backgrounds.
Great examples include:
#8 StationX
StationX is dedicated to the topic of cyber security, so the niche content focuses on trends in security, reports on the latest threats, and software to help teams and individuals improve their security practices.
Great examples include:
#9 Krebs on Security
Krebs on Security lives up to its motto of "in-depth security news and investigations". From the latest in court decisions regarding data leaks and hacks, to reports on phishing schemes and emerging fraud, Krebs is an authoritative source for detailed, trusty information.
Great examples include:
#10 Security Magazine
Security Magazine's blog is unique, as it not only addresses cyber security and IT implications, but actually covers all different types of security infrastructure, like cameras, guards, and alarms. In the cyber security section, Security dives into stories of data loss, new tech, and the latest on popular application weaknesses and breaches.
Great examples include:
Get Better Content for Your IT & Security Blog
Your IT & Security blog needs to stay on top of the latest trends without simply regurgitating the news and ideas of others. However, coming up with unique insights is a challenge, especially if you already have a lot on your plate. If you need help adding engaging content to your blog to increase organic traffic, Scripted can help.
Browse Scripted's database of IT & security writers today and get your blog on the track to growth.

---
Published by
Carolyn Heard
on Tuesday, April 20, 2021
in
Blogs
,
It
,
Security
,
Journey Notes By Barracuda
,
Krebs On Security
,
Mc Afee
,
Nord Vpn
,
Security Magazine
,
Security Trails
,
Station X
,
Threat Post
,
Wired.Com
,
Zd Net
.