10 Best Home & Garden Blogs on the Web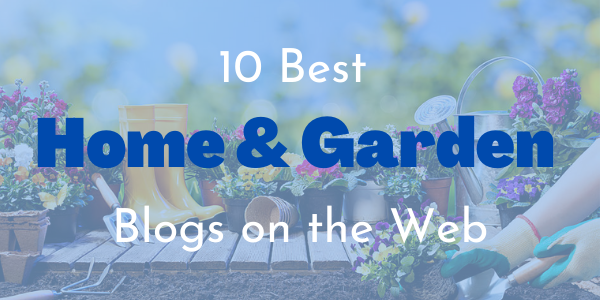 The events on 2020 caused a huge spike in the home and garden industry. With so many people working remotely in our new world, home improvement projects are a top priority for many. If you're trying to fill a home and garden blog with a steady stream of great content, look to these 10 blogs for inspiration.
#1 Apartment Therapy

A youthful home and garden blog focusing specifically on apartment living, Apartment Therapy is a top source for industry trends. From the latest in interior design to reviews of handy home gadgets, smart tech, and more, Apartment Therapy is a routine read for countless loyal visitors. The audience skews young, and Apartment Therapy furthers builds its community by bringing attention to pressing matters, like the call for equality for the AAPI (Asian-Americans and Pacific Islanders) community.
Examples of great content include:
#2 Plant Talk

The Plant Talk blog by Lively Root, an online plant nursery, offers gardening advice, tips, and interesting headlines that help people find new ways to fit plants into their lives and homes. Whether you're planting indoors or out, Plant Talk's insightful content can help ensure you end up with healthy, happy plants that breathe new life into your design schemes. The brand also does an excellent job mixing in marketing content that talks about their nursery, online plant store, and everything that makes them unique.
Examples of great content include:
#3 The Spruce
The Spruce has 32 million annual readers who come to the site for its insightful home décor, repair, and gardening advice. They also have a whole category of content dedicated to cleaning, which has spiked in popularity over the last year. All the content has a strong brand voice that's clear, confident, and down-to-earth. By bringing in expert insights, The Spruce keeps its content relevant and engaging while building authority.
Examples of great content include:
#4 Houzz

Houzz offers a platform that helps connect home owners to local contractors and professionals in their area. On the Houzz blog, they dive into everything from smart home technology to choosing the right contractor for your next remodel. The varied content lets them target countless keywords and attract homeowners from across the country, and the categories keep the blog neat.
Examples of great content include:
#5 House Beautiful

With lively, retro branding, House Beautiful shares stories about the home-buying journey along with home decorating advice for inside and out. The blog is majorly powered by ads, but they fit seamlessly into the design, remain relevant to the content, and never distract the reader from enjoying what House Beautiful has to offer.
Examples of great content include:
#6 Elle Decor

Elle is well-known for the magazine of the same name, and their online decor blog features a modern, bold design that has just as many attractive visuals as one of their glossy editions. Top writers stand behind all of Elle's content, which ranges from home design trends to interviews with some of the biggest names in interior decorating.
Examples of great content include:
#7 Home Designing
While Home Designing may not have the most striking design, especially when stacked up next to major names like Elle, the quality content helps the brand increase organic traffic and entertain their reader base. Listicles and inside looks at incredible spaces help Home Designing attract professional designers, consumers, and dabblers alike.
Examples of great content include:
#8 Real Homes
Real Homes offers buying guides and design advice for kitchens, bathrooms, extensions, and other exterior spaces. The site is 100% supported by its audience, so they put in the extra effort to make sure their content is engaging and attractive to readers. Listicles and input from experts help the brand distinguish its content from the rest.
Examples of great content include:
#9 Ideal Home

Ideal Home isn't just a lively design website; it's also a UK magazine by the same name. From before and afters to home design trends from the top names in interior design, Ideal Home helps homeowners stay on top of the latest movements in their interior spaces.
Examples of great content include:
#10 Mad About The House

This brand's uniqueness doesn't stop at its clever name. Mad About The House is a popular home and garden blog headed by interior design and award-winning journalist, Kate Watson-Smyth. In addition to talking about her latest books and revealing interesting interviews, Kate also shares design projects and insights.
Examples of great content include:
Increase Organic Traffic to Your NICHE Blog
Staying on top of the latest home and garden trends takes a commitment and a keen eye. Using those trends to fuel the creation of engaging, valuable content is even more time-consuming. Scripted can help. Browse our database of Home and Garden writers to get ideas and start producing more engaging, thoughtful content.

---
Published by
Carolyn Heard
on Tuesday, April 13, 2021
in
Blogs
,
Home & Garden
,
Apartment Therapy
,
Elle Decor
,
Home Designing
,
House Beautiful
,
Houzz
,
Ideal Home
,
Mad About The House
,
Plant Talk
,
Real Homes
,
The Spruce
.