10 Best Health & Wellness Blogs on the Web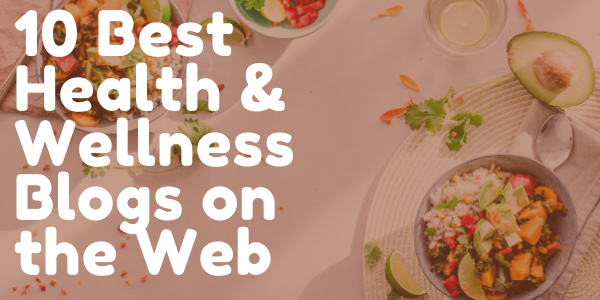 The health and wellness industry continues to grow at an astounding rate, even as other sectors dip, plateau, or come to a screeching halt amidst political, natural, and economic challenges. For those managing blogs in the health and wellness sector, that's great news because it means your blog is poised to attract a steady, growing reader base. All you need is engaging content.
If you want to increase organic traffic to your health and wellness blog, look to these ten popular blogs for inspiration.
What Defines a Health and Wellness Blog?
A health and wellness blog can cover a number of topics, from specifics on nutrition and fitness to the unique needs of mothers, children, or those with disabilities. Some health and wellness blogs take a broad approach and tackle a handful of subjects, while others are niche blogs that dive deep into a couple of specific categories.
In any case, populating your health and wellness blog with factual, insightful, and valuable content is critical. Even more importantly, the content you offer needs to be presented in a manner that's easily digestible, matches your audience's knowledge level, and engages readers so they are encouraged to keep reading and keep coming back. Let's take a look at how the following ten blogs pull it all off.
#1 Healthline
Covering everything from the latest health news to specific topics about medical conditions, weight loss, and general wellness, Healthline is sure to show up at the top of the search results for most of your health and wellness searches.
Starting with the name, Healthline's branding is professional, which is further shown in the tone and style of the content they produce. The result? Readers trust Healthline to provide factual and updated information. They further maintain their reputation by avoiding sponsored content, product reviews, and other in-content monetization methods.
#2 Mayo Clinic
As one of the world's largest health campuses, Mayo Clinic is revered for having some of the best specialists in the healthcare industry. The Healthy Living blog offers tips and resources to help readers live a healthy lifestyle.
With a seemingly endless database of articles, Mayo Clinic keeps things organized with sections for children's health, pregnancy, nutrition, women's health, and more.
#3 VeryWellFit

The modern design of VeryWellFit is perhaps the first thing that delights readers when they opt for this brand's content. A visual menu system keeps things organized while staying true to the brand's lively, youthful brand. They stay on top of the latest trends while offering valuable advice, covering everything from how to workout from home to posts that bust common myths about fad diets and nutrition.
#4 MedicalNewsToday
Styled much like any other news website, MedicalNewsToday stays true to its name, offering posts that take a deep dive into the latest medical news and policies. Scroll down the homepage, and you'll find the "Spotlights" section, where the brand features visual links to various topics.
One of the things MedicalNewsToday does best is organize the site so that the homepage is very newsy, while categories break out into what feels like standalone blogs. Take the Health Equity section, for example, which features a visual header followed by thought-provoking content from talented writers on the matter.
#5 Nourish by WebMD
WebMD may be best known for its "symptoms checker," which many use to examine their symptoms and help pinpoint potential causes. However, the mega medical encyclopedia that is WebMD is quite separate from Nourish, the brand's blog. With Nourish, WebMD has made a thoughtful effort to offer a variety of content, from posts to quizzes, slideshows, and more, helping to engage a variety of readers.
#6 Eat This, Not That
Eat This, Not That is a blog dedicated to nutrition and healthy eating. While they touch on some relevant topics pertaining to living a healthier lifestyle, this brand tries to keep things niche by emphasizing their food-related content.
Yet, to engage their younger audience, they seek to add interesting headlines, from celebrity weight loss stories and some posts about self-care and well-being. The takeaway: If you've found a niche, stay focused on it! Don't clutter your blog with other topics.
#7 Women's Health

The Women's Health blog accompanies a magazine by the same name and tailors its advice to female readers. With fitness, nutrition, and wellness information, Women's Health uses its platform as a magazine to bring in celebrities and experts for exclusive insights and interviews.
#8 Men's Health
Complementary to Women's Health, Men's Health is a blog and magazine duo that takes much the same approach, tailoring content to a male audience. They're known for showcasing youngsters who have gotten on the path to a healthier lifestyle. The site's overall design also brings in powerful visuals, be it bold colors, videos, or oversized images to help draw in readers' eyes and attention.
#9 Eating Well
Healthy recipes are just the start of the Eating Well blog. Much like Eat This, Not That, Eating Well stays true to its name by keeping the primary focus on food, but that doesn't stop them from offering some complementary content that helps them target interesting keywords.
#10 Self
Self is yet another magazine to maintain its own blog, with the Self blog branching out to cover much more than just the standard health and wellness topics. Self keeps its broad audience engaged by covering solo parenting, celebrity news, and even dips into politics, all while tying it back to health to keep things on-brand.
Increase Organic Traffic to Your Health & Wellness Blog
The success of your health and wellness blog depends on your ability to offer the trustworthy, thoughtful, and valuable content that readers in this niche passionately seek out. Whether they need quick advice on symptoms they're experiencing, or they're trying to learn more about healthy living, fitness, or a condition they have, health and wellness blogs have a responsibility to offer factual, digestible information.
Are you struggling to provide your readers with the amount of detailed, engaging content they need? The best way to increase organic traffic to your website is to come up with a content strategy, and the best way to get new ideas and begin executing your strategy is to reach out to Scripted. Browse our database of health and wellness writers today and put your blog on the track to growth.

---
Published by
Carolyn Heard
on Tuesday, May 4, 2021
in
Blogs
,
Health & Wellness
,
Eating Well
,
Eat This
,
Healthline
,
Mayo Clinic
,
Medical News Today
,
Men's Health
,
Not That
,
Nourish By Web Md
,
Self+
,
Very Well Fit
,
Women's Health
.