10 Best Construction Blogs for Content Writers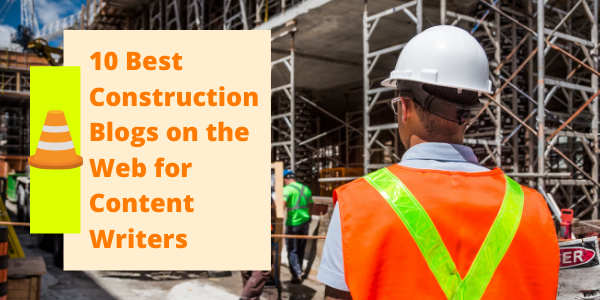 Have a construction blog that you're trying to create engaging content for? It's not easy, but these ten construction blogs pull it off with the use of keyword research and excellent writing. Have a look at the type of content these blogs are publishing and the tips and tricks you should take away from their strategies.
#1 Construction Payment Blog by LevelSet
The way in which the construction industry accepts and processes payments is complex by nature, so LevelSet seeks to offer advice, input, and resources in their handy Construction Payment Blog.
A clean, minimal design keeps the focus on the articles, and they're always publishing new posts. Content ranges from listicles to year-end roundups, expert interviews, and long-form style content. Great examples include:
#2 FieldWire
FieldWire's construction blog is an excellent example of content marketing at work. A paginated layout keeps things neat and tidy with three categories: Customer Spotlight, Construction Management, and Product Updates.
Not only is the content supremely informative, but FieldWire also puts in the effort to touch on modern issues that reflect the company's values. Great examples include:
#3 Builder
Builder Online maintains a magazine-style website that enables the company to show off the latest in trends, analysis, and expert advice. As the first source for construction news, Builder is an authority figure in the industry.
The brand keeps its content unique and high-value by highlighting figures and statistics relevant to construction and by closely following major construction projects. Great examples include:
#4 Let's Build
The Let's Build blog has a modern layout with content to match. Intriguing headlines represent cutting-edge points-of-view and approaches in the construction industry, attracting a loyal reader base. Many turn to Let's Build for both interesting viewpoints and practical advice.
Great examples include:
#5 The JobSite by Procore
Procure's JobSite blog is another major authority in the construction industry, with content focusing on smart technology, emerging sustainability trends, and more.
With the company's global presence, they take the time to address a number of different markets and viewpoints, helping to attract and sustain a global audience. Great examples include:
#6 Construction Business Owner
Construction Business Owner may not have the latest when it comes to visual design, but they are thought leaders when it comes to construction company ownership and all of the variables that impact it. Business owners, large and small, come to this blog for advice and news.
Primarily marketed towards small and medium construction businesses, Construction Business Owner covers topics that branch outside of construction because they know SMB owners will care. Great examples include:
#7 Construction Executive
While Construction Business Owner focuses on small, local, and regional construction businesses, Construction Executive is like its big brother, with this blog targeted towards the executives of major construction companies in the USA and around the world.
Readers appreciate Construction Executive's clean design and, even more so, the up-to-date and insightful content. Rather than just reporting on the latest news, Construction Executive looks to add thoughtful expert opinions and advice alongside it. Great examples include:
#8 Building
Not to be confused with Builder Online, listed previously, Building is a UK-based construction blog and one of the biggest in the region. This is where countless expert construction industry writers, workers, and executives come together to offer their advice and opinions to readers.
Like other blogs on the list targeted towards executives, Building also discusses tax laws, changing industry standards, and the latest in requirements that employers should be aware of. Great examples include:
#9 Building Design and Construction
Building Design and Construction is another modern blog that covers a wide range of topics within the construction industry, offering insight into the latest major construction projects. The brand tracks trends closely, like how the construction and use of office space is changing following the pandemic.
Great examples include:
#10 Construction Dive
Look to Construction Dive for the latest news, along with information about major planned construction projects, bidding, and other handy data. Articles take a deep dive into pressing topics, including labor and skills shortages; new regulations; and programs relevant to the industry. Great examples include:
Get Better Content for Your Construction Blog
Coming up with engaging, search engine optimized, informative content for a construction blog isn't easy. These ten examples may provide you with some inspiration, but if you're stuck on how to create or execute an effective content strategy for a construction business, Scripted can help. Browse our database of construction writers and let our experts help you come up with ideas, publish better content, and increase organic traffic.

---
Published by
Carolyn Heard
on Friday, April 2, 2021
in
Blogs
,
Construction
,
Builder
,
Building
,
Building Design And Construction
,
Construction Business Owner
,
Construction Dive
,
Construction Executive
,
Field Wire
,
Let's Build
,
Level Set
,
The Job Site
.