6 Steps For Creating SEO Content
The complexities of search engine optimization, or "SEO," have long plagued website owners. Creating an SEO strategy is no easy feat and, while many people resort to guesswork, there's plenty of information and proven tactics out there that can help you increase organic traffic and improve the overall performance of your website with less trial and error. So, let's dive into what it takes to create an effective SEO strategy. 
1. Build a Keyword List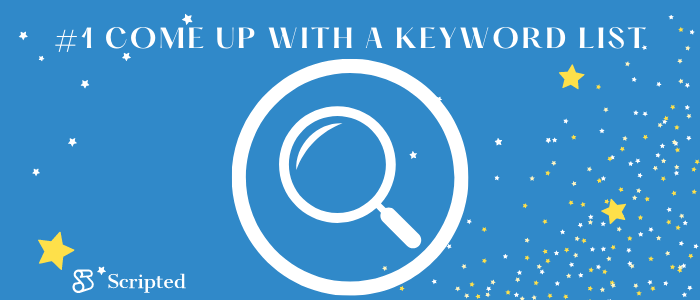 Keywords are the roots of any good SEO strategy because they help you wrap your head around exactly the search terms and topics that apply to what you do. Coming up with a keyword list may seem daunting, but in reality, you just need to sit down and start typing ideas into Google.
While there are plenty of keyword research tools on the market, you can create your initial keyword list by simply typing a few obvious terms into Google and writing the relevant autocomplete suggestions. For instance, if you enter "cat litter" into the box, it offers suggestions like:
cat litter box

cat litter box furniture

cat litter robot

cat litter mat

cat litter pellets
If you're a company offering a subscription cat litter service, you may target some or all of these keywords as part of your strategy. "Cat litter pellets" can directly tie into the product you're offering while the others may feature products from your shop or simply help you get the attention of your target audience (i.e., cat owners concerned about clean-up).
The reason Google's suggestions are so useful is that they come straight from the biggest search engine in the world. They're suggested for a reason: They're relevant and people are looking them up, which means they're worth targeting. Do this for a few root terms and you'll have a keyword list in no time.
2. Segment Your Keywords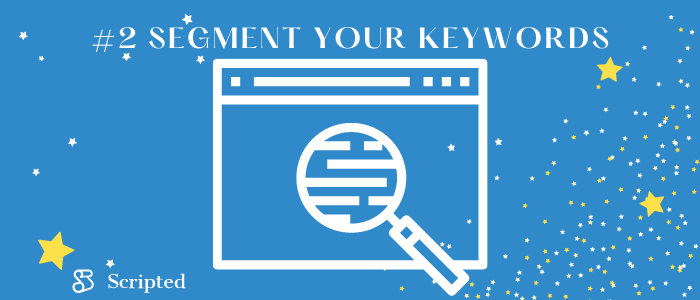 As you compile a list of keywords using the suggestions tool, it's time to break them down.
Single-Word Phrases

: Single-word phrases often act as the root for your keyword search. For instance, "cat" could help our example company find relevant keywords.

Short-Tail Keywords

: Short-tail keywords are only 2-3 words long and are broad and highly competitive. "Cat litter" is an example of a short-tail keyword.

Long-Tail Keywords

: Long-tail keywords are longer than three words and have less competition because they're more specific. "Cat litter robot dimensions" is a long-tail keyword.
As you create your SEO strategy, you'll end up targeting a variety of short-tail and long-tail keywords based on their relevancy and how difficult it will be to rank your content. "Keyword difficulty" is a direct reflection of how competitive a keyword is, but don't confuse difficulty with search volume or search intent.
Check Search Volume
Using a keyword tool, like Google's own Keyword Analytics, you can discover metrics about the keywords you've compiled and start branching out to find other relevant keywords worth targeting. One thing you'll be looking for as you consider new keywords is a metric called "search volume."
Search volume tells you how many times in a month a specific keyword gets looked up on Google. The higher the search volume, the more potential clicks your website will get in the search engine. However, high-volume keywords are competitive because they're being targeted by lots of companies. With that said, it is possible to find relatively high-volume keywords with low difficulty.
Check Search Intent
Another important aspect to consider when building your SEO strategy is the search intent behind each keyword. As Moz defines it, "Search intent (also known as user intent) is the primary goal a user has when searching a query in a search engine." One example of search intent is purchase intent, which is expressed when a searcher is looking up keywords like "cat litter robot best price."
Defining search intent for each of your keywords helps you see them in a new light. A keyword like "cat litter robot dimensions" may seem mundane to you, but if you're a company selling a cat litter robot, this keyword is worth targeting, because it represents a searcher who has come very far in the buying process and is close to deciding on the best cat litter robot for their home.
You'll come to learn that, while ranking for short-tail keywords has plenty of benefits (like driving a significant amount of traffic), long-tail keywords are often where the purchase intent lies, and they can be the most profitable to target. Look at it this way: Ranking for "cat litter pellets" may drive hundreds of visitors to your site each week, but the conversion rate may be a fraction of the conversion rate for traffic generated from a keyword showing purchase intent like, "best cat litter subscription."
3. Analyze Existing Results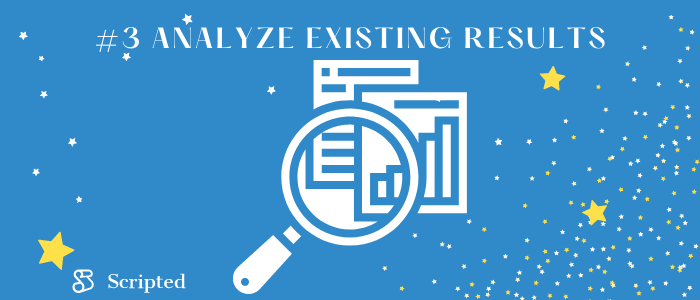 As you determine which keywords are your highest priority, you'll want to take some time analyzing each of those more closely. For instance, if you've determined that "cat little robot dimensions" shows purchase intent and has a high enough search volume, you'll plug that into Google and get an idea for the content that's currently ranking on the first page.
For some keywords, the search engine results pages ("SERPs") show a logical pattern. For instance "best cat litter subscription box" shows a lot of lists that compare competitors, like "12 Best Monthly Cat Subscription Boxes" from Urban Taste and "9 Best Cat Litter 2021" from New York Magazine. This can help guide the content you create for the keyword because it gives you information on what's currently performing well.
Besides checking what top-ranking pages are offering, it's also worth noting what they may not be offering. For instance, while many results for the above example feature listicles, very few share actual user reviews, which could be a valuable addition to your content. As you go through your list, make a note of these things. This is the preliminary research that will help you outline and create your content later on.
4. Include a Hook to Build Backlinks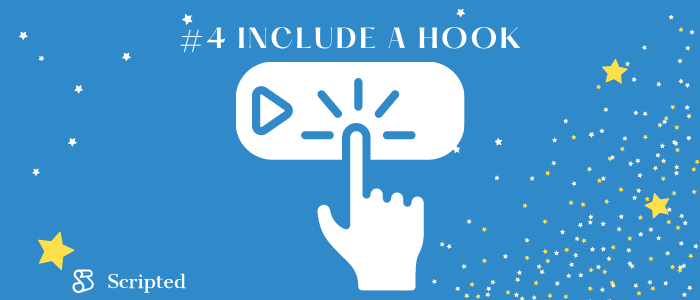 As you dive into the world of SEO, you'll hear the term "ranking factors" often. Ranking factors are aspects of your content that search engine algorithms consider when evaluating how valuable and relevant your content is. One of the most important factors to date is backlinks.
Backlinks are links from other websites that link to your content. Ideally, the websites linking to you are relevant and have a good DA ("domain authority") and/or PA ("page authority"), as that adds validity to your link. Getting a link from an industry giant like the ASPCA would mean a lot more in the eyes of Google than 10 or even 100 links coming from random blogs with very little traffic of their own.
With that said, all relevant backlinks can have value. Irrelevant backlinks can actually harm your website, which is why it's important that you don't buy backlinks or use any service that offers to build backlinks for you. You can earn the best and most valuable backlinks naturally. In order to earn more of them, include a hook in your content.
A "hook" is anything that is easily quoted or shared on another website. Statistics are a great example of this, but you may find a handful of other hooks you can include, and you should aim to include at least one hook in every piece of content you publish.
5. Optimize Your On-Page SEO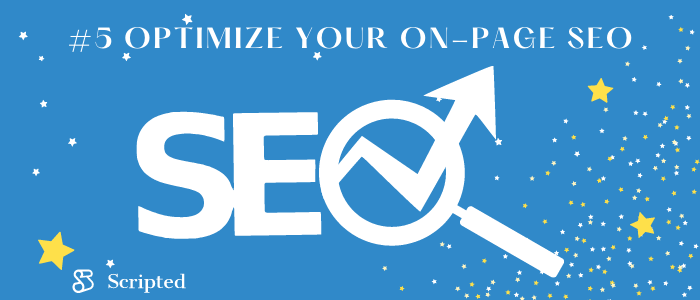 Another important step in your SEO strategy goes far beyond keywords, and that is making sure that the rest of your website is actually optimized. This process begins with on-page SEO, where you'll need to check several metrics to ensure your page's content, design, and presentation give your content a good chance of ranking.
Crawl your website using a tool and check for things like broken links. Most crawling tools will also alert you to a number of other issues, like missing metadata. Fix these problems before you pour time and energy into your SEO strategy because these are fundamental.

Conduct an SEO audit of your website and make sure your site's architecture is clearly defined. You should have top pages, sub-pages, posts, and so on. 

As you go through your content, make sure each page and post have a relevant URL, page title, and meta description to help them earn a good position in the SERPs. Always include your keyword in the slug (i.e., www.example.com/slug).
You can easily help your on-page SEO using a variety of free tools, but you can always find a list of best practices like these if you want to expand upon your manual audit. This is something you should check on regularly. Setting up a crawling tool to check your website for broken links, for instance, is beneficial and you can set it up to occur as often as once a day or as infrequently as once a month (though more often is better).
6. Check Against Best Practices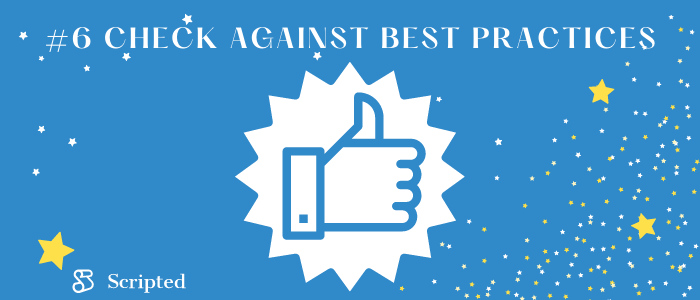 There are so many aspects of SEO, it's truly impossible to cover everything in just a single guide, but starting with your keywords, understanding intent, and analyzing existing content gives you a starting point for creating a content marketing plan that will support your SEO goals.
The next thing you should do is familiarize yourself with the best practices regarding website content and its creation. At Scripted, we always recommended the following.
Include your keyword(s) throughout the piece, checking the keyword density percentage to make sure you didn't over or under do it.

Make sure you always include your keyword naturally. It's okay to change its tense, make it plural, and do other things so it fits throughout the article. Never compromise grammar to include an exact match of your keyword.

Try including both internal and external links throughout your content. This can help Google associate your content with what's relevant, and it helps readers derive more value from your writing.

Always end your content with a call-to-action, and make sure that your CTA aligns with the search intent you've assigned to the keyword. For instance, if the search intent is reader consideration, don't bother with a CTA asking the reader to make a purchase. Instead, offer links that help them learn more.
Creating search engine optimized content isn't easy, but it is likely far more straightforward than you imagined if SEO has intimidated you in the past. The one thing to remember in the future is that SEO takes a great deal of time, so keep at it and make sure that you use the right tools to help.
Partner with Scripted
Scripted's SEO performance tool is a great asset to add to your list if you're looking for things to help improve your SEO. Ready to see for yourself? Get a free trial today!