Spring Cleaning Your Workspace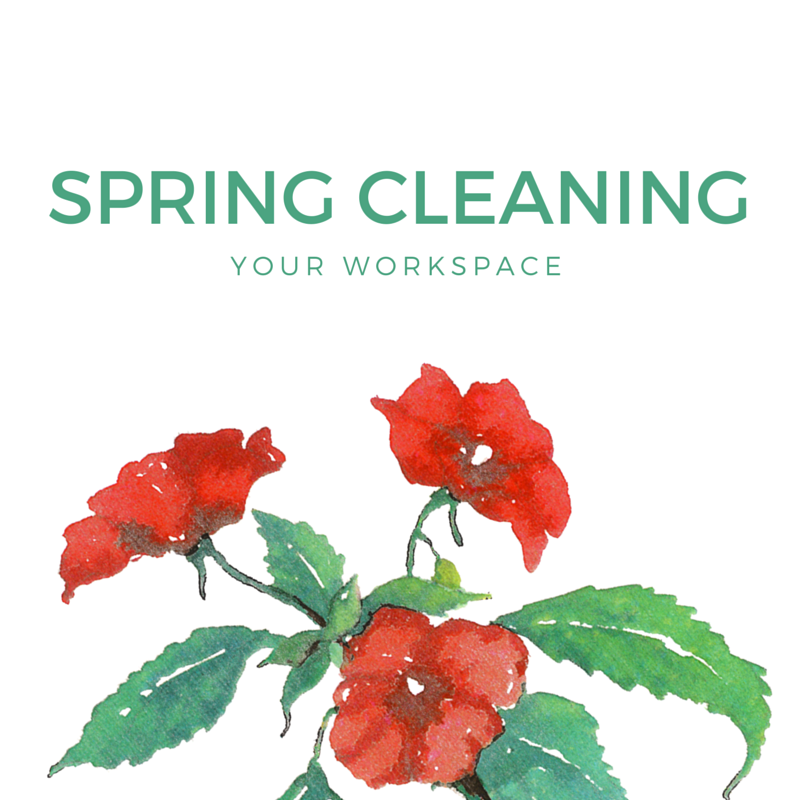 It's time to clean off that desk and get ready for a spring full of writing!
If you have ever visited a friend who is going through a rough patch, you may have noticed that the house is a bit disheveled. Just as mental clutter translates to physical clutter, the reverse can happen as well. A messy environment that lacks adequate space can hinder your mental clarity during the workday.
While we all know this intuitively, it can still be difficult to come up with concrete spring cleaning techniques. Here are a few that will help you revamp your workspace.
Digital Storage
There are plenty of digital organization options, including some designed specifically for freelance writers. If you're the kind of person who is easily sidetracked, you can download programs like Rescue Time and Minutes Please that time your social media usage. Evernote is a free app that organizes your work-related research, writing, lists and stored images. Another great app is Shake, which helps with contract creation, signing and sending.
Apps exist for just about any area in which a freelancer may need assistance. If your desktop is a disaster, set up a filing system that makes the most sense to you - by client, month or due date. You can use something as simple as desktop files or download digital filing systems like FileThis and Neat.
Physical Storage
Organizing things digitally is a breeze, but what about your physical environment? It's important to maintain and maximize desk and room space by keeping this area organized and decluttered. Working in a cramped room all day can create unnecessary stress, especially when that room has no lighting or fresh air. While these may not seem like organizational factors, they can have a big impact on your productivity.
To avoid general clutter, try using desk organizers, hangers, bulletin boards, sticky tack or anything else that gets papers and items out of your way. You may also want to consider implementing a physical filing system for all of your clients, as this can sometimes be tedious when done digitally. If you receive a phone call from a client unexpectedly, you can hurry over to your file and grab any information you need. Clients will recognize this level of organization and view you as a true professional.
For those who want to work in a small space, Idea Paint is a fun and creative option for brainstorming. The paint can be applied to any surface, transforming it into an erasable writing board. This reduces paper clutter and allows you to easily view your ideas and tasks on display each day.
Keep It Going
Once some of these spring cleaning techniques have been applied, writers should learn to keep up with the habit of being organized. This includes keeping track of your finances. It would be wise to carve out at least a few minutes each week to log information, send invoices, check on late payments and pay bills. To track information, use Excel or Quickbooks. Apps like Mint can help you keep track of your finances and observe spending habits. Throughout the week, if you notice anything related to your finances that needs to be done, don't stop what you are doing. Instead, jot it down on a list and handle all of these things during your designated block of time each week.
Another simple strategy that many freelancers neglect is self-training. If you've ever cleaned your office only to have it become a complete mess the next day, self-training will save you a ton of hassle. To do this, come up with designated locations in your office for each kind of item, such as notebooks, folders, pens and laptop accessories. Most importantly, stick to this system by training yourself to repeatedly put things back in their correct places. This will prevent you from ever having to do a major cleaning and organizing session ever again!
Do you have a special regiment for keeping your desk clean? Let us know in the comments below.
See Other Everyday Tips for Freelance Writers Below:
Writers: Improve Your SEO Habits through Artful Keyword Inclusion
You're a Content Writer New to Web Analytics: Which Metrics Should You Learn?
Be Your Own Publicist: Strategies for the Part-Time Writer