Who Will Fix Cars in 2025?
A Scripted Freelance Writer Writing Sample
This article first appeared on audatex.ca
Your mechanic, no?
Well, maybe not.
It's 2018, and while 2025 may sound like a futuristic number, seven years is not all that far way. Seven years ago, Prince George was born, The Toronto Star broke the Rob Ford fiasco(s), and there was a blackout at the Super Bowl. Those things don't feel that far in the past — and 2025 will be upon us before you know it.
It's coming fast, and there's a huge problem facing the Canadian auto aftermarket, attacking on two fronts: rapidly advancing vehicle technology and a shortage of skilled tradespeople.
Vehicles are evolving, as are the skillsets needed to safely repair them. At the record setting Toronto Canadian Collision Industry Forum in January 2018, almost all the talks addressed technological advancements in some way (if not directly), with many industry leaders impressing the importance of being prepared.
"By 2020 our workforce will look completely different" — Marie Artim, VP talent & Acquisition, Enterprise

"This industry needs to encourage more young people to be, and do better" — Gabriel Merino, founder, Motivated Painters
Separately and anecdotally, the collision industry in Canada is reporting a growing challenge in hiring new talent. Independent shops and larger chains are already starting to feel the pressure, and it will only accelerate between now and 2025. There will indeed still be classic technicians in 2025, but they will be overcome with both demand and the challenges associated with needing to fix both the hardware and the software in next generation vehicles.
"A modern high-end car features around 100 million lines of code, and this number is planned to grow to 200–300 millions [sic] in the near future" — a quote from the ancient era of 2014. (1)
The question may seem a little strange now, but all stakeholders — including the insurance carrier sector, the public and the Canadian government — need to seriously consider: who will fix cars in 2025?
Put another way: what will 2025's technician be like, and what can we do as stakeholders to insure that there are enough of them to handle the influx of demand and technological complexity?
2025's technician
If all trends align, and we assume that we avoid a crippling supply shortage, the technician of the future will be young, digitally savvy, and increasingly female.
That's the rosy outlook. 2018's Canadian automotive aftermarket is an estimated 90% male, and while many of seasoned professionals are rockstars at auto body work, the geeky computational aspect of fixing software problems (pre and post scan, recalibration, digital graphical interfaces for code clearance, touchscreen diagnostics) remains a growing challenge.
---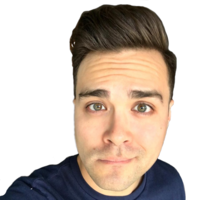 Toronto, Ontario, Canada •
Digital marketer from Toronto. 25 years experience writing, 10+ editing — extensive experience in web content, ad copywriting, self-published fiction, webcomics and whitepapers. Managing Editor for a digital indie publisher called Final Girl Press.
Customer Ratings:
Power your marketing with great writing.

– Start your 30-day free trial today!
GET STARTED
Other content marketing examples from Jordy F
Since this is called The Self Pub Hub, I'm assuming most readers are here because of the enticing... Read More