Sogni Di Cristallo, Beautifully Handcrafted Murano Glass!
This is a writing sample from Scripted writer Paula Sesay
Ancient Venetian Glass-making Techniques and the Sogni Di Cristallo Vintage Collection
*This post is sponsored by Sogni Di Cristallo. All opinions are my own.
I have just been amazed by the beauty of the handcrafted artistry of *Sogni Di Cristallo * Murano glass. Watching the antique glass-making techniques of the Sogni Di Cristallo Glassmakers is quite a sight to see! The time, care and precision put into each intricate piece of blown glass makes owning these remarkable items a very special experience. It's absolutely mesmerizing watching the Glassmakers at work...such a calming, relaxing experience. Watch the amazing process!
The unique colors, details and elements of nature featured in Sogni Di Cristallo Murano glass are certainly dream-like. Sogni Di Cristallo pieces are a rare exquisite touch that add a special ambiance to the decor within one's home. Sogni Di Cristallo collections are also featured in high-end restaurants, stores and hotels. It makes sense that luxury, quality establishments would want only the best to make their guests and customers feel comfortable. The Sogni Di Cristallo Vintage Collection takes comfort and luxury to a whole new level!
Look at the amazing focal point the Sogni Di Cristallo Fiordaliso Chandelier creates in this room. The gorgeous pink tones pull the whole unique look together. It's wonderful Sogni Di Cristallo makes it so easy to conveniently tailor a room to your preferences, by choosing the specific number of lights and color based on the type of look you're going for. Their pieces range from classic to trendy so there is plenty of leeway for finding sophisticated Murano glass lighting to compliment your decor. Here is the Sogni Di Cristallo Fiordaliso Chandelier with a lesser number of lights and in a different color. How fabulous the same chandelier can look so different and create such variety with a few minor changes!
More Amazing Pieces in the Sogni Di Cristallo Vintage Collection
The Sogni Di Cristallo Fellini Chandelier looks absolutely stunning among this chic decor. Sogni Di Cristallo chandeliers truly create a magnificent centerpiece in a room. The golden color of this particular frame nicely accentuates the wood portion of the ceiling. The texture of the Murano glass balances the textures of the brick wall, decorative plants and furnishings. The Sogni Di Cristallo Fellini Chandelier also looks impeccable with a chrome frame. The handcrafted Venetian glass sparkles brilliantly!
The Stunning Elegance of the Sogni Di Cristallo Vintage Collection
The elegant flair of the Sogni Di Cristallo Mastroianni Chandelier is reminiscent of a gorgeous spiraling staircase. The intricate inner details of gold and amber make it even more amazing! The ​icy cool look of the Sogni Di Cristallo Crono Chandelier has a wintry feel. The handcrafted artistry creates a distinctive texture similar to icicles. The natural elements in Sogni Di Cristallo Murano glass and the Vintage Collection are awe-inspiring. The lighting pieces create a mood of relaxation, wonderment and sophistication. They transform a room into an utterly enchanting environment, bring focus to a primary stunning feature, and cohesiveness to all decor components. Sogni Di Cristallo provides amazing craftsmanship, ancient Venetian glass-making techniques and an exceptional history. The knowledge and experience gained through years of tradition contribute to the superb expertise of the Sogni Di Cristallo Glassmakers and their stellar execution. To experience the luxury, beauty and elegance of fine Murano glass, visit the Sogni Di Cristallo site and view the Vintage Collection.
Written by: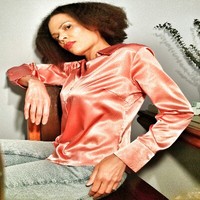 I have extensive experience as a digital marketer since creating my site in 2012. I utilize SEO and analytics to continually improve optimization of my site and integrate monetization techniques into my web design to generate revenue. I contribute my expertise in these areas, as well as social media marketing and email marketing to assist my clients with furthering the success of their businesses.
Hire Paula S