National Cookie Day Craft for Kids
A Scripted Freelance Writer Writing Sample
Kids love the circular storytelling found in the book If You Give a Mouse a Cookie by Laura Numeroff. In the book, the loveable mouse starts and ends a journey of requests by asking for a cookie. Your kids will love reliving this book with a mouse and cookie craft project. This project involves a lot of cutting and pasting to create a mouse puppet with a chocolate chip cookie in hand. Here is how to complete this project. Materials Cardboard Foam sheet in dark brown Construction paper in light brown, pink, light blue, dark blue and black Paper lunch bag Black crayon Scissors School glue Instructions Step 1 – Have your kids start this project by cutting out a 3-inch circle from the cardboard. They should also cut out six to twelve chocolate chips from the dark brown foam sheet. Have them glue the chips to the cardboard cookie and set to the side to dry. Step 2 – Instruct your kids to cut out all of the mouse's clothing and body components from the construction paper before starting the building phase of this project. They will need to make the following pieces: Light brown construction paper Two 3-inch ovals with a flat edge on each side for the ears Two 8-inch long by 1 1/4-inch wide strips for the arms; they should round one edge of each arm to create the paw. Then, cut out three small triangles to separate the toes. Two 1/2-inch circles for the overall buttons Pink construction paper Two 2-inch ovals with a flat edge on each side for the inner section of the ears One 1/2-inch triangle for the nose One 6-inch curved and tapered piece for the tail Dark blue construction paper One 5-inch wide rectangle for the overalls; they should cut an 1/2-inch wide by 1/2-inch tall oval from the bottom edge of the rectangle to separate the pant legs. Cut a 2 1/2-inch wide by 1 1/2-inch tall rectangle from the top edge to create the overall straps and bib. Starting 2 1/2-inches from the top of the rectangular piece, they should cut a curved triangle that widens at the top. Light blue construction paper Two 2-knch long by 3/4-inch wide rectangles for the pant leg cuffs Black construction paper Six 4-inch long by 1/16-inch wide tapered rectangles for the whiskers Step 3 – Instruct your kids to glue the mouse's overalls, cuffs, tail, arms and ears in place, in that order. They should use the black crayon to draw the mouse's pocket and pants seams onto the overalls. Step 4 – Have them use the black crayon to draw two eyes and a mouth. Glue the nose and whiskers down around the other facial features. Step 5 – They can finish this project by gluing the mouse's paws on top of the chocolate chip cookie. Let the mouse and cookie dry for a few hours before using the puppet.
Subscribe for the latest in Content Marketing & Freelance Writing!
---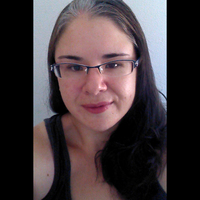 Seattle, Washington, United States •
Since graduating from Washington State University with a BA in Humanities, I have written thousands of engaging, informative and high-ranking articles for business owners located all around the world. I specialize in writing engaging and informative SEO content that helps the target audience move through the buyer's journey and converts leads into sales. Each of my web pages, articles and whitepapers act as an excellent resource for website visitors to help business owners secure their place as thought leaders in their industries.
Power your marketing with great writing.

– Start your 30-day free trial today!
GET STARTED
While you're here, have you tried Scripted lately?
Used to be a member, but moved on? Heard of it, but never signed up? The current iteration of Scripted will amaze you! Streamline your content writing efforts and build your own team of high-quality writers. It's all you need for content writing. Try it free today and meet your next favorite writer or writers!
Scripted's talented community of freelance writers have a variety of expertise and specialties. While many of our customers hire writers to execute their content marketing strategy, our writers deliver high-quality content in many formats. You can find content writers, blog writers, ghostwriters, and SEO writers all with experience in your niche.
Other content marketing examples from Marie A
You may have tried your fair share of low carbohydrate diets over the years, including the well-k... Read More
Certain breeds, such as Shiba Inus, beagles and various terriers, bolt out of the door or gate as... Read More