Indie Authors: Don't Self-Publish All by Yourself
A Scripted Freelance Writer Writing Sample
Self-publishing has worked out well for many renowned authors, but even self-publishers can't do everything by themselves. Know which parts of the process to outsource to save yourself some headaches.
Writers dream they'll pen a book, send it to a huge publisher and get taken on a magical ride of effortless acceptance and universal acclaim. We all know that's not how publishing works. More and more writers opt for a humbler option: self-publishing. Some writers, however, have taken this trend to the extreme. They do everything from book cover design to marketing on their own, which is a recipe for burnout. If indie writers want to be successful -- while staying organized and sane -- we have some tips on what tasks to outsource.
The Editing Process
People who are actually good at writing sometimes like to think of themselves as editors, and in many instances, they may be well equipped to edit others' work. However, they should avoid giving themselves the role of editor for their work. Writers tend to go easy on themselves in editing their own work by overlooking typos, refusing to acknowledge confusing or awkward sentences, or subconsciously filling in missing words. In addition, it's impossible to catch all of our mistakes. Simple homonym errors, for instance, can make a great book seem shoddy. Fortunately, this outsourcing doesn't have to be expensive. Though it's best to work with professionals, a writer could even hire an English graduate student to do the work if they're low on funds.
Pay for Reviews?
Independent writers understand just how important online reviews can be for their book, and because of this, they'll often bust their butts to get friends, family members, and people who have actually looked over their work to go online and post reviews. Since around 90 percent of all purchases start with online research, these reviews are essential. Writers can pay for reviews from some companies. It should be kept in mind that purchasing positive reviews can quickly backfire, but paying a company to read the book and provide honest feedback can help get the word out.
Social Media Marketing
One of the greatest things about social media marketing is that anyone -- from business owners to musicians -- can do it themselves. This doesn't mean, however, that the indie writer should take on this task. It can be extremely difficult to get a following on a page devoted to an author or book. Those without social media marketing experience are likely to have no clue what type of content gets shared on these sites. Additionally, running a social media page properly is time consuming. One post here and there simply isn't going to garner the reach that an indie writer needs. Research shows that 77 percent of all businesses have gotten new customers from Facebook, and this can be true for writers as well. It's important, though, to make sure to hire a bona fide professional.
Book Cover Design
This is the easiest part of the process to outsource, and, in reality, it can have a big payoff. People judge a book by its cover, despite what you've heard. Fortunately, this can prove inexpensive if a bit of research is done between companies. For anyone who claims that the cover art doesn't really matter, know that that R.L. Mathewson's novel, Playing for Keeps, sold around five copies a day at first. After updating the cover, sales jumped up to over 1,000 a day. Self-publishing can be overwhelming, but if you know which work to handle yourself and which to outsource, you'll save yourself many headaches. Self-published writers -- like Amy Cross and Hugh Howey -- can transition from independent publishing to international acclaim, but not without a little help along the way.
Photo Credit: Mike Brice via Flickr.
---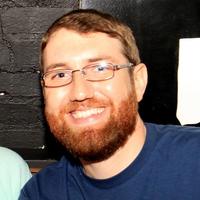 Atlanta, Georgia, United States •
Last online about 3 hours
After writing as a hobby during high school, Curtis transitioned to journalism and professional copywriting. He earned a degree in psychology and another in criminal justice from Augusta University in 2010. He went on to gain an MPA degree and graduate certificate in disaster management. These degrees were research-intensive, and he participated in several out-of-state conferences where he presented original research. This experience helped to craft impeccable investigative and analytical skills. Since that point, he's written everything from legal articles to eBay purchasing guides. Curtis has worked heavily in product descriptions as well. In addition to copywriting, he's handled the social media marketing for RV Four Seasons and Dads That Cook (PBS show). Most recently, he performed social media marketing for "Hillbilly Horror S...
Customer Ratings:
Power your marketing with great writing.

– Start your 30-day free trial today!
GET STARTED
Other content marketing examples from Curtis F