All You Need to Know About Content Marketing vs. Traditional Advertising
A Scripted Freelance Writer Writing Sample
(excerpted)
Way back when, before I became a content marketer, I thought I had a good understanding of the nuts and bolts of content marketing vs. traditional marketing: content marketing referred to "blogs," and traditional marketing referred to TV or print ads.
I basically thought that companies created blog content to draw customers to their business, and that's where content marketing efforts started and stopped. Now that I've been doing this for years, I've learned that while "blogs" (like this one!) are certainly one of the most critical components of content marketing – they only represent a slice of the content marketing pie.
While content marketing is rapidly growing in scope, popularity, and importance, there is still evidence that people don't quite get it what it is or how to use it.
According to a study by Altimeter, 70% of marketers lack a consistent content marketing strategy. (source)
Only 5% of content marketers think they are very effective at content marketing. (source)
42% of marketers call content marketing one of their most difficult marketing tactics. (source)
Because content marketing is a multifaceted approach to marketing, analyzing the similarities and differences between content marketing vs. traditional marketing can help e. Since I've spent the past few years educating myself about content marketing beyond-the-blog – what it is, how it works, and why it works – here's some of my wisdom about content marketing vs. traditional marketing, and why you should choose one or the other (or both!).
What is Content Marketing?
Content marketing is a marketing strategy in which companies create valuable content to educate potential customers and draw them in. Content marketing can take many shapes, from blogging, to podcasts, to videos, to quizzes, to email newsletters (and much, much more).
The point of content marketing is to add value to your potential customers' life – to make them appreciate your existence, which may turn them into loyal, paying advocates.
Here are a couple of good examples of content marketing:
Cycling brand Rapha created a beautiful and educational magazine, Mondial, that focuses on the culture of riding, as well as travel, adventure, and fitness. Mondial does not directly promote their brand – but it educates their audience about the general industry.

Airline WestJet made a video around the holidays documenting their attempt to perform 12,000 mini miracles across the world. The heartwarming video paints the company in a generous, positive light – and it entertains and uplifts, without directly promoting anything specific about the airline.
What is Traditional Marketing?
Traditional marketing is the marketing you grew up with. It is an interruptive marketing strategy in which advertisements or promotions for products or services reach consumers whenever and wherever companies want them to. Traditional marketing, like content marketing, comes in a wide variety of forms; it can occur in print (magazine ads, billboards), broadcast (television ads, radio ads), and a slew of other formats (e.g. direct mailings, telemarketing, etc.). Traditional marketers push information about what they're trying to sell in front of a wide audience of people — even when they haven't necessarily asked to see it.
Here are some good examples of traditional marketing:
Etihad Airways places ads on Facebook with information about sales and flights their company is currently offering. (This one comes from my own personal Facebook feed – and no, I did not ask to see it.)

This iPhone 5 billboard from Sprint showcases a product beautifully, and drivers and pedestrians encounter it when they are out on the road.
Content Marketing vs. Traditional Marketing: the Crucial Differences
Now that you've gotten an idea about what content marketing and traditional marketing really are, here are the most important differences between the two (sometimes overlapping, but often distinct) strategies:
Permission vs. Interruption
As mentioned above, one of the key differences between content marketing vs. traditional marketing is that content marketing is a permissive marketing technique, while traditional marketing is an interruptive one. Content marketing content is sought out and discovered by customers, and it is consumed when they want to consume it; they've given their permission to be marketed to.
Traditional marketing comes at consumers when they're doing something else (watching television, driving, listening to the radio), and it can interrupt whatever they're currently experiencing. Interruptive marketing tactics are also sometimes digital marketing efforts, like pop-ups, pre-roll videos, and social media ads, like that Etihad Airlines sidebar ad above.
Earned Audience vs. Rented Audience
Content marketing earns its audience by offering something of value. The people who discover and consume your content choose to do so because they want to. This means that you own them – they are your audience.
On the other hand, traditional marketing tactics are seen by a "rented" audience. Traditional marketers pay money to platforms that already have an audience to get their own message seen by that particular set of eyes (which is actually there to see something else). Rented billboard space, purchased radio airtime, and bought PPC ads are good examples of how traditional marketers get their message out to a rented audience.
The downside of paying to rent an audience? When you rent something, it isn't yours – and eventually, you have to give it back. When traditional marketing campaigns are complete, "rented" eyes are no longer on your message – and besides the people you've converted to customers — you no longer have a crowd of potential consumers or brand loyalists.
Every marketer is concerned about money (that's what it's all about, after all) – and research has shown that when you weigh content marketing vs. traditional marketing – content marketing is a more affordable marketing strategy.
According to a report on the current state of content marketing by Demand Metric, content marketing efforts cost 62% less than traditional marketing efforts, and they generate 3x as many leads. This means more bang for your marketing buck.
---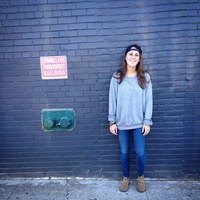 Becky is a full-time, New York-based content specialist with experience writing search-optimized content for blogs and websites. (She also writes for print!). After graduating from Yale University, she spent nearly a decade working in the arts and publishing industries in NYC before deciding to give up all her belongings to write and travel the world. Becky currently creates content for Duarte, an agency that helps companies tell better brand stories. and her own company, Bespectacled Editor.
Hire Becky B