Alexandria Ocasio-Cortez Is Just One Strong Latina Making Waves On Twitter
A Scripted Freelance Writer Writing Sample
Twitter is an effective platform for expressing viewpoints and spreading the word about important issues in small, poignant sentences. We've seen many Latinos use the platform to get the word out about strikes, marches, and important legislation impacting their community. Alexandria Ocasio-Cortez is one of the most notable Latinas to use the platform to engage her audience around important issues. Here are some Latinas who are using Twitter to fight the good fight in the name of feminism.
Alexandria Ocasio-Cortez
Credit: @AOC / Twitter
Alexandria Ocasio-Cortez, also known as AOC, gained notoriety when she achieved the office of U.S. Representative for New York's 14th congressional district. She made history by becoming the youngest woman ever to serve in the United States Congress at 29 years old. AOC is a member of the Democratic Socialists of America and a strong proponent of women's rights as human rights.
Jessica Marie Garcia
Credit: @JessMarieGarcia / Twitter
Jessica Marie Garcia is a talented actress who has appeared in the popular Disney Channel original series, "Liv and Maddie" as Willow. She has also been featured in the television show, "The Middle", and Netflix series, "On My Block." Garcia embraces her curvaceous figure although her weight has been an obstacle for attaining certain acting roles and she has struggled with diabetes. She strives toward eating a nutritious diet and living a healthy lifestyle.
Sara Inés Calderón
Credit: @SaraChicaD / Twitter
Sara Inés Calderón is a multi-talented app developer, writer, and speaker. She has shared her expertise as a software engineer as a contributor for Vice and TechCrunch. She is a supporter of diversity in technology, serving as co-director of Women Who Code, Austin, and co-founder of the Austin Diversity Hackathon. Inés Calderón also provides her talents to the Austin music startup, musx, as a lead mobile developer.
Kristina Pérez
Credit: @kkperezbooks / Twitter
Kristina Pérez is a writer and scholar who has a Ph.D. in Medieval Literature from the University of Cambridge. She has lectured at the National University of Singapore and the University of Hong Kong. Pérez has written non-fiction and fiction books for both adults and young adults. She incorporates mythology, magic, fantasy, and science into her writing.
Cassandra Alicia
Credit: @gringatears / Twitter
Cassandra Alicia is the founder of popular social justice pages on Twitter, Facebook, and Instagram. Most notably, the Latinx feminist social media page Xicanisma on Instagram. She is outspoken about Chicano politics and Chicana feminism. She encourages conversations about controversial topics such as homophobia, misogyny, and xenophobia.
Patricia Valoy
Credit: @PatriciaValoy / Twitter
Patricia Valoy is an advocate for women in science, technology, engineering, and mathematics (STEM). She is an engineer, writer, and speaker who discusses issues within the Latino community, such as racism and immigration. She focuses on the topic of women of color in male-dominated careers. Patricia works toward maintaining women in STEM without the hardships of sexism and discrimination. She shares her personal experiences in a STEM field as a source of inspiration.
Andreia Barcellos
Credit: @Andreia_Barcel / Twitter
Andreia Barcellos is a human rights advocate who believes migrant rights are human rights. She holds the esteemed position of Secretariat of Development and Social Welfare in Medianeira, Brazil for American University. Her research on Haitian immigration to Brazil provides support for increased training of government officials to reduce hardships facing migrants. Andreia's public policy proposals have provided valuable guidance for changes in the city of Medianeira.
Xochitl Alvizo
Credit: @XochitlAlvizo / Twitter
Xochitl Alvizo is a co-founder of the Feminism and Religion project and website. She holds a Ph.D. in Practical Theology from Boston University School of Theology. She serves as Assistant Professor of Religious Studies at California State University, Northridge. Xochitl's research encompasses feminist theology, feminist ecclesiology, and postmodern forms of church. Her lectures focus on the areas of women and religion, LGBTQ+, the philosophy of gender, sex, and sexuality.
Jen Brown
Credit: @The_JenBrown / Twitter
Jen Brown is an actress with a focus on voice acting who has also contributed as a director, sound designer, and costume designer. She considers herself an ethnically ambiguous Latina. She is a host of the feminist horror podcast, "Women in Caskets" and a Twitch game stream, JenBrownPlays. She was a founding member of The Vestige Group theatre company in Austin, Texas. Jen has also appeared in a variety of shows created by Rooster Teeth Productions.
Ellie Francis Douglass
Credit: @elliefdouglass / Twitter
Ellie Francis Douglass is an accomplished writer who has taught English Composition and Introductory Poetry Writing at her alma mater, Oregon State University, from which she holds an M.F.A. in Creative Writing. Ellie has had her poems published in the Missouri Review Online and "Sweet: A Literary Confection." She contributes to Carve Magazine as Poetry Editor. Ellie shares her knowledge by teaching at Northwest Vista College and via the Gemini Ink's Writers in Communities program.
Florencia Manóvil
Credit: @MichelleA.Dowell-Vest / YouTube
Florencia Manóvil is the owner of Mynah Films and has won the prestigious title of Best Filmmaker of the East Bay. She produces films that cover a diverse range of experiences including her feminist and queer viewpoints. Florencia's film, "Fiona's Script" won a Best Supporting Actress nomination at MethodFest. Her writing and directing talents gained her funding from the Frameline Completion Fund for her film, "Encuentro." She continues to create groundbreaking works that encompass unique topics, such as the struggles of queer women who engage in esoteric practices as a means of survival in a patriarchal society.
Rosalie Morales Kearns
Credit: @JaneFriedman / Twitter
Rosalie Morales Kearns is a writer with a background in copyediting and book publicity. She possesses an M.F.A. in Creative Writing and has taught the subject at the University of Illinois and the State University of New York at Albany. She has written feminist literature including, "Kingdom of Women," "The Female Complaint: Tales of Unruly Women," and "Virgins and Tricksters." Rosalie supports other female writers through her feminist publishing house, Shade Mountain Press. She also serves as creative prose editor for Women's Studies Quarterly (WSQ) which is published by Feminist Press.
---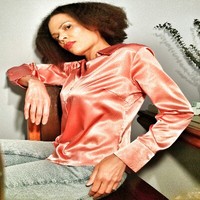 I have extensive experience as a digital marketer since creating my site in 2012. I utilize SEO and analytics to continually improve optimization of my site and integrate monetization techniques into my web design to generate revenue. I contribute my expertise in these areas, as well as social media marketing and email marketing to assist my clients with furthering the success of their businesses.
Hire Paula S