4 Reasons You Shouldn't Underestimate the Power of the Podcast
A Scripted Freelance Writer Writing Sample
There's no question that today, digital publishers and businesses with an online presence need to focus on inbound marketing in order to succeed. After all, with ad-blockers on the rise and people consuming their media on-demand, the best way to bring customers to you is to give them high-quality content to let them know how valuable and trustworthy you are. Now, obviously, one huge part of inbound and content marketing on the web is blogging. It's important, and everyone who wants to be on their content marketing A-game should definitely do it. However, what a lot of business decision makers and heads of content have been forgetting is that blogging isn't the ONLY thing you should be doing when it comes to inbound marketing. In fact, there's one highly under-utilized, yet very valuable form of content marketing that many companies are overlooking: THE PODCAST. What is a podcast? If you're not living under a rock, there's a good chance you've listened to a podcast – or at least know what one is. But for the sake of formality, a podcast is a digital audio file that listeners can access and listen to via the Internet; podcasts can be streamed over an Internet connection, or downloaded to a device and then listened to whether a device is online or not. Podcasts are often episodic and released in a series, and many of them have subscribers that receive new files automatically when they come out. Today, podcasts have become one of the fastest-growing ways people are choosing to consume media. What does this have to do with content marketing? So, podcasts are cool, and they're getting more and more popular… but what does this mean for content marketers? The thing about podcasts is that they're not just a means of entertainment. In fact, they're actually a pretty powerful marketing platform — and not just as a place for you to put outbound ads. The podcast itself is an awesome content marketing tool, and creating and releasing your own podcast, as long as it's cool and relevant, is a really powerful and effective way to generate leads and bring new customers to your business. Here are 4 great reasons why you should consider producing your own podcast to boost your business: 1. THEY HAVE A WIDE REACH. If you want to take advantage of a marketing channel that will reach a wide audience, podcasting is an awesome way to go. According to a podcasting study conducted by Edison Research, there are now an estimated 46 million people (over age 12) listening to podcasts across America – up from 39 million in 2014. In fact, today, Americans are consuming around 21,117,000 hours of podcast audio daily. That's a lot of people and a lot of hours! Also, statistics show that now is the best time to take advantage of the platform. Mobile phone usage is at an all-time high, and about 64% of all American adults own a smartphone – which means they have access to podcasts whenever and wherever they want. Cars have Bluetooth technology now, which means that people can tune in to a podcast during their commute. Finally, podcasting content in general is arguably better than it ever has been before, which has boosted the number of people that want to consume it. In fact, some experts have dubbed today the "golden age of podcasting," thanks in part to things like the release of Sarah Koenig's Serial podcast, which delved into the circumstances surrounding the murder of a Baltimore high school in 1999, and the launch of Gimlet Media – a podcasting company that told the story of its own founding via a podcast called Startup. In short – podcasts are popular, and they're getting more popular even as you read this very post. Launch a podcast and there's a good chance your work is going to reach the right ears. 2. THEY CAN HELP PEOPLE SEE YOU AS AN EXPERT. The whole gist of content marketing is to convince people that they should do business with you. Creating podcasts is a great way to do just that. You can use podcasts as an opportunity to produce and share content that an audience of people interested in your field will find helpful, knowledgeable – or just plain entertaining. In turn, you can convince your listeners that you are a thought leader in your field – and a likable brand. In addition to creating original content to share, podcasts are also an excellent platform for interviews – which function sort of like guest blogs. You bring in a popular expert in your field to talk on your show and boost your own credibility while widening your exposure. 3.THEY CAN BOOST SEO. It might seem counterintuitive, but despite the fact that podcasts are audio files often consumed on-the-go, they can actually help businesses boost their SEO. Having your podcasts available on your website so that users can listen to them when they visit can help increase dwell time – or, the amount of time a user spends on your page to consume your content. A higher dwell time tells a search engine like Google that your content is valuable, in turn boosting your SEO. Additionally, if you develop a rep for having great content, there is a good chance that other websites will reference you by linking to your podcasts. Ultimately, more back links from credible sites equals means better SEO rankings and more visits from potential customers. 4. THEY CAN BE REPURPOSED. Once you've created a podcast, you have an audio file that can easily be transcribed into text. It's all there for you – you just need to write it down (or, type it out.) Transcribed podcasts are an easy and quick way to generate content for your blog. If you produce podcasts regularly, you might not want to fill your blog up with transcribed audio files – but transcribing your interviews with experts in the field is a great way to make your podcasts work even harder.
---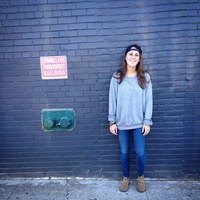 New York, New York, United States •
Last online about 1 hour
Becky is a full-time, New York-based content specialist with experience writing search-optimized content for blogs and websites. (She also writes for print!). After graduating from Yale University, she spent nearly a decade working in the arts and publishing industries in NYC before deciding to give up all her belongings to write and travel the world. Becky currently creates content for Duarte, an agency that helps companies tell better brand stories. and her own company, Bespectacled Editor.
Customer Ratings:
Power your marketing with great writing.

– Start your 30-day free trial today!
GET STARTED
Other content marketing examples from Becky B