February Love Letter Contest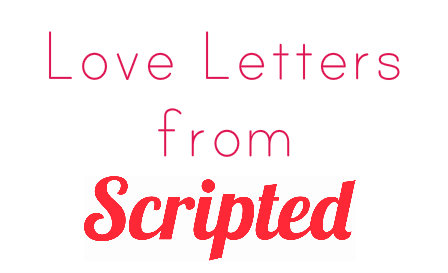 A written love letter never goes out of style. And this is precisely why we asked Scripted writers to pen a note straight from the heart to anyone (or anything) they love. Some chose to write to boyfriends and girlfriends, husbands and wives, while others wrote to their parents and children.

We want to give a big thanks to everyone who participated in the Scripted February Love Letter Contest. Everyone had an amazing story to share and we were moved by how open everyone was in their letters. However, we let readers choose their favorite and Everlena G.'s "My Love Letter to David" received the most votes.

If you want to share Everlena's heartfelt letter about lost love, you can download a special version here.

To read all of the submissions see the table of contents below.















Dear C.T.T., My Pregnant Wife
By Nick C.
When I sit back and look upon the last few years I can only smile. Before I met you love was a distant word full of mystery I neither grasped nor cared to seek. Now it's a feeling I sense deeply every day.
One night beneath flashing lights your eyes met mine. And everything changed. That picture has forever ingrained itself in my mind. It's the reason why I can wander this world with you without hesitation or concern for where I'm going. Seeing your eyes sparkle toward me makes me know all is alright when I'm with you.
When I took you out for the first time, I worried my ragged appearance at the time may deter you. But you saw past that. You saw me. Who would have thought our love would blossom over spicy Sichuan food and glasses of wine? To this day the taste of that meal still hits my taste buds. My senses won't let me forget my time with you.
I remember the first time we made love. That dark and cold November evening when my heater would not work. We were wrong to think it would be cold. The smell of your perfume brought a warmth to me you could not imagine. Comfort is something I do not lack when I am with you.
The next morning I heard you sing in the shower. For once, the incessant noise of cars and street hawkers below my building stopped. Beauty floated throughout the air. To this day, I replay that song in my head. I am at peace when with you.
Later that day we held hands as we walked along the river. As the birds chirped and the water splashed, your hand caressed mine so gently. At that moment, I realized that love was a feeling that simply can't be defined. I can only express that feeling to you. When your hand was locked with mine, I understood it could not be any other way. I belong with you.
So here's to us. And the one that's waiting within you. We came together out of love and so he or she shall come into being out of love.
Your Friend, Lover, and Husband,
N.D.C.
[poll id="8"]
Mi Querido Amor
By Miranda G.
Mi querido amor,
On my worst days, I could never again be so lost as I was before you were in my life. When before I was distraught, I would sink into a thick, oppressive blackness through which no light could penetrate. Words, images, faces signified nothing much, except the passage of time. The light to illuminate my world had not fully been realized until you walked into my door, and stayed.
How glad I am that we are here, together, in this time and place! How futile would have been my struggles, without you to share in my successes!
My darling, I can only offer you my devotion, my support, and the promise always to make sure that you are warm, loved and never alone. These things are not something that we can sell in times of need, nor are they something you can wear on your body, but I hope they are something that you can carry proudly and tenderly in your heart.
Always know that I carry your own love proudly and tenderly in my own.
Love always,
Mandy <3
Share "Mi Querido Amor":
http://blog.scripted.com/love-letter-contest/#MirandaG
[poll id="9"]
I Should Have Been a Crime Lord
By Michael E.
My love story begins in a very real world. A world that my great grandfather ushered into our family's traditions by coming to this country in the early 1920's with the ability to make wine.
A world that my mother's father desired to be a part of, but was never quite respected enough to be taken serious. A place that my uncles thrived in, complete with hijacked trucks, tribute payments, and the occasional non-union construction site fire.
Even my birth father went on a permanent vacation after he shot and killed a pimp that he found beating his deaf girlfriend. The only details about my father that I knew growing up were this story and the fact that the gun misfired and blew off half of his left hand.
Saying all that, I wish I was making it all up, but this world is real and not some Martin Scorsese flick.
By the time I was old enough to wander from my home as a child, I was hustling. Not the drugs all the adults around me were so infatuated with, but everything else.
In Las Vegas in the early 80s, my uncle had taken over a contract to clean movie theaters. Being a hustler himself, instead of hiring workers to do the cleaning, he gave my cousin and I the job to clean out the auditoriums. He paid us a dollar an hour and all the candy we wanted.
If you're not aware, the only place to get theater-sized candy in the early 80s was at the actual theater.
This presented a unique business opportunity for me. You see our school didn't offer any kind of snacks and my classmates were more than willing to fork over their lunch money, free lunch tickets, and even the little toys they snuck to school to get their hands on one of these king-sized treats.
Before I knew it I had money and had cornered the market on the schools black market trades. As I grew older, these dealing graduated and I found myself on that stereotypical path to either the grave or a jail cell.
Like most teenagers when I was 17 years old, I felt that I was grown. I thought I knew it all. Then the girl I was been dating told me that she was going to have my daughter.
We've all seen that part in the movie where the lead character gets overwhelmed with information and their world begins to literally spin around them to a dizzying effect. Well, it happened to me and I didn't know where my life was going from there, I only knew that it would never be simple again.
Nina was born on March 26, 1992. She was gorgeous. She made me feel something that I had never felt before, love.
Not the kind of love I thought I felt for money or for sex, but deep, "I need to re-think my life" love.
Unfortunately, at this point her mother felt she was too young to be tied down and she left. It felt like I had been thrust into being a single father overnight and at this point I only knew one way to make a living. All of a sudden my earnings mattered and they needed to be tripled if we were going to survive.
So, I hit the streets harder than I ever had before. Only this time I found myself compelled to enroll in college.
In time I made my way into the professional world where I put my hustling skills to work for big business. Life was good, and I even found someone. Within a few years we had two beautiful daughters together.
You know when they say, "Fool me once, shame on you. Fool me twice, shame on me?" Well, shame on me because it didn't last.
It seemed just as the country fell into recession and I lost my job, the wild nightlife of the Sin City became too alluring to my new wife. To make a long story short, I was again made a single father, only now I had two more daughters to love and support.
As tempting as it was to revert to my old ways of making money, the love I had for my children, and the fact that they need me to be around and not in jail forced me to rethink everything.
So, I began to write and soon I was being paid to do it.
On October 9, 2013, Nina was killed by a drunk driver while on her way home from a friends house. She was 21 years old. The man that killed her was a repeat offender and fled from the scene.
My life was turned onto its head. You want to know the only thing that kept me from becoming a vigilante? The fact that I had two other little girls at home that still needed me.
It's then that I realized for the first time that if it weren't for love that I have for my daughters, I never would have changed my inherent ways. I would have just become some thug drug dealer on parole or dead. God forbid I had gone on to be successful in crime and hurt others the way I now felt hurt. In addition, I wouldn't have ever gone to college or made my way into the legitimate business world. I wouldn't have begun writing and I would have a completely different opinion of this world.
This love letter is dedicated to my three daughters. I love you all so much, and Nina, your daddy misses you. I want to thank you for changing my life's trajectory.
[poll id="10"]
For You Who Are So Alone
By Jack. O
I see you everywhere...in TV characters, in books, on the news, even walking down the street. I know you as soon as I see you. You are one of those kids, a kid like I once was, a kid who was so desperately alone and so eager to love and to be loved. I recognize the hunched over walk, hands pressed tight into pockets, coat wrapped too tight around yourself, head glued to the ground, as if you're pretending you're cold but really you just don't want anyone to see you.
Sometimes you're that kid who was a straight A student but threw it all away so he can sit in his room and smoke pot, and the fact your mom seems to hate you for it makes it worse because it means she thinks you want to be like this, you want to destroy your life, you don't want to be the good kid you used to be before everything started going wrong.
Other times, you're a really nice kid, except when you get mad. You lose it over everything whether it's important or not and you turn into this... this monster you can't control, screaming, yelling, hitting. But when it's over, everyone tells you they can't believe you did that because they know you're so sweet and you want to yell that you're not,but you can't seem to find the words, and in the mean time everyone keeps telling you to cut out the bad behavior but nobody tells you how, and nobody sees that you are screaming for help when you act like this.
I've seen you trying to talk to your favorite teacher but getting frustrated because she tells you that you should be grateful that your parents love you and you live in a house because her parents are dead and the house she grew up in was sold a long, long, long time ago. And you want to shout,
How can you say the people who live in my house love me when they don't even have a clue who I am? But
you don't dare because if you did she might get mad and she might tell you to go away and that... that would just kill you. So you leave and you walk down the hall, the terrible hall where everybody but you has someone to walk with, and hope nobody "accidentally" shoves you against a locker or brushes against your stupid breasts that you wish you didn't have.
I know you don't trust me yet because your whole life you've been alone, but you aren't as alone as you think. I see you and I love you.
You are more amazing than you think. I know you think you're a coward because you haven't told anyone what's going on, but that's because you don't realize how hard your life actually is and you don't give yourself enough credit. It is not easy to live with adults who either don't listen or can't understand, no matter how much they do love you. It's not easy to keep going to school at all when there's so much hatred and bullying and anger. It's not easy, sometimes, to keep living and keep being yourself,
but you are doing it.
I love you even when you are at your worst, even when you're acting out or doing drugs or self-destructing some other way, because I know who you are, I know what you can be and I know what you will be.
I love you because I know you can rise above this and you will, that all the empty words everyone is throwing at you to comfort you will somehow help you to keep going even though sometimes you don't see the point.
I love you because I've lived the way you're living now and I know that the one thing I needed was what nobody seemed able to give.
I love you and I see you, really see you. I see your heartache and your pain and the excitement and joy waiting underneath all that for life to get better. I am here, and I am listening.
Let's talk.
[poll id="11"]
Dear E.
By Joseph A.
I am and can always be myself whenever I'm with you. Your concept of romance is soft music, dim lights, and merely the two of us, together special. You possess the magic to allow me to feel like I've never felt before. I can relate anything to you, yet, you're never shocked. It's your undying faith which maintains the flame of our love dynamic, alive, healthy.
With you and me together, we create the most enchanting moments. We are the perfect match. Just the thought of you fills me up with such an extraordinary feeling. Your intense love permits me to feel that the best is yet to come. You never ever give up on me, and in turn, I will never give up on you. You are to me, simply irresistible. My love for you is as strong because you bring out the best in me every time.
Each time I look at you, it's true my heart misses a beat. It's you and you alone who holds the key to my heart. You do always say what it is that I need to hear. And it's you you've taught me what the true meaning of love really is. And love is love is what you truly mean to me and you, you mean oh so much. Since I met you, I've had the best times of my life, and that, I owe solely to you. Your intelligence, your charms, your beautiful appearance, your wit. You're everything!
Love You Always
[poll id="12"]
Dear Me
By Gail L.
When I hear someone say, "I have no dog in this fight," I think to myself: "Happy Valentine's Day!" Makes perfect sense to me. Most people I know in my home state of Alabama use the expression to indicate they are not getting involved in an argument or are expressing disinterest in whatever is happening at the moment. Say it to me and I think of the one day a year I give myself permission to enjoy unconditional love no growling allowed.
This is not a pity party by any means. I had a husband for 23 years and then boyfriends after the divorce. Each year I get the candy or the flowers or the dinner out, but here is the "dog." I have yet to meet a man who really likes Valentine's Day. Commercials show the man making dinner reservations, ordering flowers, or buying a diamond bracelet. The idea is that he is madly in love, though I think it is more likely he is madly in lust. Either way, in real life she is the one who probably made the dinner reservation and later makes sure the credit card bill gets paid.
This is how the week before Valentine's Day usually unfolds. He says, "You have to tell me what you want now, if you want anything," or "Valentine's day is a lot of trouble," or "Flowers are sure expensive," or "Valentine's day is a plot hatched by women to make the life of men difficult," or "I HAVE (no, you don't) to get you something (implying anything) or you would be upset (not true)."
A while ago, I realized that I had no dog in this fight. I decided to love myself and not wait for any man. On Valentine's Day, I choose to ignore the dog of male discontent. I look to myself in sheer self-centeredness and give myself unconditional love with no questions asked and no answers needed. I remind myself that I deserve the gift I buy for me. I pat myself on the back for earning a living as a writer. I decide what I will accomplish before the next Valentine's Day. I am just simply happy.
There are no stuffed teddy bears or vase of flowers or gushy cards that can replace the feelings of contentment and satisfaction with myself. If I hear the snarling dog of obligation telling me, "I meant to get you a card, but I got busy," then I simply give myself a hug and shut out anything that could possibly ruin the one day a year I unabashedly say to myself, "I love me."
Happy Valentine's Day to Me and Many More,
Gail L.
[poll id="13"]
A Letter to My Parents
By Amy K.
I am a grown woman, approaching 40 and living a very full life. I may not always act like a responsible adult but I am the person that I am today because of one reason: my parent's loved me, completely and unconditionally. They encouraged me to be the best person that I can be and never stifled my creativity. I am the person that I am today because of their endless love and patience.
Mom, thank you for encouraging my "weirdness" as a child. I see today that it was creativity and I am sure that you saw it as that way back then. I couldn't see it but I am glad that you had the vision to help see me past my insecurities and embrace my artistic side. You gave me a reason to value myself and not listen to others. You made me realize that I deserve the very best in life, whatever roads that I choose to take.
Dad, I will always be your little girl. Thank you for the hugs and kissing the boo boo's and always being there. Thank you for the hours that I spent with you, watching, while you built things with your hands. I will never be ashamed to be a carpenter's daughter. You taught me the value of creating things that are useful to others.
To both of you: Thank you for loving me and giving me everything that I needed growing up, not just what I wanted. Thank you for waiting up to make sure that I got home okay from dates, helping me with my algebra and never censoring the books that I read. Thank you for calling me still to make sure that everything is okay and keeping me updated on what's going in your lives. Thank you for the being the best parent's that I could have ever asked for. I love you both.
Love,
Your daughter Amy
[poll id="14"]
The Love of a Lifetime
By Jeff M.
One of the more interesting aspects of love is how we view it through the various lenses our lives. Sure, there are some of us that never change our views - perhaps a couple met when they were young and held the same feelings all the way through life. Rare, but possible, right? The reality for most of us is that we go through stages. We might be, as the saying goes, in love with the idea of being in love. A tough breakup might have us swearing off love forever - or at least until it strikes once again. In truth, most of us have more than one love, so how do we quantify the "love of a lifetime?"
Love as a Choice vs. Chemical Reaction
While science has yet to fully explain it love is, whether we want to admit it or not, a part of biology and the evolutionary process that has brought us to where we are as a species. But when it's really special, love becomes more than that. What's the magic ingredient? More than anything else, it's simply deciding that we want to love.
Love might be something we fall into, but it's something we choose to stay in. The old line "I just don't feel love anymore" really means that the person has made the choice to move on. When we decide that we want to love the other person, and make the choice every day to do just that, then - we've found the love of a lifetime. Of course, there is no guarantee in life, not even for love. If we make the choice, we can still get burned.
I've Found Mine!
I'm a lucky man. I was married years ago and it didn't last. After being single for almost 15 years, I remarried to a wonderful woman, and we have been together more than 10 years, and are looking to be together for a lot longer. We have great days, good days, and some bad days. The beautiful part of our relationship is that we are open enough with each other to know that we could never assume the other person can't leave - and we choose together, we choose love, and we choose each other!
[poll id="15"]
My Love for My Hometown
By Jennifer M.
I know it might seem strange to say the great love of my life is my hometown, but it's true. What might be even stranger, however, is that I don't live in my hometown and haven't for about a decade. I tend to move around a lot (blame my dad's gypsy spirit revisited in me) and I'm planning a move in about a month, but no, I'm not moving back home. In fact, I'm moving clear on the other side of the country way from my hometown of Winston-Salem, NC.
If Winston-Salem is so great, why don't I live there? Fair question. I guess it comes down to what Julia and Suzanne Sugarbaker's mother taught them - you've got to have roots and wings. My roots are definitely in North Carolina and it's these strong, deep roots that allow me to spread my wings and explore other places. I've lived in Jacksonville, Fla., Nashville and New Orleans in addition to about half a dozen other NC cities over the years. It's the love I have for Winston-Salem that gave me the strength to go through with all of these moves.
So, here's a tribute to just a few of the things I love best about my little slice of heaven in the Piedmont:
* Krispy Kreme was founded here. And who isn't tempted to cheat on their diet when they see the Hot Doughnuts Now sign?
* It's a tobacco town, and I'm proud of it. I abhor smoking and never picked up the habit, but I'll defend the rights of smokers. R.J. Reynolds is headquartered in Winston-Salem, and you can't drive around town without seeing the result of tobacco money. One of the two main hospitals, the daily newspaper, at least two high schools, an orphanage, countless public parks and a museum were all funded by the Reynolds family.
* Oh, and the downtown Reynolds Building was designed by the same guy who designed the Empire State Building. He used the Winston-Salem skyscraper as a prototype for the iconic NYC landmark.
* We're called the City of Arts because we established the first Arts Council in the U.S. Pretty cool. We still have a sizable craftsmen culture along the downtown Fourth Street corridor. Art galleries open their doors nightly during the summer for Arts Alive! events.
* North Carolina is known for its intense college basketball rivalry (UNC vs. Duke vs. NC State), but for me I support the Black and Gold. Wake Forest University was founded as a religious institution just outside of Raleigh, but moved to Winston-Salem many decades ago. Even though today it's a secular private university, it's kept it's irreverent mascot, the Demon Deacon. Yep, he's an evil religious cleric. That trumps a bulldog or ram any day, right?
* Winston-Salem is the Southern seat of the Moravian Church. This might sound strange for a Jew to say, but if I had to choose any other religion but my own, I'd choose the Moravian church (which is basically a type of German Protestants). It's almost in my blood. They founded the city and their culture is still found throughout it. It's not Christmas until I see the huge Moravian star (one of the largest in the world) atop the Wake Forest Baptist Medical Center. The star was originally created at a German Protestant school in the 1830s as a geometry exercise. Today though, it represents the Star of Bethlehem. Moravians have influenced local cuisine as well. Moravian cookies are impossibly thin spice cookies rolled out by hand. And ask anyone in Winston-Salem the difference between a chicken pie (the Moravians are famous for theirs) and chicken pot pie and they'll tell you that a pie is just meat, while a pot pie has veggies.
* Speaking of food, oh the food! Nothing beats a plate of Lexington barbecue (pork shoulder slowly roasted, chopped and doused with a tomato-vinegar sauce), a cold Cheerwine and banana pudding for dessert. I'm getting hungry just thinking about it. Yep, I think a stop in Winston-Salem on my way West is definitely on the to-do list!
[poll id="16"]
Kayaking With My Muse
By JD W.
We all have one of those crazy people in our lives, the ones that bypass normal entertainment and take you along for the ride every time. When I first met my husband, I got sucked into his whirling vortex of fun, going with him on pretty much any whacked-out adventure he concocted.
On Valentine's Day I got sucked into a doozy. Promising a wintry wonderland kayak trip, only three miles, I happily agreed. We stuffed ourselves into kayaks and paddled at a leisurely pace. It was just enough to keep our bodies warm, but slow enough to enjoy the ice-encased branches overhanging the river's edge and to catch small ice floes bobbing in the current. Temperatures were hovering at freezing, but the sun was shining on the river making it glitter like a field of diamonds. It was the kind of scenery only on postcards.
Having earlier stationed a bike on the trail as our shuttle vehicle instead of the customary second car, Dave neglected to share that the trail was still covered in about eight inches of slushy snow, the kind that's nearly impossible to ride in. "It's only three miles," he said with a smile. He took off his outer gear preparing for a quick heart-pumping ride back to the truck.
While promising it would be a quick trip, he spun the wheels and made painfully slow progress. A knot formed in my gut. I was going to be here for a while. I had the foresight to put my winter jacket in my kayak hatch before we left. I put on all the gear he'd shed, his gloves over my wet feet and his hat over mine. After stuffing myself back into my kayak and tightening the skirt to keep all my body heat in, I watched the sun go down on the river and felt the temperature dip below freezing and continue downward. The voice in the back of my head spoke up. "Well, this was a really stupid idea." I couldn't argue. And I couldn't hike the three miles back along the snow-covered trail since I'd neglected to include winter boots in my daily gear preparations. Without a flashlight, I didn't dare hike the roadway either. I was staying put.
With the moon absent from the sky, the stars were bright and the sky was clear. If I had to choose a stargazing spot, that would be one of my favorites, but after three hours in frigid temperatures, even favorites lose their sparkle. I imagined Dave had careened into a ditch, got a flat tire, or perhaps encountered a wayward black bear. I mentally prepared for how I'd manage to sleep in my kayak until first light when I might be able to walk out for help. How did a three-hour tour turn into this? I was angry at myself for getting sucked into this Valentine's Date. I vowed never to get sucked into his vortex again. I told myself if I ever did this again, I'd come equipped with better gear and better sense.
Hypothermia began to set in. My legs had gone numb. My breath was no longer warm enough to heat the inside of my jacket. Then I heard it, the rat-a-tat of his old truck engine. He blew the horn and yelled out the window, "Hey! I made it!" He hopped out, loaded the gear as if he'd just had an energy bar, and put me in the truck with the heat blasting. I put on my best "you are in such deep doo-doo" face, but I was actually ecstatic we were both alive.
It took seven more years of his adventures to realize that I keep coming back for more because he's like watching strangers punch each other on national television--awful, but addictively entertaining at the same time. And I trust him to get us out of anything. He's my MacGyver, my James Bond, my muse. There are a few things I have learned in the ten years we've been together: always bring flashlights, water, snacks, and handwarmers (even in the summer), always mirror your muse's infectious smile and positive attitude, and always trust him to take the long way around.
[poll id="17"]
My Love Letter to David
Everlena G.
By Dear David,
It's not hard to put what I feel for you in writing. For almost twenty years, you have been in my heart and in my soul. When you and I broke up, my love for you never died. I just can't seem to get you out of my system. I got to know you in a very unique way, we were two souls joined together in a very special way. I fell in love with you before I knew it. Then I realized that you are my soul mate, the man that God has chosen me to spend my life with.
Even though you are living in another city, we still communicate, we still love one another from afar. When you come back home to visit, you never hesitate to let me know you are home. This past visit, when we were together, we had a beautiful night. Laying back, listening to Christopher Cross radio on Pandora radio.com. You and I have this unbreakable bond that gives out the most intense love feeling imaginable. All we did was talk that night, and time seemed to have stood still. We were back in 1996, we were back to what we did best: talk to each other, love each other, and most of all, be there for each other.
I can't begin to tell you just how much you mean to me. Loving you has been the best feeling in the world for me. Breaking off our relationship was my decision because of some bad acts on your part as a man. But, after all the pain, after all the hurt, you still rein in my heart! No other man has ever understood me the way you have. David, I know that one day, you and I will be together for good. I see us, sitting on the front porch, rocking in our chairs, watching the sunset, listening to Christopher Crosses song "Authors Theme". That's funny, I know, but you and I are the only ones on this earth who knows what this song means to us. I love you with all my heart, when we look into each other's eyes; we already know that no other man or woman can take the place of this thing between us. We have such strong feelings; feelings that coat the room with loving tension that can be cut with a knife.
David, all I can say is I miss you each and every day. My heart will always belong to you. It's indescribable, the love I feel. But you know the intensity of my words is true. Just know that I will be set, all you have to do is say, "Baby, I'm ready."
[poll id="18"]
Hands
By Amanda M.
They save love comes from the heart. For me, it comes from the hands. Tiny hands, slipping slowly into mine, say "I'm sorry, do you still love me?" My hands squeeze back, and say, "Of course, always." A rougher, larger hand slides down my back and says "This is hard, but I do it for you and for them, and it will all be okay." And it is. Wrinkled, spotted hands shake on my arm, and say "I'm trying. I hate dying. I love living." So we fight for another day, together. Hands give a small touch to an acquaintance, and something eases inside them. Hands clap, and confidence swells. Hands are a connection, a passing of energy, of humanity, of hope, of love.
[poll id="19"]
Do you have a love letter you want to share? It's not too late to enter "Love Letters from Scripted."
Email Nicole (Nicole@scripted.com) with a 300-700 word love letter before Feb. 12, 2014, to be considered for the contest and published on this page.