[Webinar Recap] The Dark Side of Content Marketing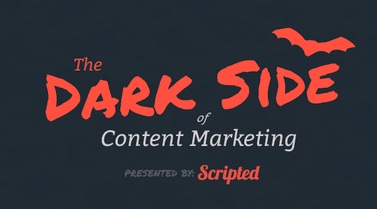 Missed our webinar about the dark side of content marketing? Watch the recap here.
What do we mean by "The Dark Side" of content marketing? Not all content is created equal and some strategies can actually be harmful to your business. Based off our
popular infographic
, the marketing team at Scripted came together to discuss how marketers can avoid becoming a haunting content marketing statistic. Specifically, we discussed:
* Haunting stats all marketers should know about
* The importance of planning and documenting a strategy
* How to promote content to a relevant audience
* What it means to measure success
You can watch the full recap of the presentation here:
And check it out on SlideShare below:
Did you attend the webinar? What did you think? Let us know your thoughts in the comments section below.
Subscribe for the latest in Content Marketing & Freelance Writing!
While you're here, have you tried Scripted lately?
Used to be a member, but moved on? Heard of it, but never signed up? The current iteration of Scripted will amaze you! Streamline your content writing efforts and build your own team of high-quality writers. It's all you need for content writing. Try it free today and meet your next favorite writer or writers!