Unlock Real Growth For Your Blog [Webinar Recap]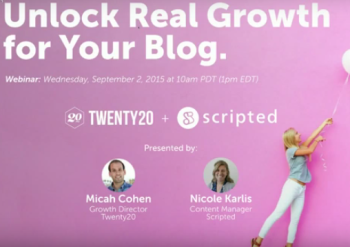 Do you know what it takes to grow your blog rapidly and efficiently? Watch our webinar with our friends at Twenty20!
Growth is a positive indicator that you're succeeding in content marketing. But it's something that many marketers feel frustrated by throughout their content creation efforts when they don't see results. To talk about everything growth, we partnered with our friends at
Twenty20
to talk about what it takes to create high-quality, engaging content. In detail, we discussed:
* How to find your niche
* Understand the "quality vs. quantity" tradeoff
* Drive high engagement with photos
* Get seen in the right channel
You can watch the full recap of the presentation here:
Did you attend the webinar? What did you think? Let us know your thoughts in the comments section below.
Subscribe for the latest in Content Marketing & Freelance Writing!
While you're here, have you tried Scripted lately?
Used to be a member, but moved on? Heard of it, but never signed up? The current iteration of Scripted will amaze you! Streamline your content writing efforts and build your own team of high-quality writers. It's all you need for content writing. Try it free today and meet your next favorite writer or writers!