[Webinar Recap] How to Measure The ROI of Your White Papers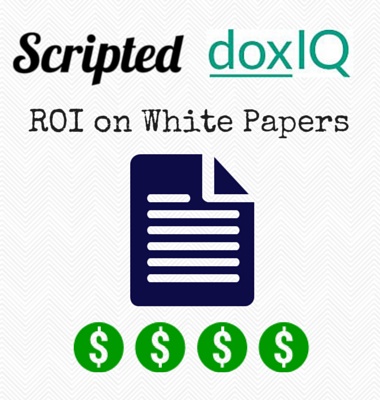 Do you know how to measure the success of your white papers? Watch our latest webinar recap on how to make the most of your investment.
White papers continue to play an important role in today's marketing landscape --
Content Marketing Institute's B2B 2015
report states 68 percent of marketers use white papers as a strong content marketing tactic, but only 21 percent of marketers feel like they're effectively measuring their content marketing efforts. This, of course, includes white paper success. Since a lot of time and money are invested into these pieces of content, it's crucial for marketers to know how to measure their success and tie them back to fundamental business goals.
Recently
JD Peterson
(SVP of Marketing,
Scripted
) and
Michael Feng
(Co-founder, DoxIQ) teamed up to discuss how to create engaging white papers, where they fit in a content strategy -- and finally -- how to measure their success. In case you missed the webinar you can check out the full recording below along with the presentation on SlideShare.
Watch full recap here:
Or view the presentation on SlideShare here:
Want to listen to more webinar recaps? Click the links below:
How to Scale Your Brand's Storytelling
Nobody Views Your Content - Here's How to Fix This
How to Drive Leads By Reorganizing Your Content
Subscribe for the latest in Content Marketing & Freelance Writing!
While you're here, have you tried Scripted lately?
Used to be a member, but moved on? Heard of it, but never signed up? The current iteration of Scripted will amaze you! Streamline your content writing efforts and build your own team of high-quality writers. It's all you need for content writing. Try it free today and meet your next favorite writer or writers!