5 Best Travel Blogs on the Web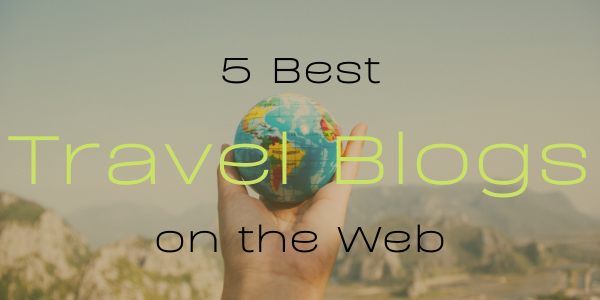 The idea of getting away somewhere has perhaps never been so top of mind as it is today. Travel is something that makes people happy just thinking about it. Looking through pictures of places they'd like to visit, travel blog visitors get inspired to book their next getaway.
But it takes great content to truly inspire visits and increase organic traffic. To achieve great content, you need a winning strategy. Think blogs, social posts, and inspirational photos aimed at people ready to tackle a new horizon. If you run a travel blog and you want to boost your reach, take a look at our list of the five best travel blogs on the web to spark your creativity.
Travel & Leisure
Travel & Leisure, or T&L, hosts an impressive blog space that doesn't just talk about destinations. T&L also offers tips about traveling solo, how to vacation on a budget, and how to plan that bucket list getaway. They even give you the lowdown on upcoming and current deals on travel gear.
Some of T&L's most recent posts include:
What Does the TSA Do with Confiscated Items?
Is My Nonrefundable Ticket Really Nonrefundable?
Vail Acquires Park City Mountain Resort, Plans Country's Largest Ski Area
The T&L blog is clean and easy to navigate, with a clear top menu to help readers find what they're looking for. While the site offers a bit of something for everyone, posts lean a bit more toward mid- to high-end trips. The T&L blog has plenty of inspiration for travel bloggers to emulate, capturing the attention of destination seekers.
AFAR
AFAR's website is a bit of everything related to the travel industry. While the site offers information on the next best destination, they also offer travel industry news, information about reopening destinations, and suggestions for places to travel with children.
The most popular posts on AFAR include:
When Will We Be Able to Travel to Europe?
Ecuador Joins List of Countries Open to Vaccinated Travelers
The World's Happiest Country is All About Reading, Coffee, and Saunas
AFAR posts something new almost daily – sometimes more than once per day. If you're just starting a travel blog, that can seem a bit overwhelming. Hiring a travel writer – or a few – means you can leave this part of your growth strategy to a professional while you focus on other aspects of your new travel site. If you're established and just looking for new inspiration, you'll find it here.
The Blonde Abroad

There's something in the way solo travel breathes fresh air into our lungs. Kiersten Rich, AKA "Kiki," is the woman behind The Blonde Abroad. She's a native of California who decided to trade in her corporate position for the life-giving freedom of solo travel. She splits her time between her home state and South Africa and has traveled solo to over 70 countries. In her blog, she and other solo female travelers show other women how they can experience the same freedom and abundance, too.
Some of The Blonde Abroad's best posts include:
Best Places to Travel in the US Right Now
Top 10 Experiences for Solo Female Travelers
The Blonde Abroad works so well because Kiersten's carved out a niche and she speaks directly to her audience with personal, first-hand accounts of solo traveling for women. You can emulate her style by discovering your target audience, what they crave, and giving them exactly that.
Condé Nast Traveler
Condé Nast Traveler is a site for those looking for the finer things in life, in true Condé Nast fashion. Luxury tips for traveling people of color, Best Of lists, and more make this travel website one of the best in its niche. The site especially caters to the most discerning of visitors, which is highlighted by its best performing blogs, such as:
12 Nostalgic Drive-Ins to Visit this Summer
The Best New Hotels in the World
19 Travel Photographers to Follow on Instagram Right Now
Like The Blonde Abroad, Condé Nast Traveler also has a section devoted to women who enjoy traveling solo, which offers all the inspiring content a lady might need to plan that trip she's always wanted to.
A Luxury Travel Blog

While not as well known as the rest of our list, A Luxury Travel Blog lives up to its name. Most of this blog's posts are about luxury travel destinations or products, but once weekly, the Recipe of the Week offers a glimpse into the gastronomy of these cities, towns, and countries.
Some of the most popular posts on A Luxury Travel Blog include:
5 Luxury Travel Treats You Can Enjoy Now
Unique Wildlife Experiences to Look Forward to After the Pandemic
A Luxury Travel Blog caters to a wide but niche audience – everything's luxury, from the food to the photography, and the hotel to the destination. Consider offering a bit of everything on your travel blog, but carefully curated like the creators at this one.
Increase Organic Traffic to Your Travel Blog with Scripted
When you partner with Scripted, you get access to a stable of highly vetted travel writers with extensive experience. Depending on the plan you choose, you can even let Scripted's account managers take the reins while you sit back and watch your organic traffic grow.
If you're a travel writer, the blogs above are the perfect places for global inspiration. If you're not a writer and need help boosting your site's visibility, reach out today or signup for a free trial to see how Scripted can help you increase organic traffic to your travel blog.