Different Types of Transcription Services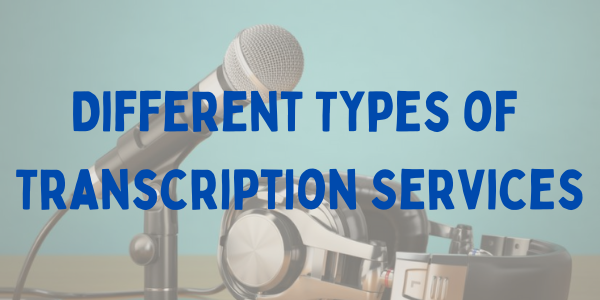 Despite improvements in search technology, people still don't have a reliable way to search audio recordings for specific information. Audio transcriptions can solve this issue by giving you a searchable text of your recordings.
There are different types of transcriptions, though. Before you request a text version of your audio or video recording, make sure you know the pros and cons of the different types of transcription services so you can get the option that meets your needs.
Verbatim Transcription

Verbatim audio transcription gives you precisely what was uttered by everyone recorded. When you ask for a verbatim transcription, you do not want your service to edit any of the content. You want the transcription to include everything from eloquent phrases to hiccups. You even get background noises when they stand out in the recording.
Problems With Verbatim Transcriptions
People don't read the same way they listen. When you listen to someone speak, you expect to hear them stumble over words, pause as they gather their thoughts, or make sounds unrelated to the points.
You're so used to hearing filler sounds like "um" and "ah" that you barely notice them when you listen to someone speak. Those filler sounds stand out in a transcription, though. Too much stammering or fumbled phrases can make speakers seem like they don't know what they want to communicate. Verbatim transcriptions could even make highly intelligent people seem a little dimwitted.
If you want potential partners, clients, and customers to read your transcription, you should probably avoid verbatim transcriptions.
Verbatim transcriptions can also interfere with your site's SEO goals. For example, you might post a transcript of your product development managers discussing the features of an upcoming human resource app. You might want to rank for keywords phrases like:
Higher productivity

Improve efficiency

Collaboration between departments
Search engines might not notice your intended keyword phrases when your verbatim transcription records them as:
"Higher, um, you know, productivity"

"Improve some the aspect, ah, better efficiency"

"Departments get to, more often, collab, collaborate easier."
If you want an SEO boost, verbatim transcription rarely gets results.
Reasons You Might Want Verbatim Transcriptions
At this point, you might think that verbatim transcriptions sound useless. That isn't true. Companies use them often. You might prefer verbatim transcriptions when you:
Need an accurate, written document that shows the speaker's thought process.

Want to compare interviews to choose a person with exceptional speaking skills.

Give hiring managers transcripts that help them decide which applicants they should approve.
Verbatim transcriptions also tend to cost less than other options. If you simply want a text version of a recording and you don't plan to share it with anyone outside of your organization, you could save a few dollars by choosing the verbatim format.
Edited Transcriptions

Edited transcriptions give you highly readable text without filler phrases and other noises. A professional transcription writer might even choose to remove entire sentences that don't add to the speaker's message.
Why You Would Avoid Edited Audio Transcriptions
Transcriptionists have to spend a lot of thought and time making edited audio transcriptions. The additional time and energy mean that you typically pay higher prices for edited transcriptions.
If you plan to use the transcription as an internal document that only a few people will see, you might not want to spend the extra money on edited transcriptions.
The Benefits of Edited Transcriptions
Edited transcriptions make speakers look as intelligent and informed as they are in real life. When you order an edited transcription, you can expect to receive text you can use on your website, newsletters, brochures, and promotional materials. The editor turns your spoken narrative into text that readers can scan and understand easily.
Edited transcriptions can also add to your SEO goals. Your audio recording might not include all of the keyword phrases that you want. A transcription editor can find the appropriate places to add those terms to boost the content's visibility to search engines.
In summary, you might want to choose edited audio transcriptions because they can:
Give your speakers authority.

Improve your website's SEO.

Help readers find the information they need.

Eliminate the time and effort readers spend using their brains to edit out any unnecessary filler.

Make your brand look more knowledgeable and trustworthy.
Intelligent Transcriptions

Intelligent audio transcription falls between verbatim and edited transcriptions. When you request an intelligent transcription, you get a lightly edited text that removes filler words, unnecessary sounds, and interruptions. The transcriptionist will not, however, edit sentences for clarity or add keywords to your content.
Problems With Intelligent Transcriptions
Intelligent transcriptions give you cleaner versions of your recorded audio, but they do not edit language to give speakers more authority or clarity. You won't get the "ums" and "uhs," but you still have the words a person said—exactly as they said them. If your CEO spent 10 seconds rambling about an unrelated issue, your intelligent transcription will show that. That's not necessarily a good look when you want to share documents with stakeholders in your business.
Why You Would Want Intelligent Transcriptions
Intelligent transcriptions give you an inexpensive way to store and search transcriptions without annoying interruptions from filler words and sounds.
Intelligent transcriptions can also improve your website's SEO. You don't get the full benefits of edited audio transcriptions, but you do get to add meaningful text that search engines can use to match your content to queries.
Assuming that you don't plan to present your audio transcriptions as polished content, intelligent transcriptions will probably meet your needs.
Get the Transcription Services You Need From Scripted
All types of transcription services require help from experienced professionals who know how to identify words and make editorial decisions based on the speaker's intentions. Scripted offers access to a network of professional writers who specialize in transcriptions and more.
Browse the profiles of experienced transcriptionists on Scripted to find someone with skills that match your needs.