Rank Math SEO Tool Review | Scripted

Anyone who owns a website can likely relate to the struggles of search engine optimization (SEO). Optimizing your website based on various metrics, markers, and vague recommendations is not easy, especially when that process involves everything from your blog content to your pages, titles, meta descriptions, alt text, and more. Staying on top of all of it would basically require you to specialize in SEO, which no one has time to do. That's why plugins like Rank Math SEO are so exciting when they get released.
If you manage your content using WordPress, Rank Math SEO is one of your best bets for helping your website rank well and drive organic traffic to your content. Rank Math SEO takes a lot of the guesswork out of SEO by giving you handy tools, metrics, and to-do lists that help you do the things you should be doing, with the help of automation and reminders to speed up the process. Here's what you should know.
What is Rank Math SEO?

Rank Math SEO is a WordPress plugin that offers built-in suggestions for all of your content. For instance, if you're publishing a new blog post, simply use Rank Math SEO within your WordPress dashboard to analyze it. Since it's a plugin, you won't have to copy/paste your content into a third-party tool or upload it somewhere to optimize it — you can handle everything within WordPress where you're already working.
Rank Math SEO checks a variety of metrics, looking at your content to make sure it meets the widely accepted best practices of SEO. If you're missing a mark, it will tell you, so you don't have to run through a to-do list every time you try to optimize your content. You also don't need to worry about guesswork or filling in the blanks when it comes to how you should approach SEO.
As they put it, "Rank Math is a Search Engine Optimization plugin for WordPress that makes it easy for anyone to optimize their content with built-in suggestions based on widely-accepted best practices. Easily customize important SEO settings, control which pages are indexable, and how you want your website to appear in search with Structured data."
Features and Benefits

Enjoy countless features to help you improve your website's optimization across the board, like:
More than fifteen modules that you can enable/disable and configure based on your site's needs, so your dashboard is never cluttered with things you don't want to see.

The ability to measure and track your site's keyword rankings over time, so you can see the actual impact of your optimization methods.

With a detailed SEO analysis tool, you can discover the gaps to fill with your strategy and identify up to 30 issues across your website.

Easily import data from other SEO plugins in just a click, allowing you to pick up right where you left off.
Pros and Cons
No plugin is perfect, but Rank Math SEO impresses users with its feature suite that can help anyone from a novice website owner to an avid blogger optimize content with ease.
Pros
Native to WordPress, you won't have to use a third-party tool or editor to make sure your content is optimized.

Aside from optimizing your website, the built-in keyword tool will help you track your rankings and performance over time.

Detailed reports identify common issues and gaps that you may not think to address, saving you time and boosting your rankings.

Rank Math markets itself as the fastest SEO plugin on the market. Besides being quick to set up and use, it also won't slow down your WordPress site (something many other plugins

will

do).

Secure, private, and supported 24/7, you're bound to have a positive user experience with Rank Math thanks to all the features and people who back it.
Cons
Rank Math SEO is not the most comprehensive content optimization plugin out there. In fact, you might opt for a third-party solution if you're really looking to drive results with a feature-rich optimization platform.

While the company offers a free version, you're probably going to want the upgrade if you need access to all the helpful tools and features. It may not be the best choice if you're looking for a completely free solution.
Rank Math SEO Plans and Pricing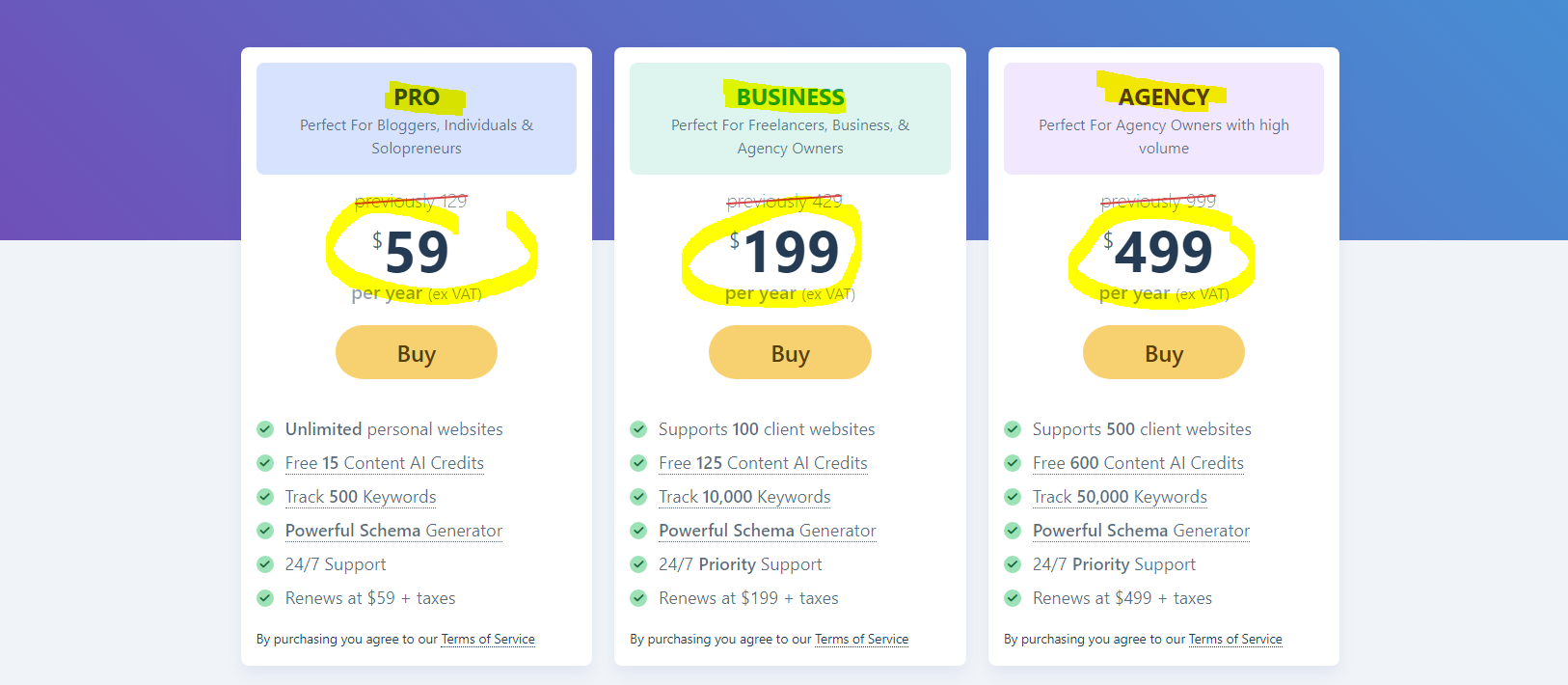 If you want to test out Rank Math SEO, they offer a very basic free plugin that you can try. However, to enjoy all the features and benefits discussed here, you will need to upgrade to one of the paid versions.
Pro
For $59 per year, you can use Rank Math on unlimited websites, track up to 500 keywords, get 24/7 support, and use the powerful schema generator. This plan includes all the features you could ask for in such a plugin and is the ideal next step once you've tried out the free version.
Business
For $199 per year, the Business version of Rank Math offers all the same features as the Pro version, but it enables you the opportunity to white-label reports and track more keywords. This makes it an easy decision if you are a marketer or other service provider looking to offer SEO services to your clients.
Rank Math SEO Customer Reviews

"Easy to set up and use (plus good support). After using several of the better-known, free SEO plugins for WordPress, I finally settled on Rank Math. The Setup Wizard makes it easy to configure, whether one uses it in Easy or Advanced mode. Rank Math's additional features allowed me to replace not just the other SEO plugin, but two other plugins as well. When composing a piece for publication, Rank Math makes it easy to tick off the various points for achieving a good SEO score. I have Rank Math set up on six sites and have used it for a year. In that time, I have only had to use Support once, and they came through with a quick and easy-to-understand solution." Neal Umphred
"I have been using Rank Math for a long time, and it's by far the best WordPress SEO plugin ever made. The plugin is lightweight, packed with features, and it's totally free. The support is top-notch, and I can't recommend it enough. Switch over to Rank Math, and you will never regret it." - Suganthan Mohanadasan
"Rank Math is a must-have SEO tool in any WordPress site with excellent functions to go beyond basic on-page optimization, whether it be for web pages or blog content. From setup to everything else, it's simple to use, drastically better than its competitor plugins, and overall made our SEO team's jobs not only simpler but more enjoyable. I also love how you can integrate the Google instant indexing API—that was an innovative and result-driving approach. All I have to say is install Rank Math and never look back." - Chris Kirksey
Improve Your Content Marketing Strategy

Rank Math SEO is a powerful plugin that can help you improve the rankings for your WordPress website, with no third-party tool or content editor. With that said, optimization can only work if your content has been structured and created with the golden rule of SEO in mind. That is, offering true value to your readers.
If you're not sure that your content is fulfilling the golden rule of SEO or you find that you're so short on time in creating your content that it often gets pushed aside, it's time to invest in Scripted. With Scripted's service, we will put your content strategy into the hands of our professional writers who create each piece of content with your brand's voice, goals, and keyword gaps in mind.
With the help of Scripted, you can begin ranking your website above your competitors, all while building a more engaged reader base. Interested in learning more? Explore everything that Scripted can offer your business today. Get started now!