The Step-by-Step Guide to Conducting a Content Audit in 2023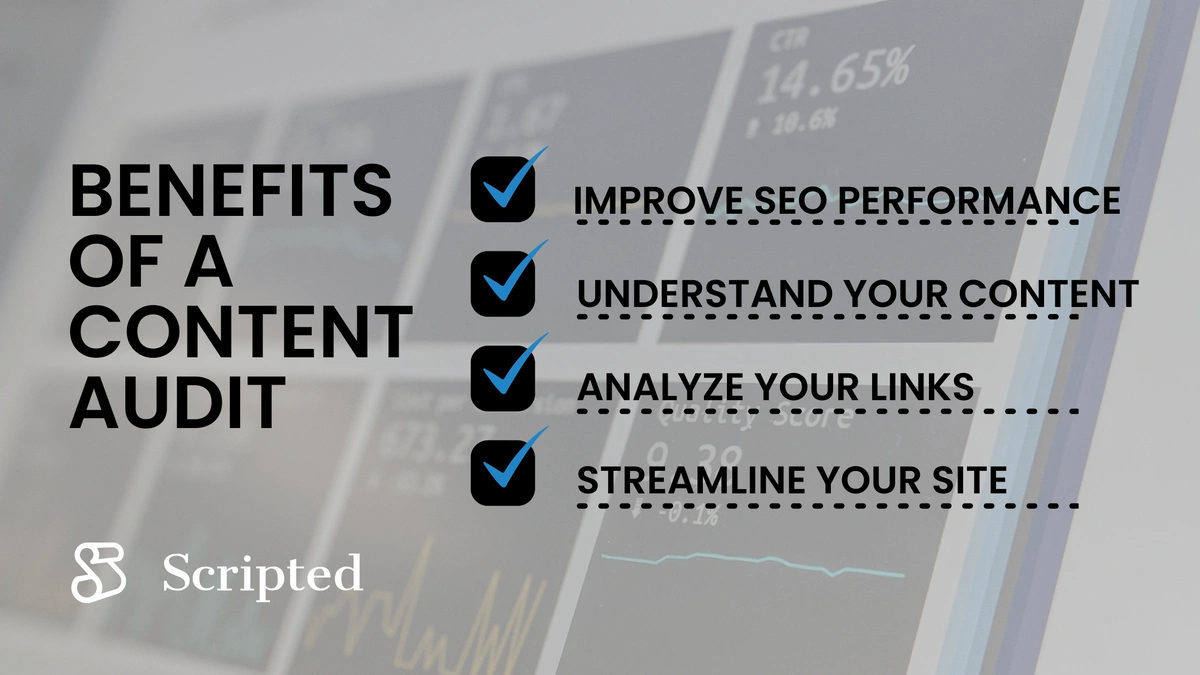 Much of the content that you create can be reused and redistributed. This is a smart content marketing tactic and one of the best ways to get the most value out of the articles, blog posts, and other published materials. However, you should conduct regular audits to help identify content that needs to be improved, deleted, or repurposed for different formats. 
Let's walk through what a content audit is, why it's important, and what you need to conduct it thoroughly.
What is a Content Audit?
A content audit is the process of methodically analyzing and assessing all the content on your website. The main aim of this process is to reveal content that is outdated, irrelevant, filled with errors, or simply in the wrong place. Carrying out a content audit can help you strengthen your content strategy and content development workflow. If your site is over five years old and you have yet to do a content audit, now may be the time.
Benefits of a Content Audit
You may be thinking to yourself at this point "what do I get out of a content audit?". That's a fair question. Selfish, but fair. Here are more specific benefits of carrying out regular content audits:
Improve SEO performance
Conducting a content audit will help you remove dead weight so that you can lift your SEO performance to new heights. Removing underperforming or error-filled pages will help your new pages you worked so hard on get crawled more often by search engines. 
It's a concept called "crawl budget" that search engines have where they can only crawl so many pages so often without causing errors on a site. The less low quality content on your site, the more crawl budget is left for your high-quality and high converting pages, thus giving those pages a better chance to rank.
Understand the content on your site
Doing a content audit will also make it easier to find and remove duplicate pages and fix keyword cannibalization. If you are like most large companies, you have had various writers, SEO agencies, and content marketing companies contributing to your site for years. 
It may be difficult to know the full scope of content that lives on your site. Doing a systematic analysis will help you better understand what is valuable and what isn't, what should stay and what needs to go.
Top-level view of your content's link profile
A content audit can also be a great time to audit your links and backlinks. This can help you identify the posts that have gained you the most links. It can also inform the kind of content you may want to produce in the future. 
Doing a content audit will also help you identify broken internal links, which you can then remove or replace with an active url. How you situate the internal links on your site is also essential. An audit will allow you to position your links so that search engines can move quickly through the most critical content on your site, another positive signal that can lead to higher ranking pages.
Streamlining your site
The biggest gain of a content audit should be to streamline your site—ridding it of all extraneous, useless, and erroneous words, passages, and links. The content that remains will give you a clear baseline for what content is working and what content you need for future content marketing campaigns.
There are a lot of moving parts in any content marketing campaign, having a clean and clear view of your content is essential for making smart decisions and optimizing your site.
How to Do a Content Audit
Alright, now that you know WHY you're doing a content audit let's get into the HOW. There are nuances for every business and every website that will differ, but generally you can follow these steps to get started:
1. Define your goals and metrics
A content audit can be difficult and time-consuming, so it is better to start it with clear and well-defined objectives. The goals of the audit should be linked to concrete business goals. You should have a specific reason for doing a content audit. Is it to achieve a certain ranking in SEO results? Is it to increase audience engagement? Or is it to improve your conversion rate?
These are only some of the possible aims of a content audit. You should sit down with your team and think through such goals. You should also establish the metrics you are aiming for. Content marketing metrics can be divided into four categories:
SEO metrics

: organic traffic, backlinks, keyword rankings, dwell time

User behavior metrics

: pageviews, average session duration, bounce rate

Engagement metrics

: likes, shares, comments, mentions

Sales metrics

: number of leads, conversion rates, ROI
2. Inventory your content

You must first decide on the content you intend to review. Blog posts, news, education materials, landing pages, product descriptions, or external publications are all fair game. You will then need to gather the URLs of these sites. The easiest way to do this is through an online content audit tool. Here are 10 of the most useful sites:
A tool can help you quickly collect the URLs and audit the content based on your sitemap. You will then need to catalog the content. The easiest way to do this is to sort your content into the following categories:
Buyer's journey stage:

awareness, consideration, decision

Content type:

blog post, manual, product description, landing page

Content format:

text only, images/video present, with/without call-to-action

Word count
Date of publication or last modification
Author
3. Collect and analyze data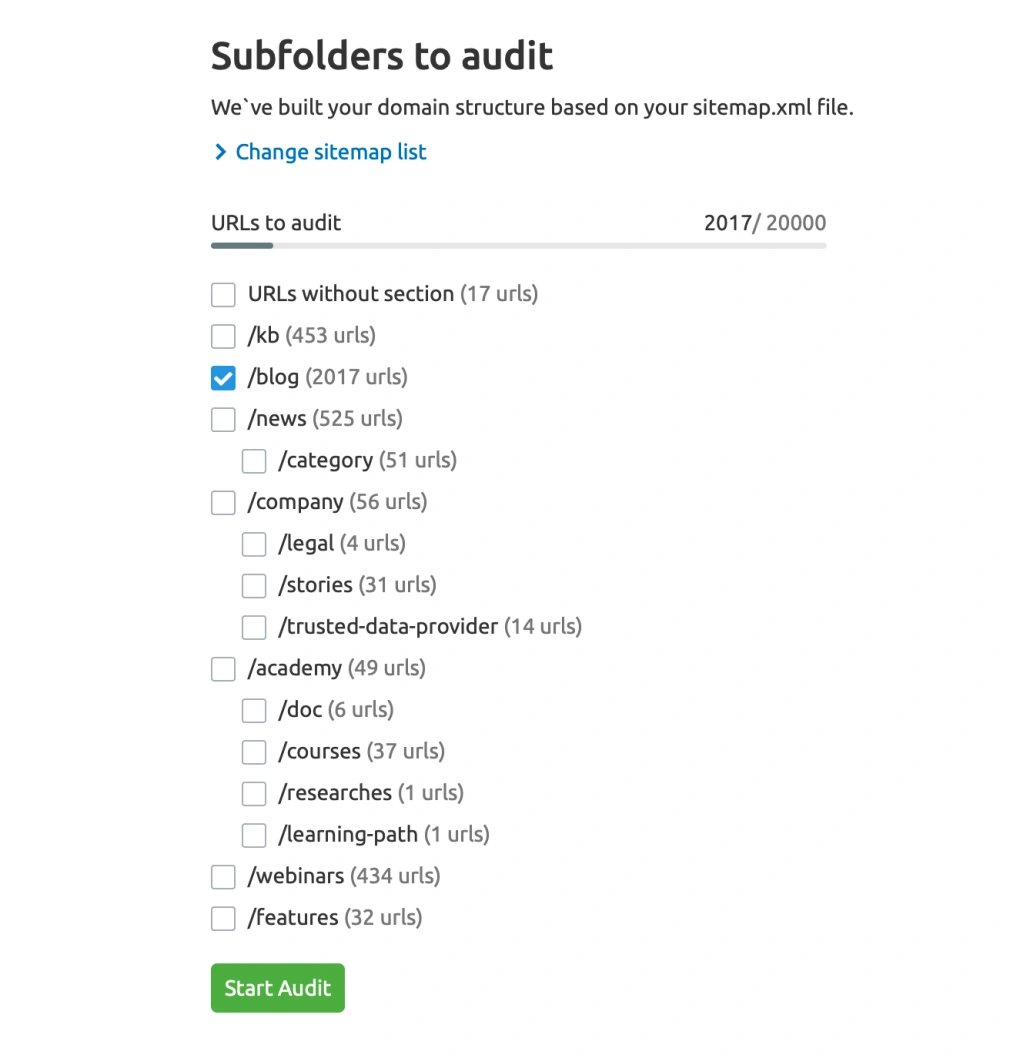 The next step of the audit is to figure out which URLs to remove and which to keep. You can start this process by asking the following questions about each URL:
Does it get traffic?

Does it get conversions?

Does it have backlinks?

Does it have a high bounce rate?

Is the article still accurate and relevant?
Asking these questions will allow you to establish the value of the URLs on your various sites. A URL with no traffic across platforms, few backlinks, a high bounce rate, and low keyword ranking is unlikely to produce organic leads or conversions and thus be removed.
However, you should look at each URL closely before you trash it. In some instances, content performance can be improved if it is revised, updated, or relocated. If, for example, your web page attracts a great deal of traffic but has a high bounce rate and low session duration, it may mean that users are interested in the topic but that your content does not give them what they want. You should assess the different elements of your content to figure out why users are initially interested in your page but leave it soon after. The problem may be poor writing, outdated information, bad CTAs, or excessive page load time.
Here is an easy way to assess and categorize each piece of content:
Keep:

content that performs well, is relevant, and can be reused as part of your content marketing strategy

Update:

content that can be useful and effective but needs to be revised

Delete:

content that is no longer relevant or that would take too much time and too many resources to improve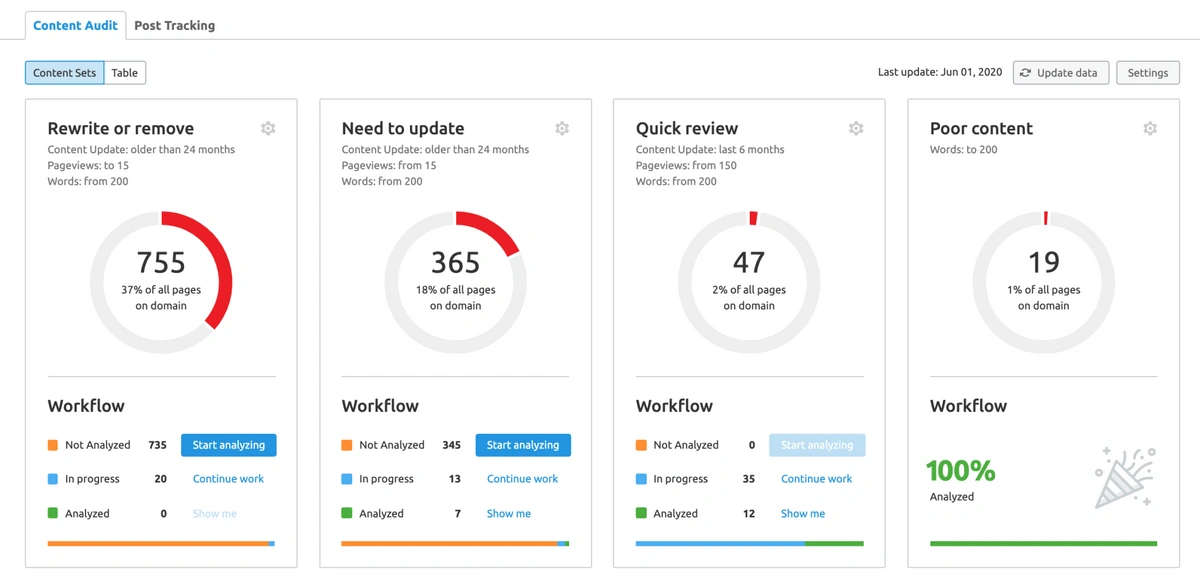 In addition to content, there are two more elements you will need to assess: backlink and keyword data.
Your content may not have had many views. However, if you created it for the sole purpose of link building and were successful, you do not want to remove it. These pieces of content can inform your larger digital PR strategy.
You should also determine whether your keywords rank high enough. It is better to keep URLs if there is evidence of keyword ranking potential. Such URLs should be kept and updated as part of your larger content marketing strategy.
4. Create an action plan

After you have carried out the above analyses and categorizations, you must devise an actual plan for your people to act on. The plan should prioritize actions that require little effort and align with the concrete business goals you established in the first phase of the audit.
It is quite easy to delete content. Revising, enhancing, and reusing content you have decided to keep requires more effort. Here are some tips on how to create an action plan for each piece of content:
Reuse:

combine different pieces of different articles to create a new piece

Rewrite:

revise blog posts and articles that are underperforming by adding new tips, examples, tips, and illustrations

Expand:

add more detail and backlinks to existing articles

Refresh:

sometimes articles require more recent and relevant information such as new statistics, trends, and product details

Restructure:

ensure the articles you keep are clear and logically structured with relevant H2 and H2 tags

Add videos:

incorporating videos into your content can

significantly increase

traffic to the site

Add images:

we live in an image-driven age, and adding pictures and graphics to your content can increase traffic to your website

Optimize metadata:

rewrite your SEO titles, meta descriptions, and H1 tags to make them more attractive to users and search engines

Optimize internal linking:

adding links that point to new articles and blog posts can

improve your website organization and decrease your bounce rate

 
You should also use 301 redirects for web pages that you have removed from your site. This will allow you to avoid "page not found" prompts, which annoy users.
5. Adjust your content marketing strategy
As you perform your content audit, you should keep your long-term content marketing strategy in mind. You can leverage the results of your audit action plan to adjust your assets for better organic reach and improved conversion rates.
You should review your content marketing strategy at least once a year. This will help ensure that your day-to-day activities align with your company's goals. If you are in an exceptionally competitive industry that changes frequently, you may need to review and adjust your content marketing strategy monthly or quarterly.
How Scripted Can Help with Your Content Audit
You may be able to carry out most parts of your content audit without much difficulty. But once you have come up with an action plan, you should leave certain parts of it to professionals.
Creating new content or rewriting and restructuring old content is best left to experts. Even if you have talented writers on your team, their time is probably best spent elsewhere. Hiring a content creation company will help you get the articles and blog posts you need to further your content marketing strategy in 2023.
Scripted has expert writers across 50+ industries who will work with your team to ensure that your content's style, tone, structure, and facts are what they should be. Does your agency or business need help writing content that creates clients? Scripted can help.
---
Published by
Liz Sena
on Monday, March 13, 2023