The Importance of Google Authorship
What is it?
Google Authorship
is a great concept that Google has developed to improve search quality by rewarding good, trustworthy content, instead of simply following the old algorithms for SEO data. It works by linking your Google+ profile to all the content you create. If you're a credible author, then you absolutely want to be on board with Google Authorship.
Why is it important?
Google Authorship gives bloggers and content writers a distinct advantage over those who don't utilize the service. It builds trust and establishes credibility while positioning you as an authority on the topics that you write about.
Articles written by verified authors receive
better placement
in search results and are more visible, thanks to the accompanying photo next to the results. These two things work together to improve your
click-through rates
, visibility and page views.
More than 17 percent of search results feature a verified writer in the top 100 results,
and that percentage is only going to increase as more authors begin utilizing authorship.

Another great benefit is that, with authorship,
plagiarism will eventually be a thing of the past
. Since listings with authorship markup rank higher in search results, it will be clear if any of your work has been copied. Your credibility is what will propel you further, while the fraudulent content will fade into the background.
As recently as this week, authorship has been extended to Google Images, as well, further streamlining and improving the quality of searches by ranking results linked to a verified author higher on the SERP.
What does it mean for SEO?

Keywords, link building and interlinking still apply, but quality and reach on Google+ matters now, too. You'll want to make sure you've
implemented the tag rel="author"
to your website so Google will know that you have quality, verifiable content and authors.
According to research by
Moz

,
page authority ranks number one in SERP, followed by Google +1s.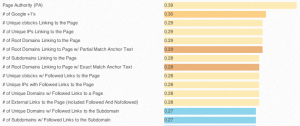 Google+ crawls and indexes posts immediately, so linking your posts to this service can immediately improve your search results ranking. Additionally, your posts will have priority on SERPs for those who have you in their circles. This shows just how important building relationships with and being an active part of Google+ can be for your overall reach.
What's next?
Take advantage of this still-emerging technology and get in on the ground floor. Begin building your reputation with Google now and you'll find yourself miles ahead of the curve once it becomes more mainstream. To get started, log into your gmail and update your Google+ page.
Also visit Google's Authorship page:
https://plus.google.com/authorship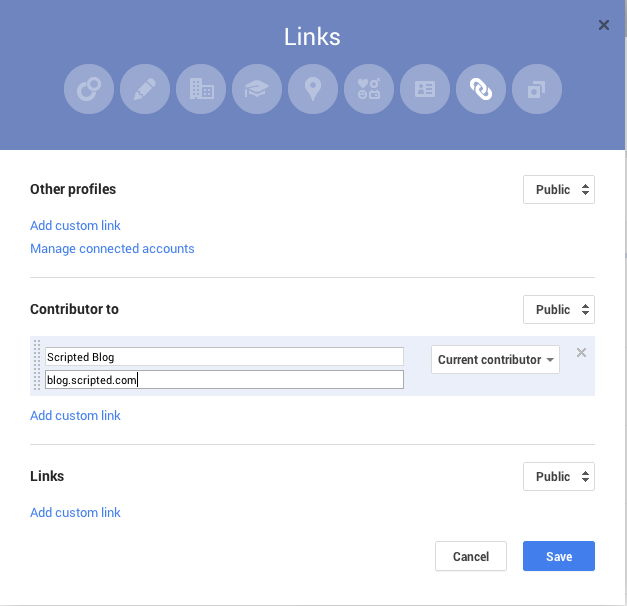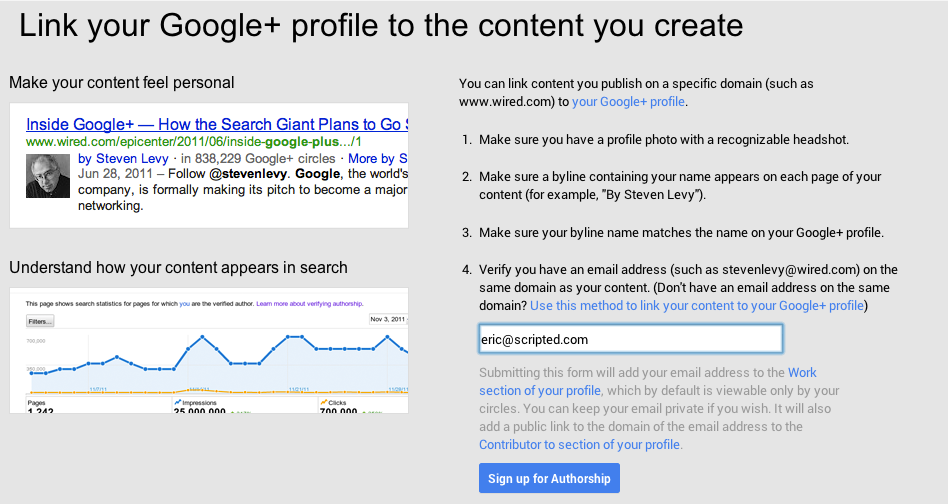 Note: This article was written by Scripted writer,
Jessica H.
You can read more articles on Scripted's
SEO writing team.
Sources:http://searchengineland.com/google-authorship-launches-within-image-search-173424http://www.vervesearch.com/blog/how-to-implement-the-relauthor-tag-a-step-by-step-guide/http://moz.com/blog/google-plus-correlationshttp://www.marketingzen.com/10-reasons-why-content-writers-should-claim-their-google-authorship-markup/Image Credit: http://www.crackverbal.com/gmat-awa/
Subscribe for the latest in Content Marketing & Freelance Writing!
While you're here, have you tried Scripted lately?
Used to be a member, but moved on? Heard of it, but never signed up? The current iteration of Scripted will amaze you! Streamline your content writing efforts and build your own team of high-quality writers. It's all you need for content writing. Try it free today and meet your next favorite writer or writers!