Now You Can Publish Scripted Content to Your Shopify Store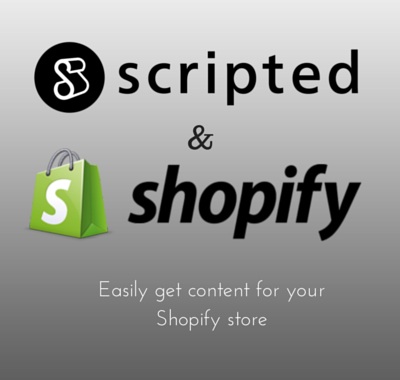 Running a small business on Shopify, but don't have the time to blog for it? Now you can order Scripted content from our new app!
If you sell anything online, you've probably heard of
Shopify
. They make it blissfully simple to create an online storefront, add products, and sell them. You may not know that Scripted has an equally simple way to publish your Scripted content to Shopify.
Drumroll, please... We are happy to introduce our new Shopify App!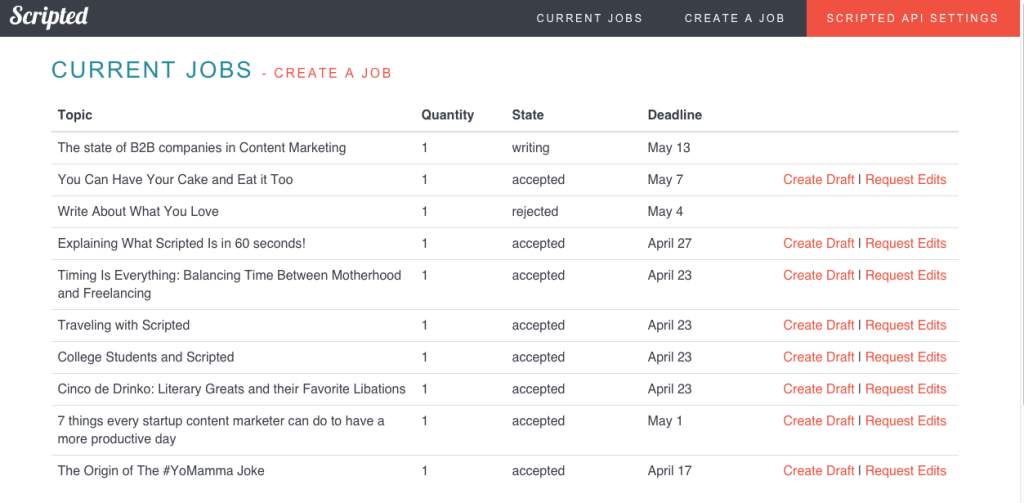 That's right, publish blog posts and product descriptions straight into Shopify. See that "Create Draft" link? That's where the magic is -- seamlessly pull your blog posts over to Shopify for publishing and distribution.
Here's how our Shopify app works.
First, visit the Shopify App Store and search for Scripted.

Next, click on the Scripted app and install it. It'll show up under your installed apps like this:
Click on the app tile and it'll launch!
Now you'll need to
register as a business
(for free!) on Scripted if you haven't already. Log in and navigate to your API settings by clicking on your email in the top right and go to Account Settings and then click on the
API tab
. You'll see your identifier and key. Copy those!
Go back to your Shopify app and click on Scripted API Settings in the top right.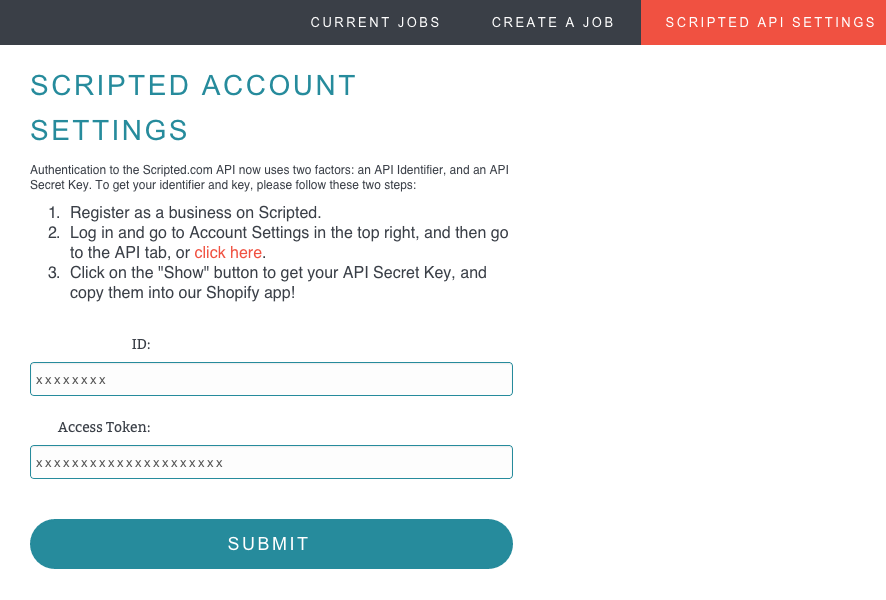 Copy your API Identifier to the ID field and the Secret key to the Token field and that's it! Your Shopify account will be tied to your Scripted account, and you can move your blog posts over from Scripted to Shopify.
Why blog for your store? It'll help capture visitors doing all sorts of searches that sometimes aren't even related to what you're selling. Google and other search engines will index your blog and surface links if they think it's relevant to the search terms, and that will help you sell more stuff.
There's no easier way to leverage the power of content marketing to grow your Shopify business. We hope you check it out today!
Need content for your blog?