Intersection of Public Relations and Marketing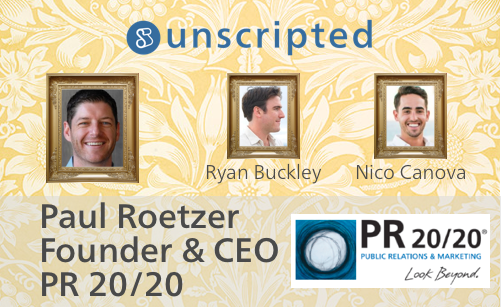 Show Notes


Paul Roetzer reveals his background in Cleveland and how he started his firm, PR 20/20.


Roetzer talks about why content marketing is so important and how to obtain higher ROI for the content you produce.


He discusses ways to scale your content for maximal growth.


He shares some productivity hacks that you may find very helpful.


Paul Roetzer is the CEO & Founder of
PR 20/20
, an innovative marketing agency poised at the intersection of public relations and content marketing.
Roetzer
joined
Scripted's podcast
to talk about how his company approaches PR differently and give the Scripted audience a few productivity hacks.
Getting Started In PR
After starting out at a small PR firm in 2000, Roetzer decided after five-and-a-half years that he wanted to strike out on his own. Roetzer never planned to be an entrepreneur, but simply had a Jerry Maguire moment when he realized a lot of the things PR agencies do simply doesn't make sense.
Roetzer's idea was to offer standardized PR services at set prices, offering clients far more transparency than usual. This is the aim of his company, PR 20/20.
Determining the ROI of Content
Roetzer says his team at PR 20/20 takes a scientific approach to everything. He feels that for a lot of the organizations that he works with, the ability to succeed comes down to getting results from a successful blog posting and content marketing strategy, and then obtaining strong lead generation and ROI on that content.
However, Roetzer also tries to align expectations with his clients. For SMBs with no social media outreach, (1,000 visitors a month, 2,000 contacts in their database), it doesn't matter if you write the ten greatest blog posts that industry has ever seen, nobody is going to read them. Those companies with better metrics and more reach can really have a huge impact with great content.
A huge part of a successful content strategy is activating that content and getting people to read it. Of course you need great content, but you also need a strategy to get that content found, which comes down to a combination of earned and paid media.
Getting Great Results With Content
Most companies turn to PR 20/20 for lead generation, which requires a strong content strategy. Roetzer stresses that producing content once a month isn't going to cut it. However, consistent, regular posting can help a client land a 300-400 percent increase in traffic.
To produce more content, you can hire internally, but that's not always cost-efficient, especially for smaller companies. Other options include working with a marketplace like Scripted. Companies like Scripted help you scale your content even in situations where you have an established team.
Roetzer's Work As An Author
In 2011, Roetzer went to
SxSW
and attended the
Wiley
Party where he signed a deal to write The Marketing Agency Blueprint. Roetzer relates that he was a bit taken aback when he was asked to write the book in 60 days. He managed to get a 90-day deadline, but during that time he had to pause his work as CEO.
Roetzer's follow-up, The Marketing Performance Blueprint, was the book he really wanted to write because it was for marketers, executives, and entrepreneurs. Roetzer identifies three reasons for marketers' underperformance, including a talent gap, a tech gap, and poor strategy. His book is all about closing these gaps.
Productivity And Staying Focused
Roetzer has agency-wide productivity blocks from 9am-11am and 1pm-3pm everyday, which means no meetings and no chatting at cubicles. This results in a quiet and productive workplace for four hours a day, and is designed to allow people to go home at 5pm to see their families.
Roetzer offers Scripted's audience some great insights into content marketing and entrepreneurship. Be on the look out for this content marketing innovator in future Scripted podcasts. 
Subscribe for the latest in Content Marketing & Freelance Writing!
While you're here, have you tried Scripted lately?
Used to be a member, but moved on? Heard of it, but never signed up? The current iteration of Scripted will amaze you! Streamline your content writing efforts and build your own team of high-quality writers. It's all you need for content writing. Try it free today and meet your next favorite writer or writers!