How to Succeed as a Professional Content Marketer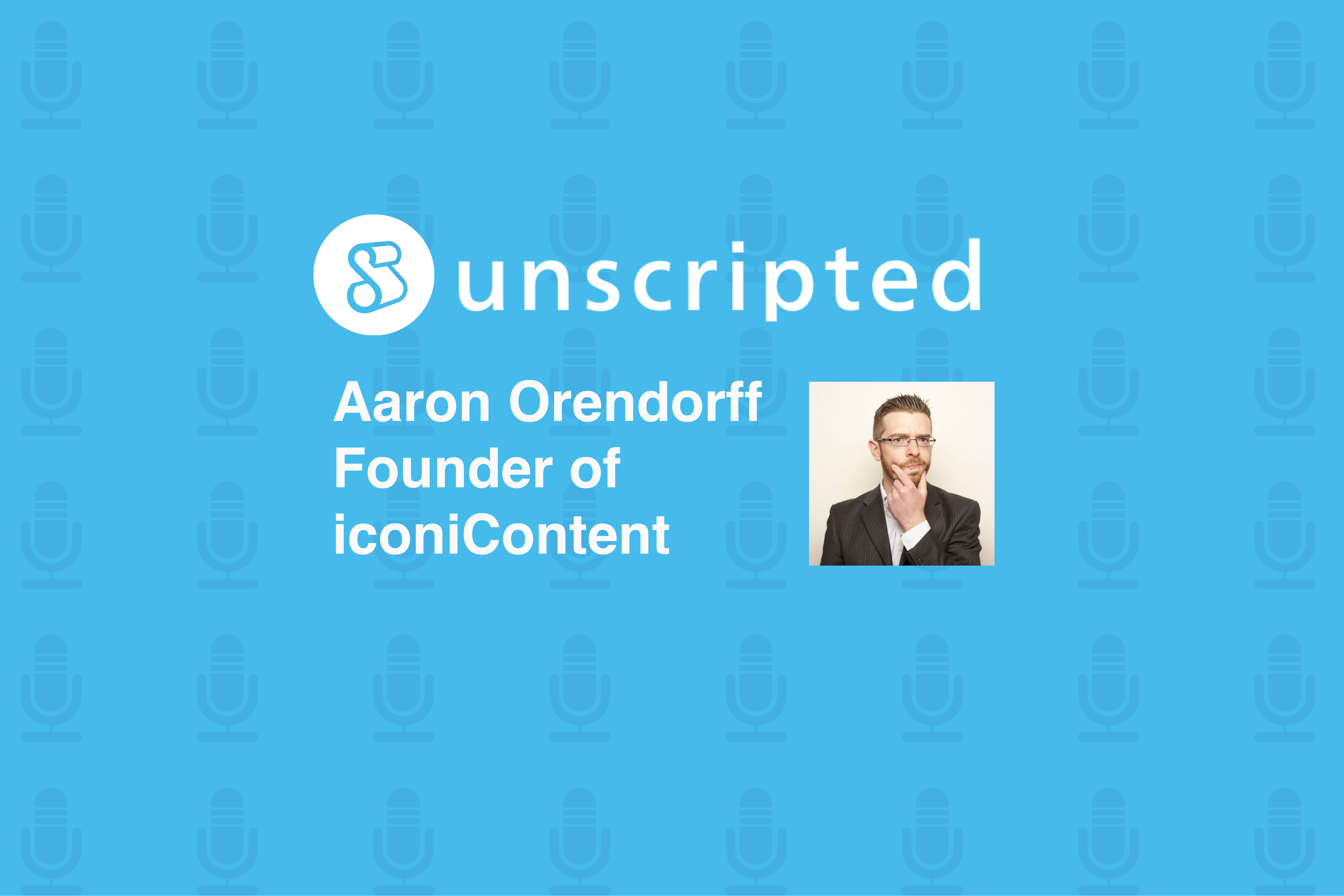 Show Notes


Telling a compelling story is the key to a strong content marketing strategy.


The aim of content marketing is to create a narrative in which the customer is the hero.


One of the biggest mistakes businesses make in content marketing is to dump their existing content on social media instead of creating native social content.


Rejection is part of the process of establishing yourself as a writer or content marketer; learn to embrace it.


Aaron Orendorff says that his mission is to save people from bad content. That's why, after studying English and working in Christian ministry in Portland, he founded his first business,
iconiContent
.
The iconiContent Story
For Aaron, the first step into content marketing was to become a writer. Three years ago, Aaron was a relatively unknown blogger. That's when Ann Handley of MarketingProfs contacted him and asked to include one of his blog posts in a book. Instilled with confidence in his writing ability, Aaron built relationships with the team at CopyBlogger and began to launch his career as a freelance writer. The slow process of building his byline involved a lot of pitching and many rejections.
Tips for Content Writers and Marketers
Aaron has some tips to share with budding content writers. First of all, you need to get comfortable with rejection. Every budding writer or entrepreneur gets knocked back many times before they finally succeed. Second, aim high. Pitch to established publications and push your rates as high as you can. Practice asking for more money until you can do it with confidence. Finally, you need to go above and beyond for your clients. Write full articles, not just pitches, before you get in touch with publications. Always aim to deliver the highest possible quality. The more you give, the more you'll get back.
How to Build a Content Strategy
The key to building a strong content strategy is to tell a good story, which means one that presents your customer as the hero. One thing that marketers often get wrong is to think this advice means that every blog post and product description has to tell an individual story. Instead, your aim should be to build a big picture meta narrative that overlays the whole marketing strategy. This narrative should permeate everything, including text, images and videos.
The Key to a Successful Strategy
There are three words to remember when building a successful content marketing strategy: small, consistent, helpful. Focus on publishing new content as regularly as you can, and make sure it offers real value to your readers. For example, product reviews may be helpful to your audience, and they can be very quick to produce. If you feel overwhelmed by the demands of starting a new content marketing campaign, focus on solving one small problem for a single visitor to your website rather than trying to give everyone all the information they need on your topic at once.
Native Social Content
Once you have content, sharing it on social media is a good way to grow your brand. However, it's a mistake to only share existing content on social media. Creating native social content for your brand can help you engage more effectively with your audience and create a reputation for yourself as a truly great content marketer. 
Keep up with the latest Unscripted podcast by
subscribing on iTunes
and following us on
Soundcloud
! 
Subscribe for the latest in Content Marketing & Freelance Writing!
While you're here, have you tried Scripted lately?
Used to be a member, but moved on? Heard of it, but never signed up? The current iteration of Scripted will amaze you! Streamline your content writing efforts and build your own team of high-quality writers. It's all you need for content writing. Try it free today and meet your next favorite writer or writers!