What Small Businesses should Know about Local Search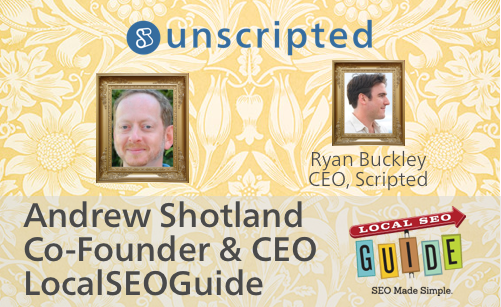 Show Notes


Andrew Shotland explains how he grew from a solo SEO consultant to a business that specializes in local SEO.


Shotland explains why SEO is important, why many businesses get it wrong, and how to fix their SEO strategy.


He explores the importance of SEO citations and writing.


He shares some insights into how he keeps his company productive and how he stays focused.


Andrew Shotland, the CEO and Founder of
Local SEO Guide
, joined Scripted's Unscripted podcast from where his business is located, Pleasanton, California, to share his knowledge about entrepreneurship and SEO. Business owners and marketers can learn a lot from someone with such deep knowledge of the often complicated world of SEO, which increasingly determines how well a business can compete online.
How Shotland Got Started With SEO
In 2003, Shotland helped start
Insiderpages.com
, which was like an early version of Yelp. At the time, Shotland learned about SEO and the company started putting to use SEO principles. They got quite good at SEO and saw their page hits go from 35,000 a month to a million unique visits. They soon got addicted to it and increased traffic to 3-4 million unique visits.
As a result, they began raising money from some of the premier venture capital firms like Sequoia. However, someone had the bright idea to redesign their website. The redesign screwed their search engine rankings up overnight, causing them to lose virtually all their traffic.
Trying to find out what the issue was extremely frustrating, but it turned out to be a duplicate URL issue. By the time they fixed the issue, their investors had grown tired of the business and eventually sold it to
CitySearch
in 2006.
However, Shotland realized the power of SEO and started doing consulting work, partly to help others avoid struggles he experienced with SEO.
Shotland had a decent network from his time at InsiderPages, and it was easy for him to amass clients quickly. He mostly focused on local sites, such as newspapers and radio stations, but also branched into multi-location businesses. About three years ago, he decided he needed to grow his local SEO business by hiring more people to help him. Local SEO Guide currently employs eight people, and plans to expand to 10-15 in next year.
Is There Still Opportunity in SEO?
Local SEO Guide just did a
study on local SEO ranking factors
from 35,000 businesses and 150 variables. They determined that backlinks are truly the killer technique to improve organic and local SEO rankings, but the data shows that most businesses are still doing a poor job of getting backlinks.
As a result, there's a huge opportunity for businesses that want to rank locally to be a lot further ahead than their competition.
Local Versus Organic SEO
A lot of local SEO has to do with
Google Maps
, doing well with searches for local keywords,
SuperPages
,
Facebook
,
Yelp
, Apple Maps, and knowledge panels on the side of search engine ranking pages. There's actually no huge bright line separating standard SEO and local SEO, and there's a lot of overlap between both forms of SEO.
What Should Scripted Take Away From The Rise of Local Search?
For Scripted, Shotland doesn't know if local SEO is of interest. However, every company should take the minimal step of verifying their location and contact information with companies like
Neustar Localeze
. Having accurate business information will make it more likely non-local businesses will find you even if you aren't focused on local markets.
Why Local SEO Is So Effective
Shotland says that you can invest millions to rank first for a search term, but it doesn't make sense for small businesses. Instead, focusing on ranking first in the immediate area that your business operates is relatively simple to do and cost-effective. In short, small businesses get more bang for their buck when they stick to a local SEO strategy.
How Many Citations Should Local Business Go After?
Shotland says that most local businesses should get the top 50 citations out of the way. He also said that a study they performed showed that when they fixed duplicate citation issues, they saw a 23 percent increase in their presence of local pack results based on 50,000 keyword terms almost overnight. However, Local SEO Guide saw very little movement when a company was already ranked in the local pack.
The conclusion is that citations are a critical foundational element of SEO in helping your eligibility to be ranked in local packs, but they do not offer a competitive advantage to outrank other businesses.
Why SEO Writing Is Important
There is no difference between local and organic SEO writing other than keywords you're targeting. More content on your website usually correlates to better rankings. That doesn't mean you should just throw anything in your content, but that you should have high-quality and longer form content to help with local and non-local SEO.
Increase Productivity Through Software
Beyond recommending coffee, Shotland says that his company is constantly trying to find ways to increase productivity through software. For example, they made
N.A.P. Hunter
, which is a free extension for Chrome designed to do citation repair. It enables you to Google for name/address/phone number issues. If, for example, your business changed its phone number recently, you can put the number into N.A.P. Hunter and query across Google to show you which sites carry your incorrect old phone number.
How Does Shotland Say No?
Shotland used to never say no to businesses, which led to a lot of over-commitment. However, bringing on people to his team has helped him realize how important it is to say no. Otherwise, he would have to push his team too hard, reducing morale and hurting his business overall. Having a long-term plan also helps you prioritize what's important and realize when you have to say no to a client or lead.
Ultimately, Shotland is a great guest for businesses interested in harnessing the power of local SEO. Visit Local SEO Guide to learn how to improve your own business' local search results.
Subscribe for the latest in Content Marketing & Freelance Writing!
While you're here, have you tried Scripted lately?
Used to be a member, but moved on? Heard of it, but never signed up? The current iteration of Scripted will amaze you! Streamline your content writing efforts and build your own team of high-quality writers. It's all you need for content writing. Try it free today and meet your next favorite writer or writers!