Secrets About Content Management Systems and Content Analytics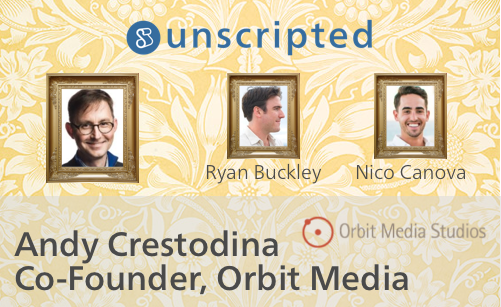 Andy Crestodina
, the co-founder and strategic director for
Orbit Media
, joined
Scripted's podcast
to provide insight into the content marketing industry and his own personal strategies for marketing. Considering he is an author and thought-leader in this industry, readers are likely to learn a lot from his expertise.
From Comic Books to Marketing Leader
Crestodina finished college in the mid-90s, traveled and then came back to start a normal day job at an IT recruiting firm. In the evenings, he made what he considered to be silly interactive comic books, but these comic books would eventually teach him a lot about marketing.
His obsession with combining the creative with the technical led him to eventually quit his job and partner with his college friend, Barrett Lombardo, in January of 2000. By April of 2001, they had incorporated Orbit Media Studios, which has been in business for 16 years and has slowly grown from SEO and analytics to also covering many areas, such as blogging, email and social media.
During that time, he has seen tons of change and certainly enjoyed the adventure that comes with the fast-paced world of web marketing.
What Is a CMS?
For those of you who are unsure what a CMS is, it stands for content management system. Lombardo says a website is a combination of design, which is the container, and content. Content is everything that goes within the design, such as text, images and video, and a CMS is used to update it. Basically, it helps you add, remove and edit pages on websites, making it a bit like Microsoft Word for the web.
He notes that WordPress, Drupal and Magento tend to dominate the CMS field, but there are many other CMS tools out there, including Orbit's own internally designed Mighty-Site.
Why Orbit Built Their Own Content Management System
Crestodina actually said that if they started over today, they probably wouldn't build their own CMS. (When they created their CMS in 2001, WordPress didn't exist yet.) However, it helped clients make a lot of changes and updates to their website without relying on Orbit to do it for them, such as price changes on an e-commerce website. Soon you could update virtually anything on a website with it. They still use the tool today for custom features on a website, but they mostly use WordPress.
Crestodina uses an analogy: WordPress is like going to Ikea, and Drupal or Mighty-Site are like going to Home Depot. You can build anything with what you get at Home Depot, but it's much faster to just shop at Ikea to get the basics.
Crestodina's Role at Orbit
Crestodina says every startup has basically two people: the hacker and the hustler. The hacker builds the solution to the problem and is a genius at making things, while the hustler has to connect that solution to the world. Think Wozniak and Jobs.
Crestodina considers himself the hustler, which is why Scripted is talking to him.
The Future of Marketing Optimization
Crestodina acknowledges that there are too many
tools for marketers
and too many standards to choose from. For conversion optimization testing you have Unbounce and Optimizely. There are marketing automation platforms, content optimization platforms, social media managers and email service providers.
However, the future is not necessarily convergence. In general, Crestodina believes you need a solid CRM in the middle, then need to add on other key tools, like email managers, on top.
Crestodina was recently at an Unbounce conference where they discussed the machine-learning revolution. Now, programs allow you to A/B test multiple versions of landing pages in real-time and then get suggestions based on that data.
You may have a video on a landing page that says "click here" and, after analyzing thousands of pages, your system learns that adding "now" at the end gives you better results. The system will then allow you to optimize your website by using the more successful result with the click of a button. It's like cost effective AI software that will allow small businesses do what the big boys have been doing for a while.
What Should SMBs Know About Content Analytics?
A big mistake that a lot of people make is jumping into the deep-end and getting confused with the analytics. Most aren't using these tools with the right purpose.
Instead, you should start with a question and work from there. For example, ask yourself which of your evergreen posts is getting the most traffic and from which source. Once you find the answer, you'll know what to do, such as publish more content on that topic, focus more on a specific channel or work with a particular author more. It's a practical approach that many don't do.
It can help to just simplify everything in your head. Quit calling it analytics and start calling it your answer tool. It's a matter of making decisions based on data, asking real questions about that data and reducing the terminology to what you understand and feel comfortable with.
The Impact of Mobile
Crestodina's book, "Content Chemistry," focuses on inbound channels of marketing, PPC, SEO, email and social. Mobile has had a huge impact on those channels and tools like PPC are getting fewer conversions on mobile. However, Crestodina believes that it helps to just think of everything as mobile now.
Crestodina focuses on three main sources of traffic: search, social and email. Anyone who is active in social or email will perform well on mobile. A lot has to do with whether your landing pages look good on mobile, and Orbit specializes in responsive design to handle both mobile and desktop users. You should also look at stats like your bounce rates for mobile vs. desktop, but you should keep a special eye on mobile since that's where the future lies.
You also have to pay attention to local search. People might search for "___ near me" and you need to make sure your website and content are working to ensure you obtain top rankings for that particular search term as it relates to your business.
Content Jam
Orbit has been hosting Content Jam for five years now and believes that live events are powerful formats to add to your marketing mix. Live events are time-bound, finite and have only so many tickets available, so people won't want to miss out. Perhaps most importantly, people crave that in-person experience. It's also not hard to host an event.
Crestodina will be a big part of Content Marketing World this year, where he plans to perform four hours of SEO teaching and serve as a keynote speaker.
How Does Crestodina Find Time to Write?
Crestodina is full of helpful tips for writers strapped for time, although his writing frequency is lower than you might think. He writes for his own blog once every two weeks, and only writes a guest post about five to six times a year.
One of the tricks to make it look like you write a lot, he suggests, is to take the dates off your blog. If you're writing mostly on evergreen topics and not covering a lot of news and trends, removing dates makes all your old content come back to life.
After Crestodina wakes up, he also doesn't look at his email until he has spent a half-hour writing. In general, he recommends you try to do something important instead of something urgent for effective time-blocking.
How Do You Say No?
Crestodina says you have to give yourself permission to delete things and say no. He also credits hiring a CEO with saving him a tremendous amount of time. It allows him to focus on writing, Content Jam and what he loves about his business.
He also says that a lot of people want to take a little bit of time and ask questions. As a result, every Friday he has office hours that anyone can sign up for at
Orbit.youcanbook.me
Crestodina has been in this business for well over a decade when others have come and gone. Scripted was thrilled to have him and look forward to future insights from this key industry player. 
Subscribe for the latest in Content Marketing & Freelance Writing!
While you're here, have you tried Scripted lately?
Used to be a member, but moved on? Heard of it, but never signed up? The current iteration of Scripted will amaze you! Streamline your content writing efforts and build your own team of high-quality writers. It's all you need for content writing. Try it free today and meet your next favorite writer or writers!