How to Improve Your Local Search and Local SEO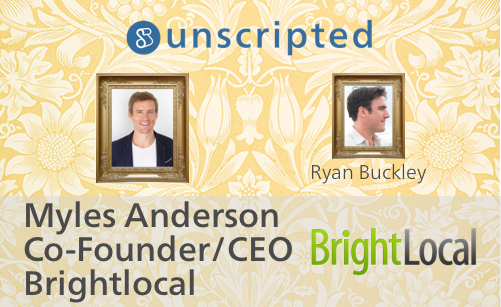 Myles Anderson, founder and CEO of BrightLocal, stopped by Scripted's podcast to discuss his life as an entrepreneur and how his company is helping businesses across the world do local SEO and local search right. Anderson joined Scripted from the town of Lewes in the United Kingdom, where BrightLocal is located.
What BrightLocal Does
BrightLocal is an SEO Software-as-a-Subscription (SaaS) service that helps businesses manage their online presence, offers tools for small businesses and works with businesses to improve their local SEO. Anderson says BrightLocal's software helps automate tasks surrounding
local search
, Google Maps, Google Mobile and Apple Maps.
BrightLocal can help you place your business on directories like
Yelp
and
TripAdvisor
, aggregate your review ranking across multiple sites and help you understand how you're represented online through succinct reports and clear data.
How BrightLocal Got Started
BrightLocal originally started as an agency serving local businesses, but eventually developed into a SaaS product for local search for two reasons. The first was it was more lucrative, and the second is that the business partners enjoyed the technical aspects and design elements behind their product.
For three years, they ran BrightLocal part-time, but as it grew, they made it their full-time job. The company is still 100 percent owned by the original two partners, which allows them to focus on customers instead of short-term gains.
The UK Startup Culture
Unlike the United States, Britain has less investment frenzy and less hobnobbing with big VC honchos, although that does happen to some extent in London.
Anderson was recently at the Lifetime Value Conference, which has the goal of fostering small and sustainable SaaS products. The conference is about building a long-term, sustainable business with predictable revenue. Anderson says that some say that's a sin, and you should be shooting for billions, but he questions why you can't build a product that delivers quality for customers and does it for a long time. He believes the environment in UK is perhaps a little more open to that.
BrightLocal's growth has suffered to some extent due to a lack of cash, but it has been profitable from the beginning and has at least 40 percent year-over-year growth at the moment.
The Team
The BrightLocal team is split between multiple countries. The UK has the management team, Ukraine has 12 developers, and the Philippines has 55 people performing customer support by listing local businesses on directories like Yelp. The partners have close relationships with their teams and communicate with them through Slack and Skype.
BrightLocal has low churn in the Philippines, and Anderson credits that to good pay, vacation days and donations to local charities that make it one of the best employment opportunities for locals. In the Ukraine, it can hire skilled developers at one-third the price due to exchange rate advantages.
However, with the bulk of BrightLocal's customers based in the United States, Anderson often has to deal with time-zone issues that leave him working sometimes until midnight.
What Is Local SEO?
Anderson describes what
local SEO
means. It's designed for local businesses that physically serve a local area or local homes. There's quite a lot of overlap between local SEO and SEO, and you need to have quality and detailed content on your website to rank well, no matter what you're doing with SEO.
However, with local SEO, you also need to focus on Google Maps and Apple Maps and make sure you're registered with a variety of websites and services.
Your search rankings depend on approximately 30 to 50 websites, such as FourSquare, CitySearch, Facebook and SuperPages. Google examines your business and its presence on sites like these when it determines whether your business is relevant or not. Also, certain professionals like doctors want to be on sites such as RateMDs, while legal professionals want to be on sites such as MartinDale or lawyers.com.
How BrightLocal Helps With a Successful Local SEO Strategy
First, you want a website with
great content
and relevant links. However, you also want to focus on building your citations on sites such as Yelp and Facebook, and then working on obtaining excellent reviews for those sites. You want to measure and track your rank on search engines and pay attention to key search terms. BrightLocal is designed to help with these types of activities.
BrightLocal offers a flexible service where you can pay to list citations on specific websites and tailor what you want out of the service in just a few minutes.
It also mines the data generated at BrightLocal and posts informational topics on local SEO for sites such as Searchengineland to provide deep industry insights to businesses and marketers.
Anderson's Morning and Evening Routines
Anderson has four kids ranging from nine years to nine months old. As a result, work can sometimes feel like a safe haven. Anderson tends to work late and gets home around 7 p.m. After his kids are in bed, he plugs his laptop to work for two or three hours. He also makes a to-do list so he knows exactly what he's going to do the next day, which helps him prioritize. He leaves a couple of hours each day free of any distractions to focus on big strategies.
Hopefully, you've gained some insight into local search and how BrightLocal is helping small businesses acquire traction locally. Anderson provides some great insights into the industry and discusses how he makes sure he is as productive as possible. Scripted looks forward to keeping our eye on this important player in the SEO industry.
Subscribe for the latest in Content Marketing & Freelance Writing!
While you're here, have you tried Scripted lately?
Used to be a member, but moved on? Heard of it, but never signed up? The current iteration of Scripted will amaze you! Streamline your content writing efforts and build your own team of high-quality writers. It's all you need for content writing. Try it free today and meet your next favorite writer or writers!