What SMB Marketers Should Know About Enterprise Marketing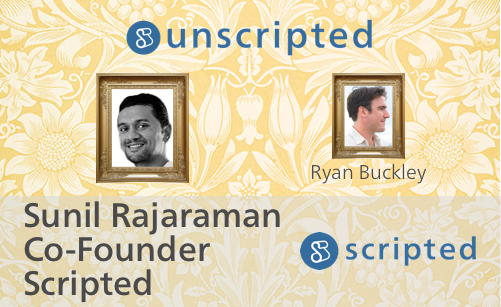 Sunil Rajaraman, the cofounder and former CEO of Scripted and current Senior Vice President of Marketing at Replicon, joined Scripted's podcast for a discussion on enterprise marketing and his new role at Replicon. The podcast touches on many subjects, including the value of webinars, the challenges he faces at Replicon, and many of his very interesting side projects. Here is more from the podcast!
What Is Replicon?
Replicon
has been around in various forms for nearly 20 years, with its roots in IT consulting. Around 2008, Replicon fully evolved into a cloud platform that allows companies to engage in labor compliance and control time and attendance issues. The company has grown rapidly from that point, with tens of millions in revenue.
Its cloud product is broken down into three main services:


Time and attendance service helps track time and attendance for all employees.


Project management helps companies handle consulting, manages profitability and tracks important metrics like expenses, time and bills.


Professional services automation software helps run projects at a practice-level view, such as learning about how your litigation practice is doing.


Rajaraman's Job at Replicon
Rajaraman oversees anything related to marketing, whether it's paid programs, managing community resources or branding. A huge part of his job is content marketing, but he acknowledges that a lot of the most successful content was written before he even showed up, and much of it still generates the majority of page views. This is typically
evergreen content
around topics like managing your workforce, such as calculating overtime or what a 9/80 work schedule looks like.
Rajaraman says Replicon also blogs regularly, but it's hard to gain traction because it's a dry subject. Rajaraman is hard at work to make the blog more robust and appealing to Replicon's audience.
The Effectiveness of Webinars
Rajaraman indicates that webinars are one of its most effective
marketing tools
. Replicon ran its first webinar on the Obama administration's new overtime rules, which generated 100 attendees, and many of those converted down the pipeline. Most of these attendees were qualified prospects not accepted (QPNA) that all turned into potential business opportunities.
Webinars work especially well in certain industries, such as those featuring HR software. Rajaraman was in Nashville at American Payroll Conference, and people wanted to know about compliance and needed information about the impact of new compliance and rule changes. The webinar format is especially effective at helping people understand how these changes affect them and how they will occur.
The Challenge Facing Replicon
Rajaraman indicates that Replicon performs well with SMB customers who are happy with its product and transparent pricing, especially in comparison to the larger companies like Workday, Netsuite, Kronos and ADP. However, those companies are also giving Replicon some pressure.
The challenge is that many companies with 10,000+ employees are looking to replace their entire ERP system, and that's when they go to these enterprise players. As a result, Replicon has to show its enterprise customers the value of its product, the lower implementation costs and the benefits of retaining its ERP system.
Rajaraman As an Entrepreneur in Residence
Rajaraman was an Entrepreneur in Residence (ERI) for six months, which means different things, but generally involves spending time with a venture capital firm to learn how it operates and invests. Rajaraman had virtually unfettered access to
Foundation Capital
and spent a significant amount of time with partners to learn all about the business. He attended just about every partner meeting at Foundation Capital while he decided whether to start a company or join one.
CEO and Co-Owner of Bold Italic
Rajaraman also discussed how the cultural magazine he runs,
The Bold Italic
, was recently migrated to Medium. Rajaraman noted that he tried migrating to WordPress originally, but it didn't work. Eventually, the team over at
Medium
performed the migration for
The Bold Italic
, and Medium offers a wide range of publisher tools that fits Rajaraman's exact needs.
He also highly values the Medium audience, noting the lack of spam accounts and the overall quality of readers. At the same time, Rajaraman no longer has to pay for server costs because all of
The Bold Italic's
content is hosted on the Medium servers.
Rajaraman also enjoys writing his column for Inc., and is thoroughly impressed with the team over there from an operational standpoint. They test what headlines perform well and work with writers to ensure their topics resonate. In short, they focus on the success of every individual article, and that's one of their main differentiators.
Ultimately, Rajaraman continues to make a splash across the content marketing world, and Scripted looks forward to future podcasts for his insights.
Subscribe for the latest in Content Marketing & Freelance Writing!
While you're here, have you tried Scripted lately?
Used to be a member, but moved on? Heard of it, but never signed up? The current iteration of Scripted will amaze you! Streamline your content writing efforts and build your own team of high-quality writers. It's all you need for content writing. Try it free today and meet your next favorite writer or writers!