How to Build a Freelance Writing Community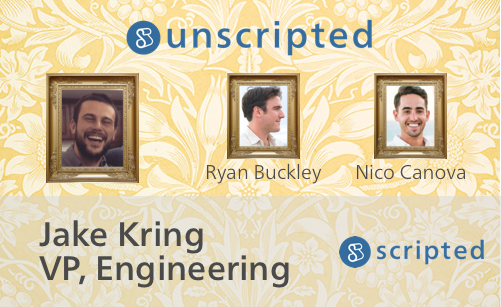 Jake Kring, Scripted's VP of Engineering, stopped by Scripted's podcast to provide insight into the changes in Scripted's freelance writer marketplace, the technical story behind major Scripted changes, and even a bit of information about his personal philosophies.
Kring's Background
Kring hails from Philadelphia but moved to San Francisco about six years ago, where he developed a friendship with Scripted's co-founder, Ryan Buckley, while they worked at an advertising technology company.
Kring took steps to learn Ruby on Rails to build web apps, and when Scripted was in its initial stages of creation, Buckley approached him with just an Excel spreadsheet and an idea for the Scripted website. Five years later, Kring is still working on it as the site continuously develops and evolves.
Scripted's Old Model
Scripted, as a company, was afraid clients would poach writers off the platform and use them without Scripted as an intermediary. Scripted was also working to defend a huge margin, with Scripted taking a large share of every piece of content produced, which meant Scripted had to be in the middle of every transaction.
Kring said they learned how writing doesn't work that way. The middle-man approach is counter-productive.
Scripted's New Approach
In the past three months, Scripted has evolved into a more decentralized marketplace, which has turned the old Scripted model on its head. Writers and clients can now communicate with each other. Writers have community profiles that clients can browse, giving clients access to work samples, Twitter profiles and other important information. Writers can also set their own prices, giving them a new level of freedom.
There are also big changes regarding the financials behind the new Scripted platform. Writers make about 25 percent more from each transaction, and businesses are paying 25 percent less.
Kring notes this radical break with the past, but he says it reflects an openness that points the way to the future.
The Evolution of Scripted's Changes
Kring also explores the philosophy behind these changes, touching on marketplace decentralization theory. On one end you have Scripted as it once was, which was a lot like Uber that picks your driver and sets the price of a transaction. With this level of tight control, the company basically makes all the decisions.
On the other hand you have Craigslist, which is completely decentralized and leaves the transaction up to the buyers and sellers.
According to the marketplace model, the quality of your product goes up as you centralize while the scale of transactions goes up as you decentralize. The trick with writing is finding the right balance. If Scripted had completely decentralized from the beginning, it would have resulted in content nobody wanted to read.
Kring says Scripted realized the importance of decentralizing when they saw growth wasn't fast enough.
Scripted's clients were consistently unhappy they couldn't talk to writers or receive extra revisions, and they generally felt the platform was too rigid.
As soon as the Scripted team started making a few changes to decentralize the platform, they realized there were a ton of returns to be made; the decentralization process progressed rapidly from there.
The Technology Behind the Writer Community
Kring also delved into some of the technology behind the new writer community. First, he touched on Scripted's approach to data mining through term frequency-inverse document frequency (tf-idf), which helps you understand text by examining the frequency of a term within a document and the frequency of that term in relation to the broader world.
For example, the frequency of the word "the" doesn't matter because it's so common within writing. However, a term like "truck finance" repeated in a document can reveal the essence of that document.
Kring's team used this concept to build algorithms that apply to writers and the work they've done, and it has even been implemented to examine client content to help them improve their approach to content. This back-end part of Scripted's platform is a lot like Google's search engine, which indexes documents with a value for a given search term.
This concept has also been applied to Scripted's new tags feature, which features a tree of 200 tags for writers. The tree features high-level categories like "marketing" and "software and technology," while at the bottom you have "B2B marketing" and "Software-as-a-Service." This approach provides a wealth of data, and it can also determine which writers have expertise within certain industries.
Kring Comes Around to SEO
Kring admits he looked down on SEO historically but now realizes its value. In fact, he believes that building SEO channels into your product early on delivers dividends for the lifetime of that product.
Kring has found a lot of complexity behind SEO and the way Google algorithms work. A part of Scripted's tree tags system is to leverage SEO for the Scripted platform, which can sometimes conflict with the user experience (despite what Google may claim otherwise).
Despite these challenges, Kring believes that Scripted has struck the right balance between delivering an excellent user experience while also balancing SEO considerations on Google's end.
What's Next for Scripted's Engineering Team?
Kring believes it's time to optimize Scripted's topic marketplace, which is sitting on tons of good blog post ideas from Scripted's writers. For SEO purposes, the topic marketplace will rebrand along the lines of "blog post ideas," a popular trending keyword from Scripted's target audience, and then incorporate the topic marketplace into the writer's marketplace.
Scripted also plans to integrate new search features for clients, such as the ability to discover writers with an MBA or a Series 6 in finance.
Kring Gets Personal
Kring also delved into his personal life. He wakes up around 7 a.m. and participates in a fantasy-based fitness league, where he competes with friends. Bedtime is around 10 p.m., unless his girlfriend is up for some Netflix binging.
Kring is currently addicted to the New York Times crossword puzzle and is busy crushing it until he hits Thursday, at which point he runs into the Thursday crossword wall so many of us know all too well.
He also has plans to head to South Africa with his family in the near future to celebrate his mom's 60th birthday. Given his experience studying in Africa, he's looking forward to experiencing what this country has to offer.
Kring is the point person for Scripted's technology strategy. If you have an opinion on the new changes to Scripted's platform, feel free to share below!
Ready to put your content into overdrive?
Introducing Scripted Cruise Control: Content marketing strategy, content creation, account management, and analytics starting at $1499/mo.
Learn More

Ready to put your content into overdrive?
Introducing Scripted Cruise Control: Content marketing strategy, content creation, account management, and analytics starting at $1499/mo.
Learn More
Subscribe for the latest in Content Marketing & Freelance Writing!
Get Started
Try Scripted
Free

for a Month

Your first month is on us.