Practice Content Marketing Strategy Like a Thought Leader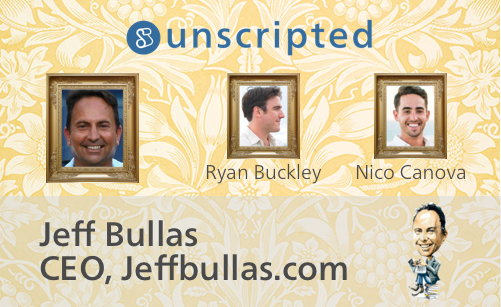 Jeff Bullas is one of the foremost thought leaders on content marketing strategy in the world. He has a massive Twitter following, is often ranked as one of the top content marketing influencers and serves as a unique voice who understands not only where the industry is but where it's going. Bullas stopped by Scripted's podcast to talk about his insights and share some of the secrets of the trade, including the tools he uses for content marketing success.
The Secrets Behind His Prolificacy
Bullas has produced over 256,000 tweets since he opened his Twitter account. Scripted did the math, and this comes out to an astounding 70 tweets per day. If that sounds like an insane number of tweets, it's because it is. However, this strategy works for Bullas. He realized about five or six years ago the importance of Twitter for reaching his audience and has used tools like SocialOomph to help automate much of his social media content output.
Bullas consistently returns to the theme of time, which is his most limited resource. A lot of social media purists were horrified at this automated approach, but he has discovered that his strategy has worked very well to rise above the general conversation.
According to Bullas, being ubiquitous and everywhere actually creates trust, which is why he adopted automation early with basic low-cost tools.
In fact, digital marketing automation is absolutely at the top of the list for any organization that wants to do marketing in the modern world.
Beyond Twitter, Bullas has also implemented a digital marketplace automation platform through the use of tools like SumoMe and InfusionSoft. These tools help him leverage his time and scale his reach. With tools like this, he has been able to grow his email list from 23,000 to 120,000, representing a 400 percent increase within a year.
Techniques for Growing Your Audience
Bullas has found that data trumps intuition. That's why he uses strategies like A/B testing as a content marketer. For example, he found that a simple bright-orange opt-in form featuring a headline outperformed an opt-in form with an attractive woman looking into the distance. Apparently, sex doesn't always sell, but intuition might tell you otherwise if you didn't have the data to challenge your assumptions.
What Metric Trumps All?
As a voice active in social media marketing and content marketing, Bullas recognizes that vanity metrics are great. However, at the end of the day, ROI is the only metric that really matters. Sure, comments and sharing are great validation, but they are totally different from the more important metrics surrounding leads and conversions when it comes to the business side of content marketing.
At the same time, Bullas recognizes that it's not always just about the numbers. Sometimes he writes pieces just because he loves what he's writing. While you need to focus on the business end, you also have to love what you're doing.
Bullas's Affiliate Strategy
For Bullas, affiliate marketing is very much an organic discovery process. He believes affiliate marketing and collaboration are two of the most powerful ways to amplify your efforts. Using other people's audiences and splitting commissions and sales of a product create win-win situations. Bullas also uses services like ClickBank but values the more organic relationships he has created. In some cases, he has worked with a program involving up to 100 digital partners. With individual audiences of 10,000 or more per partner, collaboration can quickly add up to an audience of millions.
Leverage Guest Posting
Bullas's website features many guest posts. For four years, he found himself getting up at 4:30 a.m. to post on his blog before heading off to his full-time job at 9 a.m. He realized he was slowly killing himself due to that level of activity.
However, in the process, Bullas found himself with a significant audience. He found that he could leverage the use of guest bloggers who wanted to build their own audience. Today, he still writes once a week, but by holding his guest bloggers to certain standards, he can ensure quality content on his site. He's happy to accept a pitch as long as it adheres to the voice of his blog, which includes a focus on how-tos and content featuring rich visuals.
A Day in the Life
Bullas's typical day starts at 6 a.m. with writing and performing general tasks, like sending emails. He focuses his afternoons on his current big project, which he refers to as the "One Thing." Evenings might be spent at an industry-specific meetup or catching up with people across the field. Since his audience and industry are global, he needs to ensure he balances his network at virtually all hours of the day.
At the end of the day, he believes it's important to ask yourself who you're building your business for. He says you have to be careful to not lose your soul as you work toward your goals.
Growth in Australia and Asia
Bullas hails from Australia, and for those who are interested in the Australian and Asian markets, he indicates that they are huge yet still maturing. Bullas feels that these markets are about a year or two behind that of the United States, with larger brands taking a conservative approach to content marketing.
However, there are innovative startups and many forward-thinking companies evolving to embrace content marketing. The biggest challenge for companies is letting go of old paradigms and habits so they can embrace new ones. In the meantime, the key Australian and Asian players are still learning the tools and technology behind successful content marketing.
The Future of Content Marketing
Bullas also discussed the trends of consolidation in the industry, with companies like Marketo, Content Marketing Institute and LinkedIn all being acquired by other companies. Bullas indicates that we're in the middle of a maturation of content marketing and social media. Bigger players have started buying up smaller players, and this process will only continue.
At the same time, the fundamental nature of the web is changing. Content marketers are facing new challenges when it comes to reaching their audience. A good example is Facebook's algorithm, which decreased the organic reach of companies and marketers across the world as it moved toward a model that emphasized paid advertising.
Bullas believes that the user experience is being contained within gatekeepers like Facebook and the open web is actually fading away. The companies and brands that will flourish are those that effectively use growth hacking, which seeks to extend reach without relying on paid advertising.
Ultimately, Bullas provides valuable insights if you're interested in learning how to use your time more efficiently and how to harness the right types of tools for growing your audience.
Ready to put your content into overdrive?
Introducing Scripted Cruise Control: Content marketing strategy, content creation, account management, and analytics starting at $1499/mo.
Learn More

Ready to put your content into overdrive?
Introducing Scripted Cruise Control: Content marketing strategy, content creation, account management, and analytics starting at $1499/mo.
Learn More
Subscribe for the latest in Content Marketing & Freelance Writing!
Get Started
Try Scripted
Free

for a Month

Your first month is on us.