Sales Hacking Your Way to Success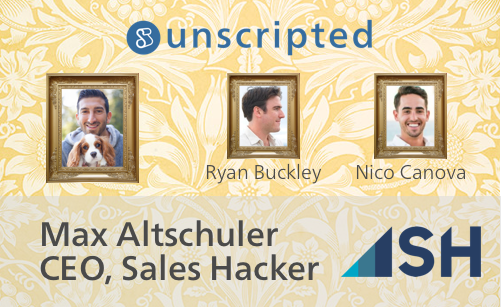 Ryan Buckley and Nico Canova sat down with Max Altschuler, CEO of Sales Hacker, for an in-depth interview on the multi-talented Altschuler's career wins and adventures in sales hacking and personal branding -- along with the inside scoop on writing 27,000 words in just six days.
Max Altschuler says he has two goals in life: to help people and animals and to travel. Thanks to the massively successful
Sales Hacker
, he is doing both. The company brings entrepreneurs and business people from all over the world together for one purpose: to improve the sales process for greater profitability.
Buckley started the conversation with everyone's burning question: What prompted Altschuler's relocation from San Francisco to New York?
Finding Balance
Altschuler explained that five years ago, New York's tech scene was minimal at best, and the West Coast offered far more exciting opportunities. He "cut his teeth" at
Udemy
, helping to grow the platform from a few amateur courses to a powerhouse of education content.
When asked about the secret to transforming Udemy from a small tech teaching tool to a major force in online course delivery, Altschuler said that the key was growing the business from both sides at the same time. Creating new content with leaders in the field was the first step, but on the other side of the seesaw, the company had to create demand.
Through careful research, it became clear that consumers of tech education could be transitioned to other class topics using a "single link" approach. Instead of abruptly trying to shift tech students to art, guitar or yoga, Altschuler tried a more subtle approach -- bringing students' attention to class offerings in design, photography and other related pursuits.
Hacking Sales
Now that Altschuler is back in New York, he is completely focused on growing the
Sales Hacker
brand. Using the skills he perfected in San Francisco, Altschuler continues to strike a balance between pushing supply and pulling in demand. With the help of a cross-section of practitioners, the online platform has developed a rich library of useful content, adding value for his many clients. Articles offer a bridge to Sales Hacker's primary objective: bringing people together to develop knowledge and skills at conferences and meetups around the world.
Altschuler said that he specializes in showing companies how to leverage existing resources to create value for current and potential clients. He explained that salespeople can point their marketing staff in the right direction by sharing the trends they notice in their conversations. At the same time, marketers can support salespeople by pointing them towards resources that could benefit current and potential clients. This is one of the tenets of sales hacking.
Personal Branding
Buckley noted that Altschuler has developed a strong personal brand as a result of his success, and Altschuler said that name recognition has its pros and cons. While he would prefer to stay under the radar, focused on growing his business, he has enjoyed the special access he gets as a result of his personal brand. Altschuler said that he stays humble, striving to add value when he can. His success opens doors for him, and he works to return the favor for others who are just starting out by being as generous as possible with his time.
Part of that generosity spilled over in Altschuler's newly re-released book "
Hacking Sales
," a manual to creating the sales results he has enjoyed in his own endeavors. Altschuler shared his surprise at writing an actual book that will be released by a "real publisher." He planned a much shorter e-book during a trip to Bali, but after six days of writing for 16 solid hours, he found himself with 150 pages -- about 27,000 words. The updated and refreshed edition was just released, and it is currently available through Amazon,
Barnes and Noble
, and other book sellers.
Get all of the insights from Max here!
Subscribe for the latest in Content Marketing & Freelance Writing!
While you're here, have you tried Scripted lately?
Used to be a member, but moved on? Heard of it, but never signed up? The current iteration of Scripted will amaze you! Streamline your content writing efforts and build your own team of high-quality writers. It's all you need for content writing. Try it free today and meet your next favorite writer or writers!