Easy SEO Tips For Content Marketing Strategy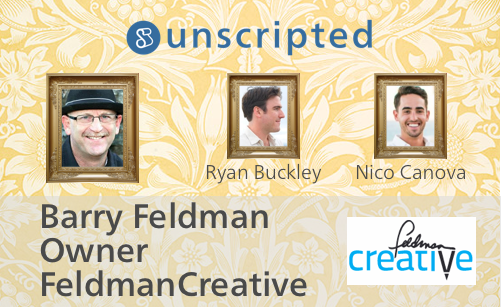 Show notes:


Feldman discusses the inspiration behind his book "SEO Simplified For Short Attention Spans"


He discusses what SMBs need to do in order to rank well on search engines like Google


Feldman provides tools, tips, and questions all SMB marketers should explore in order to perform well with long-tail keywords


Feldman discusses how he finds time to write and say no when it matters


Barry Feldman is an author, search engine optimization (SEO) specialist, and founder of
FeldmanCreative
. With 25 years of experience with marketing, marketers and SMBs looking to improve their SEO results can probably learn a lot from him. He recently published a piece with Scripted about
long-tail keywords
and how to achieve success with them, but stopped by
Scripted's podcast
to chat about SEO and some strategies you can use yourself.
First, The Most Important Question: Who Would Win in a Cage Match, Feldman or Joe Pulizzi, the Founder of Content Marketing Institute?
Feldman laughs and acknowledges that
Pulizzi
is a pretty strong-looking guy, but would hope that Pulizzi's class and nice demeanor would mean that he might not take a swing. Feldman isn't so sure he wants to pick a winner, but says maybe he could win an arm wrestling match with Pulizzi. Scripted can always dream how a match might unfold at the next
Content Marketing World
.
The Inspiration Behind Feldman's Book: SEO Simplified For Short Attention Spans
Feldman's book "
SEO Simplified For Short Attention Spans
" is geared for those who want to learn about SEO quickly, and also features chapters from industry leaders like
Jayson DeMers
and
Andy Crestodina
.
However, inspiration for the book actually came with a conference call with a healthcare organization client Feldman was consulting for. Feldman was attempting to explain SEO to the staff there when his marketing director cut Feldman off and let him know that the audience probably has no idea what he was talking about. She challenged him to explain SEO in 15 minutes the following week.
At first Feldman wanted to chuckle at that seemingly impossible task, but then realized it was an interesting challenge. Feldman wrote a blog post with that challenge in mind, and it was such a hit that he decided to write a book helping people learn SEO quickly and easily.
What is a Keyword?
For SMBs out there, it's important to know some basics of SEO. Feldman explains that keywords are basically the words you put into the search field anytime you perform a search. A search engine should then crawl through all the content on the web and provide you with results ranked based on relevance, quality, authority and other factors. Keywords are now usually four to six words long, which helps people be more specific when they search for what they're looking for.
The Google Hummingbird algorithm is very good at understanding what people are looking for without matching for an exact phrase. Instead, search engines are looking for the "idea" of what your keyword means.
For example, the exact term, "Find me an affordable writer to write a blog post" might never be searched for, but the ideas in that sentence are common to many searches. The Hummingbird algorithm might look for "affordable blog writer" and synonyms of that phrase in order to help you find the content you need.
Content Is King
Now, in order to rank well on search engines you must both ensure the search crawlers know what your content is about and you must have really great content to begin with.
According to Feldman, if you don't have high-quality and awesome content, you're not likely to rank on the first page of any search results.
Understanding Long-Tail Keywords
Feldman says short keyword like "guitar" is a high-volume search keyword, but you will probably never rank well for this short keyword unless you're Fender. However, longer keywords like "12-string acoustic Takamine black guitar" are known as long-tail keywords. If someone is searching for a long-tail keyword term like that, it's not only easier to rank well for that term, but it also means the person is more likely to make a purchase along their buyer's journey.
In other words, SMBs want to focus on these long-tail keywords. The good news is that most searchers are looking for three-word keywords or more.
Feldman says it's key for SMBs to find low-competition keywords that still have high search volume. That's the sweet spot where you'll have the right combination of ranking well while selling your product to a big enough audience.
Tools For The Trade For Small Businesses
Although SEO can be intimidating, Feldman says there are some basics that can help you achieve your goals as a marketer. To get started, read Crestodina's guide to
ranking better on Google
. Then, ask yourself the following three questions:
1. Is anybody searching for your keyword?
Use Google AdWords' Keyword Planner to find out. You're looking to target long-tail keywords that have search volume in the range of the tens to hundreds of thousands.
2. Can I rank for that term?
If the search results are dominated by the biggest players in your niche like Wikipedia, Buzzfeed or whatever your niche is, you won't rank well for that keyword. You can use a free Chrome extension, the
MozBar
, in order to understand your domain authority and the authority of your competitors. The MozBar offers you a score of 0 to 100, and if you're up against competitors with authority at 50 or more, you probably shouldn't bother trying to compete against them as an SMB. If you're at 50 or below, you have a much better chance. You can also use
Open Site Explorer
to learn more about the domain authority of you and your competitors as well.
3. Can you make the best page in the Internet for the topic or terms you just chose?
This is where you have control. Focus on producing quality and comprehensive content. Blog posts with
1,500-2,000 words
vastly improve search engine results while short posts actually don't perform as well. Feldman recommends reading what's ranking well for a term and then write content that's even better.
How Does Feldman Find Time To Write?
Feldman says his profession is writing, so he has to find time to write. Feldman says that one trick he uses is to write in his head, whether he's taking a shower or just walking the dog. He lets ideas stew in his head because that way it's much easier to fight writer's block.
How Does Feldman Say No?
Feldman understands this struggle. In many cases, there is a price for his time, and he usually doesn't take small one-time writing jobs or scenarios where he will be reaching a small audience. Sometimes a paycheck helps you prioritize your time.
Ultimately, Scripted is excited about future collaborations with Feldman and picking his mind for insights. Be sure to check out his
website.
Subscribe for the latest in Content Marketing & Freelance Writing!
While you're here, have you tried Scripted lately?
Used to be a member, but moved on? Heard of it, but never signed up? The current iteration of Scripted will amaze you! Streamline your content writing efforts and build your own team of high-quality writers. It's all you need for content writing. Try it free today and meet your next favorite writer or writers!