Discovering the ROI of Content Marketing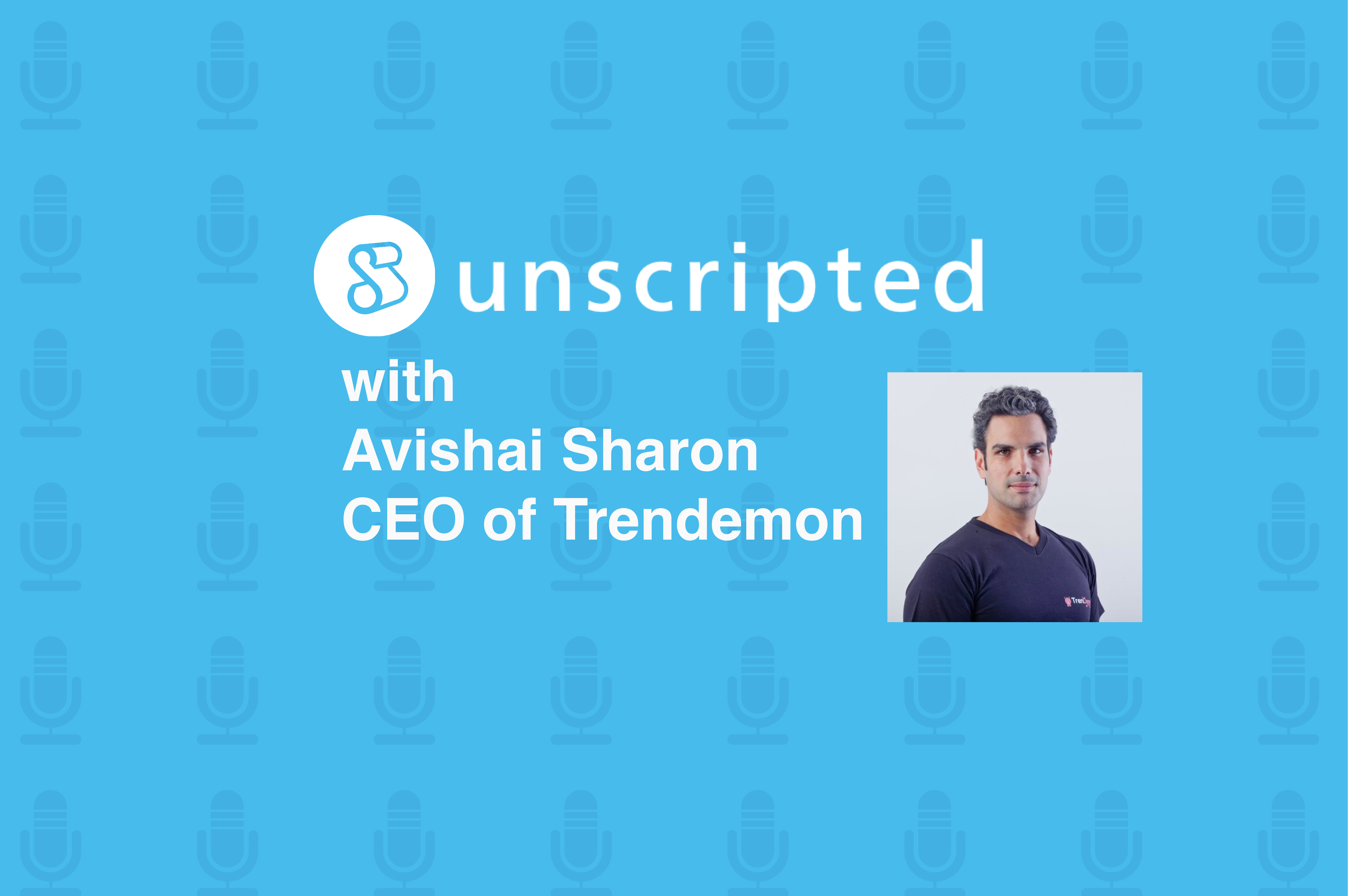 Show Notes


Many businesses want to know what impact content marketing has on their customers, which is a question TrenDemon aims to answer.


Avishai Sharon built TrenDemon to bring together data from many sources and use it to draw meaningful conclusions about the ROI of content marketing.


TrenDemon helps marketers see which of their content campaigns have the greatest overall impact, allowing them to focus their resources on similar campaigns in future.


Avishai believes it's very important for the goals of every department in an organization to be aligned.


Avishai Sharon, CEO of
TrenDemon
, started his career in tech at a very early age. Even back in high school, he was building websites, at first for fun but later for money. After founding a small marketing agency that targeted Israeli B2B companies, Avishai found that many companies wanted to know exactly how much ROI they could expect from the content marketing services the agency was providing. At the time, no tool existed for measuring the ROI of content marketing, so Avishai built TrenDemon to plug that gap in the market.
What Is TrenDemon?
TrenDemon draws data from many sources and combines it to provide valuable insight into the influence of a company's content marketing strategy on its customers. As Avishai soon found out, this is a much more difficult task than you might expect. Most customers have many interactions with a brand's content before they decide to make a purchase. Content can also affect the relationship that existing customers have with the brand. As a result, it's difficult to know exactly how much revenue one blog post or content campaign has generated for the company.
TrenDemon measures many outcomes, including the number of orders and order value, and attempts to trace them back to content marketing campaigns. Although the exact figures are different for every company, Avishai says that as a rule of thumb, a blog can have an influence of between 30 and 70 percent on the deals closed by a company. This kind of insight is extremely valuable for marketers, who need to justify their spending on content marketing in terms of ROI for the company.
How Does TrenDemon Help Marketers?
In addition to helping marketers determine the value of their current campaigns, TrenDemon also provides personalized content recommendations to help steer marketers in the right direction to maximize conversions. Through A/B testing, marketers can refine their content strategy even further, ensuring that every dollar they spend on content marketing provides a return for the brand.
Part of the challenge faced by companies trying to quantify the ROI of content marketing is that the customer journey is often longer than they anticipate. People may begin interacting with your content as much as three months before they convert into paying customers, so if you only look back at their content interactions over the two or three weeks before the sale, you could be missing out on a lot of information. TrenDemon helps companies get a fuller picture of content's effect on every part of the customer journey, from the earliest stages of the acquisition process all the way to post-sale retention.
Integration With Other Platforms Is Challenging But Worthwhile
TrenDemon integrates with several other analytics platforms, including HubSpot. According to Avishai, setting up this integration was very time-consuming and costly for the business. However, integrating a tool with other platforms can be a good way to increase its appeal and therefore expand its customer base, which can be difficult in the early stages of a tech business.
Aligning Goals Is Key to Success
Avishai emphasizes that one of the most important priorities for any company should be ensuring the goals of the marketing department are aligned with the company's overall business goals. If the main goal of the company is to increase brand awareness and therefore expand the customer base, the marketing team's strategy must focus on reaching out to new audiences and bringing in new leads. Unfortunately, many companies have misaligned goals, which leads to marketing budgets being wasted on campaigns that don't deliver the kind of return the business is looking for.
Thankfully, this kind of misalignment is not a problem for TrenDemon. Avishai ensures that every member of the 11-person team is clear about the goals of the business. This allows him to delegate many decisions to his employees, making his job as CEO a little easier.
How Does Avishai Manage TrenDemon?
Although Avishai is no longer personally involved in the day-to-day technical development that goes into TrenDemon, he still does a lot of content writing for the brand. He finds that being personally involved in the company's content marketing strategy allows him to put himself in the customer's shoes, which is important for the CEO of any business. He enjoys the fact that researching the topics he writes about forces him to open his mind to new ideas.
Although Avishai describes himself as "not a morning person," his favorite time to write is first thing in the morning, before his kids wake up. Like many CEOs, he finds this is the best time to get "in the zone." His final tip for busy CEOs is to only check emails at certain times of the day. This simple tip can allow you to carve out periods of uninterrupted concentration, which is vital for producing high-quality, thoughtful work.
Subscribe for the latest in Content Marketing & Freelance Writing!
While you're here, have you tried Scripted lately?
Used to be a member, but moved on? Heard of it, but never signed up? The current iteration of Scripted will amaze you! Streamline your content writing efforts and build your own team of high-quality writers. It's all you need for content writing. Try it free today and meet your next favorite writer or writers!