How Creative Marketplaces Work with Matt Cooper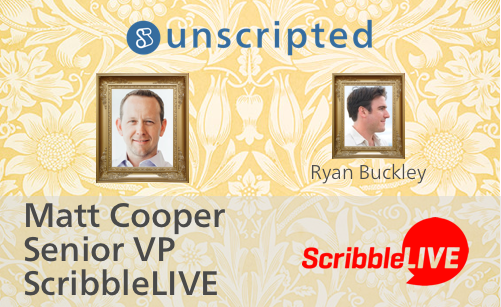 SHOW NOTES:


Matt Cooper explores his background and why he has been involved in marketplaces throughout his career


Cooper discusses the process of producing creative work through ScribbleLIVE and Visually


He discusses the importance of choosing the right visuals for content marketing pieces


Cooper shares how he maintains productivity, including his early morning and evening routines.


Matt Cooper, the Senior VP of Corporate and Business Development at
ScribbleLIVE
, and former CEO of
Visually
, a marketplace for creatives,
joined Scripted's podcast
. He shared why he is passionate about marketplaces, and the process behind creating products at ScribbleLIVE and Visually, and provided a wealth of information about how he maintains his level of productivity.
Cooper's Background in Marketplaces
The first marketplace Cooper worked for was Odesk before they acquired Elance and became
Upwork
. He joined Odesk in 2009, liking that it was platform delivering services, which he jokingly referred to as service-as-a-service. In 2009, Odesk was doing about $6 million a month in gross services, but when he left in 2014, they were doing a whopping $1.5 billion in top-line gross services per year post-acquisition.
Cooper fell in love with the efficiency, transparency, and meritocracy of the online marketplace model. If you are good at what you do, you get good feedback, and your pay goes up. If you are mediocre, you don't get good feedback, and you get pushed out of the market.
The marketplace displaced the traditional staffing/recruiting model with a model that allows you to redistribute the economics to the buyer and seller.
How Visually Works
Visually has since been merged into ScribbleLIVE's service, but it's not a true peer-to-peer model. Cooper says that his experience has taught him that an individual assigned to a single project can work very well online. However, once you're trying to assign a team to handle a complex project, there can be some real problems.
That's where Visually came in. In most cases, you need two or more freelancers to do a video, which can include a scriptwriter, data journalist, animator, voice-over specialist, and creative director. It means assembling a team quickly, and executing a vision. Visually built a streamlined process around completing complex tasks like white papers, videos, and infographics.
Cooper says you end up with an assembly line process, but it's a high-end, premium product that comes out of the virtual assembly line.
The end deliverable itself is 100-percent custom and specific to the customer--there are no templates or boilerplate. However, the process behind making a video is almost always the same, with just a different style and content.
How Does Visually Choose Which Creatives to Work With?
Cooper says they have a detailed process that they go through with the client, which includes asking the client what kind of visual feel and style they want.
From there, Visually has a ton of data on their vetted community of talent. For example, if they have a pharmaceutical client who wants a custom animation style with a certain tone or vibe, then they know that "Carlos" in their database is the guy they need, based on his past work.
Interaction Between Clients and Customers
Visually encourages clients to interact with creatives. More straightforward projects, like infographics, are handled directly between the creative and the client. However, complex projects are handled between the creative team and client, with a kick-off call from the beginning.
Cooper says Visually enforces best practices for their content development, and feedback should be both early and often from the client. It's also key to ensuring that the client is happy with the final product.
What Kind of Lift Can Clients Expect With Custom Graphics for a Written Piece?
Coopers says that our brains process visual information faster and retain 90 percent more visual information.
Jeff Bullas
also notes that content with images gets 90 percent more views than text alone.
Stock photography just doesn't do much for you because people are so accustomed to seeing it.
In fact, one of the most popular types of content Visually has produced over the last 12 months is micro content, which is a single block of information, such as a short infographic around a specific topic. Cooper also says Interactives are much more affordable than they used to be, and they get a ton of engagement.
How Cooper Stays Productive
Depending on the day, Cooper wakes up between 5:00 a.m. and 5:30 a.m., checks e-mail, works out for 35 to 40 minutes, and then brings the kids to school. He goes to the gym no matter what. Cooper does all this before the kids wake up so he has more time to spend with his family at the end of the day.
Coopers then works on the train with no phone or e-mail, and after that his day is booked with meetings. However, he does time block and is a religious believer in
Inbox Zero
, which means he makes sure he deletes, delegates, does it quick, or moves it to his project list.
In the evenings, Cooper comes home and tries to put everything aside to hang out with family, eat dinner, and help get his kids to bed.
How Does Cooper Say No?
Cooper's experience as a CEO made him realize you can't insert yourself into everything. You have to have some trust that the people you hired will make the right decisions and, if not, they'll fix it. He learned at Odesk to hire the best people possible, do your best to be the dumbest guy in the room, and then get out of the way. If you can't do that, then you didn't hire the right people.
Ultimately, Cooper is doing great things in the realm of visual content marketing and a lot of companies can benefit from his insights and services.  
Subscribe for the latest in Content Marketing & Freelance Writing!
While you're here, have you tried Scripted lately?
Used to be a member, but moved on? Heard of it, but never signed up? The current iteration of Scripted will amaze you! Streamline your content writing efforts and build your own team of high-quality writers. It's all you need for content writing. Try it free today and meet your next favorite writer or writers!