How To Choose Your Marketing Channels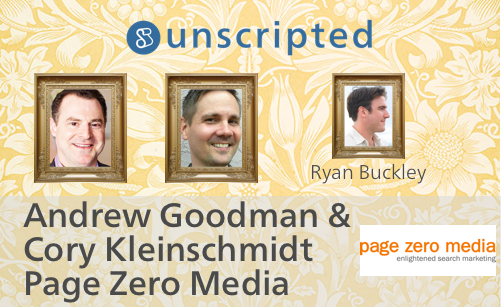 Show Notes:
Andrew Goodman and Cory Kleinschmidt joined Scripted to talk about the importance of SEO, SEM, and PPC.
They discuss how marketers might want to consider Bing and what other platforms to focus on for B2C and B2B.
The pair advise on how to develop effective landing pages to convert leads.
They also talk about choosing between SEM and SEO marketing
Andrew Goodman, author and president of Page Zero Media, and Cory Kleinschmidt, the Vice President of Findability of Page Zero Media, dropped by the Scripted podcast to give Scripted's audience their take on topics ranging all the way from investing in Bing advertising to deciding how many resources to allocate to SEM and SEO marketing channels. They are two very knowledgeable experts and here is what they had to say.
How Page Zero Got Started
Goodman and Kleinschmidt met online based on a shared interest of search engines and SEO. It was a time where the great portal wars were occurring, such as Yahoo vs. AOL vs. MSN. They both gravitated towards blogging and writing articles, which were mostly about search.
Goodman says that the Page Zero name was mostly a placeholder name for a company that might one day be created. The actual term "page zero" actually refers to the gatekeeping function that sites like AOL once served, and which are now mostly held by Google and Facebook. In other words, it's the page you end up on before you ever head to page one of whatever website you're interested in.
The Page Zero name was really about the monopolies at the time and how important Goodman knew they would be in our lives.
Goodman's Background as an Entrepreneur
Goodman was actually working towards a career in academia when he realized that it wasn't working out due to poor job opportunities. Page Zero was actually his first venture. He didn't have much of a plan at first and didn't even know he wanted to form an agency. Despite that, the business is still going strong.
Since then, he has also been involved in a startup called HomeStars, with whom he serves as an adviser.
Should Companies Market on Bing?
Goodman says that Bing's market share is solid, and actually growing due to Windows 10 users utilizing Bing. Goodman says that 20-25 percent of their clicks come from Bing searches. While it's not the first place Goodman would market, the cost-per-click (CPC) is cheaper due to less competition, and there are definite opportunities there.
B2B Lead Generation
When it comes to pay-per-click (PPC), you want to have the typical B2B lead generation landing page, which belongs to the family of well performing pages. Basically, you don't want to throw money at anything that doesn't work to convert leads.
In general, you want to consider the following:
Consumers can be turned off by too much information, so try not to confuse the person on the landing page with unnecessary content.
At the same time, don't be too brief or abrupt. Otherwise you may get people bouncing off your page because they're simply not ready to buy now.
Don't ask too much of the person landing on your page. Sometimes just e-mail and a name is enough.
How Should SMB Marketers Split Investment Between Major Ad Platforms?
Goodman says that they primarily focus on the marketing channels of Facebook, Google and Bing. Other ad platforms like LinkedIn and Twitter receive little spend from their company overall.
Kleinschmidt indicates that for consumer-focused businesses, it's a good idea to experiment with Facebook as a primary ad platform. However, with B2B, Facebook is often not the top ad platform. Your B2B company can run some very affordable tests on multiple platforms to see what works best for you. In other words, don't make any assumptions, but rely on data instead.
Outbrain and Tabula as Marketing Channels
Kleinschmidt indicates that they haven't done much with Outbrain or Taboola. To those who haven't heard of the two platforms, they basically produce those article thumbnails at the bottom of news stories on mainstream news media sites and other locations linking you to "related news" or "around the web" articles.
Kleinschmidt says that he expects these services to grow, and that many serious news companies already use them. However, Outbrain might have a bit more name recognition and it's cheaper to experiment with at the moment.
SEO vs. SEM
When deciding how many resources to allocate to SEO and SEM, it's important to examine your business. SEO is more of a long-term investment through content marketing channels while SEM provides short-term gains through PPC and ads.
In general, you need both, but knowledge industries like law firms and software are probably going to need more SEO than other industries, which means a 50/50 split.
How Does Goodman Say No?
Goodman says it's easier to say no as an executive at a larger company, since you'll have assistants to help you delegate more. However, when you're a business owner at a smaller company, you have to wear multiple hats. That means traveling and getting your name out there so people will listen to you.
Goodman says they've worked on setting a fairly strict bar about what types of clients they're willing to take on, while avoiding smaller spends and clients that don't fit. Saying no to leads from any marketing channels is hard, but it allows Goodman's team to focus on their bigger clients and hopefully save time in the long run.
Productivity Hacks
Kleinschmidt says that his early mornings are spent reading e-mails and blogs, but by 9am he shifts to productive time. At 11:30am, he checks his Twitter and Facebook and reads his e-mails. After lunch, he continues his time blocking by staying off social media and blogs. In the evening, he tries to relax so he doesn't get burnt out.
Scripted enjoyed interviewing both of these players in the realm of digital marketing channels, and hopefully SMB marketers can implement some of their advice to increase their ROI into the future.
Ready to put your content into overdrive?
Introducing Scripted Cruise Control: Content marketing strategy, content creation, account management, and analytics starting at $1499/mo.
Learn More

Ready to put your content into overdrive?
Introducing Scripted Cruise Control: Content marketing strategy, content creation, account management, and analytics starting at $1499/mo.
Learn More
Subscribe for the latest in Content Marketing & Freelance Writing!
Get Started
Try Scripted
Free

for a Month

Your first month is on us.