How to Build an Audience on LinkedIn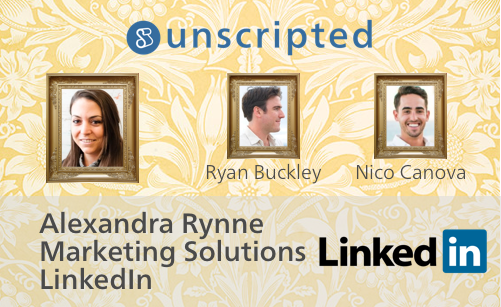 Show Notes:



Rynne builds her brand by immersing herself in marketing, blogging about what's important to her audience and working with great mentors.




Rynne shares insights into how SMB marketers on LinkedIn can achieve success, including the importance of images, data testing, content repurposing and using paid content.




Rynne explains how she frees up time to write and how she learned to say no, which involves focusing on key metrics she must meet and doing more with less.



Alexandra Rynne, an Associate Content Marketing Manager at LinkedIn, is on the cutting edge of both content creation and LinkedIn's social media effort. She is a thought leader in her industry, and has written for top publications and produced her own e-books as well. If you're especially interested in exploiting LinkedIn as a marketer, you need to connect with the insights she's sharing to get ahead.
How Rynne Built Her Awesome Personal Brand
Rynne is often recognized as one of the top marketing voices, especially for millennials. So, what's her background and how did she join LinkedIn?
Rynne is originally from D.C., but fell in love with San Francisco after just one visit. She got her start there working for a startup doing social. The irony is that when she applied to LinkedIn, she didn't have any connections, but still landed the job. Rynne has been working on the social team for about two years, and she manages just about every aspect of social marketing for LinkedIn, including Google+, Instagram, their showcase page and producing content across a variety of channels, such as the LinkedIn blog.
Rynne built her personal brand by hustling, immersing herself in social media marketing and producing blog posts for LinkedIn even though no one asked her to do it. Jason Miller was her mentor, and he was pivotal at introducing her to influencers, as well as helping her understand the LinkedIn product and their audience.
In general, she just seeks to produce content that is helpful to her audience, such as her recent e-book, "The Millennial Playbook," which is all about how to build your personal brand on LinkedIn if you're a millennial. She has also partnered with LinkedIn Insights to know how many millennials are on LinkedIn, what they purchase, what percentage are publishing and what kind of content they engage with the most.
In addition, she is an active contributor to Social Media Examiner, Inc.com and American City Business Journals.
What Can Help SMB Marketers Execute a Content Marketing Strategy?
Rynne believes marketers have a lot of options on LinkedIn, including SlideShare content, company pages, sponsored content, sponsored InMail and publishing. However, she believes you should start simple with the LinkedIn company or showcase page, so you can do a few things very well instead of spreading yourself thin. You can then build into other channels and tools later.
She also points to a post produced by Miller titled "13 Free (or Almost Free) Content Marketing Tools to Make You More Effective" that will help you get started as an SMB marketer.
She especially emphasizes that marketers need to master the art of repurposing. For example, Rynne's team takes one large e-book that they produce and breaks it down into blog posts, webinars, infographics, slideshares and videos. It's important to take the content you have and constantly repackage it.
Imagery and Visualization Are Key
Rynne highly recommends using images and visualization in posts, which LinkedIn's own research backs up. She says, "Visual is the new headline," and LinkedIn's constant testing has shown that content with images performs much better and receives more impressions.
She also says that marketers go beyond stock images, since it doesn't take much to create eye-catching imagery, even if it means photographing your own team at work. She recommends using the following tools:
She also believes testing is highly important, including A/B testing for images.
How to Get Started on LinkedIn
The LinkedIn marketing solutions site is probably the best place to start. Rynne recommends a mix of both sponsored and organic content. Sponsored content helps you get your content directly on the LinkedIn feed and allow you to A/B test, while sponsored InMail is great for email marketing.
What Missed Opportunities Do SMB Marketers Experience on LinkedIn?
Rynne recommends SMBs check her LinkedIn Tactical Plan. She wrote down everything she did day in and day out for a year, and marketers can adopt the strategies and learn all about the opportunities available to them. It teaches them how to publish on LinkedIn, use sponsored content and showcase promotion. In general, she recommends three tactics:



A/B Test Everything. They have discovered a lot from A/B testing. For instance, the term "guide" performs much better than "e-book," which is something many marketers might be interested to hear. They've also learned that posts with links receive 45 percent higher engagement rates. Try different headlines and different content mixes, and learn from what you test.




As she already mentioned, go visual. By making posts prettier, they'll get more attention.




Organic is good, but paid is better. Sure, it's great when your audience finds you, but with sponsored content you can pick the people who like your content most and target your audience



Rynne also believes SMBs should take advantage of LinkedIn's Slideshare, which has a whopping 70 million unique visitors a month. Google indexes every presentation on the platform, and 80 percent of Google hits are organic. Those are big numbers for SMBs to take advantage of.
How Does Rynne Find Time to Write?
Rynne says it's just a matter of blocking time on your calendar. Sometimes she leaves work early, goes to the gym and then dedicates time afterwards to writing in a quiet space. She also generates ideas and outsources work, which she then edits to fit her voice, much like the service Scripted offers. In short, don't be afraid to get some help when you need to produce content.
Her social team is only four people, but they focus on fewer things and do them better. She believes you have to focus on what matters most and has the highest reward.
How Does She Say No?
Rynne's job is to ensure engagement on social channels is strong and that she delivers a certain amount of qualified leads to sales every month. At the same time, she needs to create both useful gated and ungated content. She ensures she's meeting those goals and makes sure nothing gets in her way.
Subscribe for the latest in Content Marketing & Freelance Writing!
While you're here, have you tried Scripted lately?
Used to be a member, but moved on? Heard of it, but never signed up? The current iteration of Scripted will amaze you! Streamline your content writing efforts and build your own team of high-quality writers. It's all you need for content writing. Try it free today and meet your next favorite writer or writers!