Unscripted Podcast with Brian Clark of CopyBlogger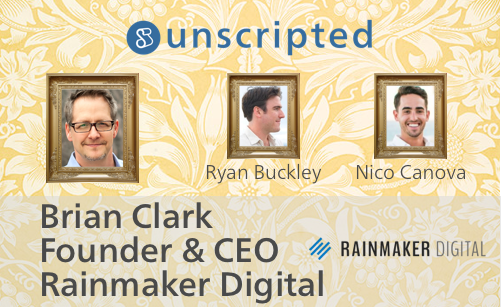 Show Notes


Brian Clark, CEO of Rainmaker Digital and founder of CopyBlogger, shares how he started his journey into content marketing.


Clark discusses the evolution of how blogging could be monetized and how he was on the forefront of that movement.


Clark explains how his many entrepreneurial ventures turned into Rainmaker Digital.


Clark shares productivity hacks and how he approaches writing.


Brian Clark is not only the founder and CEO of
Rainmaker Digital
, but also the founder of the popular writing and marketing site
CopyBlogger
. He's a content marketing veteran and offers a wealth of resources for marketers through his companies and writing. He joined Scripted's Podcast, Unscripted, to share his experiences and insights with Scripted's listeners.
Clark's Background
Clark practiced as an attorney for four years even after deciding earlier in law school that practicing law was something he definitely didn't want to do. After making enough money to pay off his loans, he was in a position to quit. He didn't know exactly what his plan was, but he did know he wanted to pursue his interest in being a writer.
Clark didn't necessarily want to beg a New York publisher for a contract or head to Hollywood. It was around 1998, and the internet was developing as a place where writers could get an audience through e-zines. Although Clark never took a business or marketing class, he found some success simply by writing compelling content. Tens of thousands of people signed up to read Clark's content, and he began to get a lot of press.
The only problem was he wasn't making any money.
Back then, the mindset was that if you create content, you can make money by selling ads. But in practice, this is really hard to do, and it's even harder now.
The Idea Behind CopyBlogger
Clark read "Permission Marketing" by Seth Godin. That book put him on the right path by helping him realize that he needed to sell something besides advertising. Clark created CopyBlogger in 2005 with the core goal of marrying copywriting techniques to create engaging content with the idea of selling products and services while you build your audience.
Now, CopyBlogger does $12 million in revenue each year, and Clark has managed to launch a new line of business every year.
How CopyBlogger Evolved
In 2006, Clark had no product or service, but was instead focused on building trust from his audience. By mid-2007, his audience was ready to be sold something.
Clark says that blogging at that time was very idealistic and anti-commercial; there was significant resistance to the idea of monetization.
According to Clark, it's a war for attention out there, so you have to give your audience value. His controversial point at the time was that you have to sell stuff with your blog, but it was this controversy that sparked interest in Clark's viewpoint.
Clark's Many Entrepreneurial Successes
Clark formed a startup with a Tony Clark after meeting through CopyBlogger. They decided to create an online course in October 2007. Their venture went from zero to six figures in a week and reached seven figures by the end of that year. This gave them capital and the ability to keep moving forward.
The next year, Clark entered the
WordPress
premium market with another startup and released a WordPress design framework called Thesis. In the following year, Clark and another partner created
Scribe
, which is now patented and a big part of Clark's Rainmaker platform. All of these were seven-figure businesses connected only by Clark.
By 2010, Clark wanted to build something bigger. His project became Rainmaker Digital. Clark got all his partners together in a Denver conference room, and they hammered out their vision into a new company.
Rainmaker Digital's Approach
Rainmaker Digital launched with WordPress hosting, mainly to build its server infrastructure. Over time, the company released software and tools for building landing pages for its members.
Rainmaker Digital basically worked as a bootstrap company, which meant finding what was useful to its audience and building it. This helped the company avoid venture capital (VC) funding or outside investment. It not only built tools for its customers, but also used them to showcase its technology.
The Background of Authority
Authority
is a community focused on the central aspects of content marketing. It's made up of a good mix of SMBs and content marketing professionals. There are a lot of Q&As and resources and plenty of interaction among members.
Clark's
Digital Commerce Academy
is focused on more than just selling things; it's also looking for what to create in the first place when it comes to a digital product or service.
Being a Writer Versus Being a Content Marketer
Clark says there's an idea that marketing is a data-driven and means-to-an-end-type discipline while writing and art are exercises in the creator's desire. Clark cites
David Ogilvy
, who says there are two types of copywriters: poets and killers. Poets think they're creating art and creativity for creativity's sake. The killers are looking for the sale and most effective way to get there. They are focused on results. If you're both a poet and killer, you'll get rich.
Clark believes he helps push both groups of writers to embrace aspects of the other side.
His original goal was to make writers into entrepreneurs, and he has seen a lot of creative people go on to launch businesses and strike out on their own, which he finds extremely rewarding.
Advice for Those Struggling About What to Write
Clark emphasizes specialization: you'll actually get paid more if you don't self-identify as a writer. Writers hate to hear that, but it's true. If you can provide solutions to a specialized group of people, you'll get more respect, get retainer agreements and won't have to hunt for work.
For better or worse, a lot of business people undervalue writers. That's the way the world is. That's why writers should sell solutions, not writing. Writing is just a part of the solution.
How Does Clark Avoid Distractions?
Despite being a CEO, Clark writes nearly all the copy for his companies' products. It helps him focus their message and get to the core of what his companies offer. He finds writing in the mornings helps him, as does having a deadline.
As part of his morning routine, he performs meditation and also likes to read something, as it's how he finds inspiration and ideas. Clark then sits down and starts writing. He also has a to-do list that contains the most important writing and non-writing tasks for that day; these tasks need to be done that same day, no matter what.
How Does Clark Say No?
People are always amazed that Clark has had a partnership just about every year, but he actually turns down about 95 percent of the projects pitched to him each year. He chooses projects to take on by asking if a product is right for his audience, offers value and is something he would be proud to put his name on. That mindset carries over into everything he does.
Ultimately, Clark has already had a huge effect on content marketing, and there's no doubt that his influence will continue well into the future. 
Subscribe for the latest in Content Marketing & Freelance Writing!
While you're here, have you tried Scripted lately?
Used to be a member, but moved on? Heard of it, but never signed up? The current iteration of Scripted will amaze you! Streamline your content writing efforts and build your own team of high-quality writers. It's all you need for content writing. Try it free today and meet your next favorite writer or writers!