Bootstrap Your Business With Content Marketing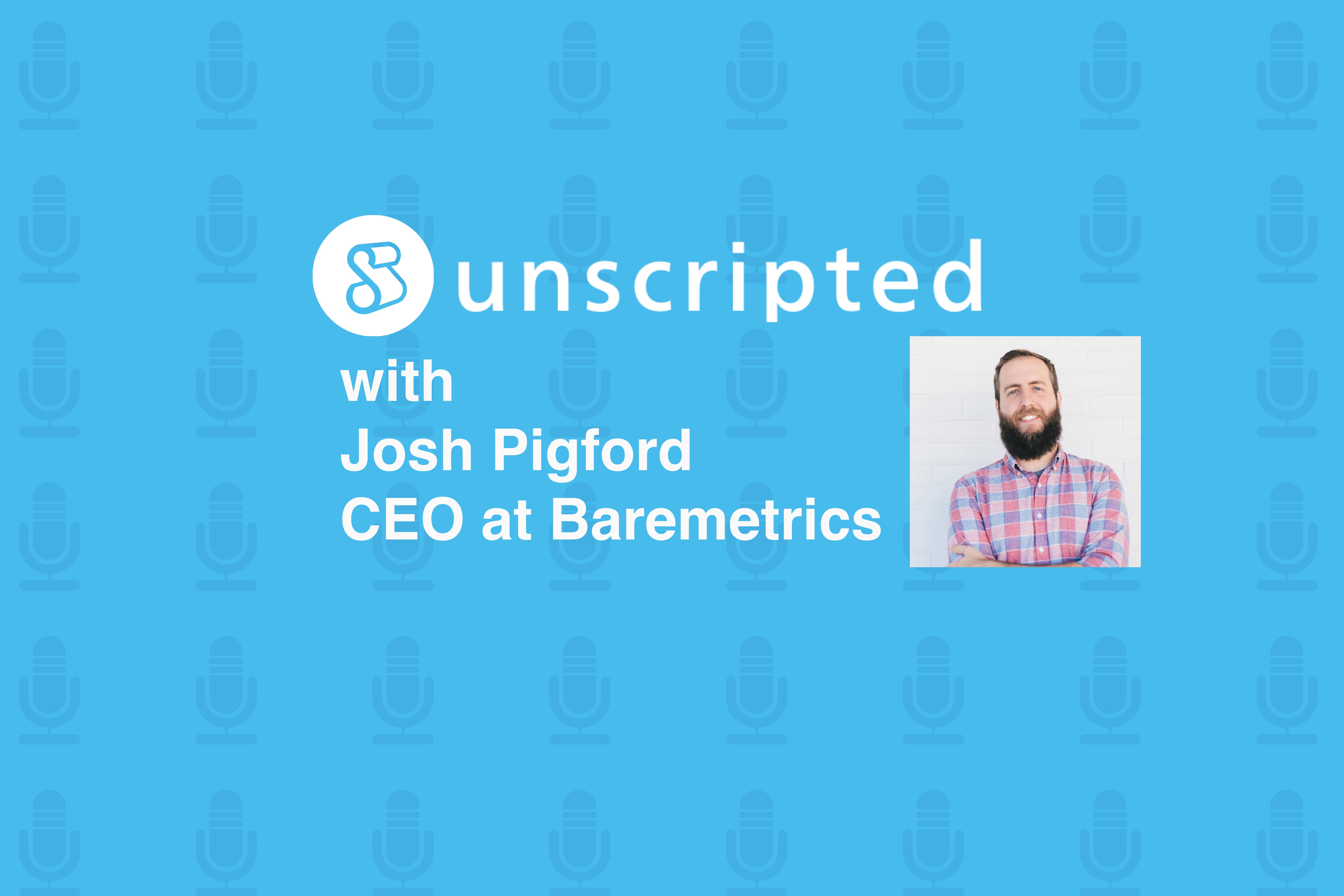 Show Notes


Josh Pigford is the CEO and Founder of Baremetrics, a subscription analytics platform that integrates with various payment processing services to provide insights into your business revenue.


Content marketing has been key to the growth of Baremetrics as a recognized business analytics brand.


There are two main aspects to the Baremetrics content strategy: a blog with wide distribution, and an academy that provides entrepreneurs with the information they need to get a new business up and running.


Josh writes much of the Baremetrics content himself, as he recognizes the importance of publishing quality content and becoming a thought leader in his field.


For Baremetrics, content marketing is an affordable alternative to PPC advertising.


The Birth of Baremetrics
In 2013, Josh Pigford was selling a couple of SaaS products, but found it difficult to gather analytics around his subscriptions. To get a clear picture of how his business was performing, he needed to track the business's MRR (monthly recurring revenue), customer churn, and the lifetime value of each customer, but generic analytics platforms weren't able to provide this data in a useful format. This experience inspired Josh to build Baremetrics, a tool that overlays the payment processing service Stripe and provides valuable insights into the revenue that subscriptions are generating.
Developing Baremetrics Into a Business
Realizing the value of the tool, Josh developed Baremetrics into a business, using funding from Stripe to get the business off the ground. He's since developed the tool so that it can be used with other payment processing services, including Chargify, Braintree, and Recurly. Many SaaS businesses, including Scripted, now use Baremetrics to provide insights into their recurring revenue.
Growing the Baremetrics Brand With Content Marketing
Compared to many startups, Baremetrics has had very little funding from investors. As a result, Josh has had to find inexpensive ways of marketing the business. He quickly realized that bidding on Stripe-related keywords in PPC (pay per click) campaigns could be very expensive. A more affordable approach was to focus on using content marketing to bring in organic traffic. This has worked out fantastically well for the company, which ranks highly in search engine results pages for keywords such as "Stripe analytics."
Baremetrics Content Marketing Strategy
There are two main aspects to the Baremetrics content marketing strategy. The company has a
blog
, which was recently set up as a Medium publication to increase its distribution. The purpose of the blog is to reach out to a wide audience and get them talking about aspects of business related to selling subscription services. Josh writes 90% of the blog content himself, sharing insights into Baremetrics' own business story. This transparency has paid off: Baremetrics' customers are people who are trying to grow their own businesses, so they value the opportunity to read about how another company built up their business. Of course, there is a risk that competitors to Baremetrics will try to copy the company's growth, but Josh is confident that the Baremetrics brand is strong enough to fend off copycats.
The other key aspect of the Baremetrics content marketing strategy is the
Baremetrics Business Academy
. This began as a handful of articles that were ranking well for important SEO terms. Josh realized that people were interested in reading detailed guides on how to set up a business, so he got to work creating content to help people with their startup ventures. Building an academy of knowledge can be a very valuable way of building a strong long-term SEO strategy. By helping people build and grow businesses, Baremetrics cultivates a group of companies that are likely to turn to Baremetrics when they need help understanding their revenue.
The Importance of High Quality Content
In the early days of Baremetrics, Josh did all the content writing himself. Even today, with a team of six people working together on the business, he still writes around 90% of the blog content and between 30 and 50% of the content in the Business Academy, outsourcing the rest to trusted team members or outside writers. He knows that quality is more important than quantity when it comes to content marketing, so retains tight control over the content published under his brand.
Subscribe for the latest in Content Marketing & Freelance Writing!
While you're here, have you tried Scripted lately?
Used to be a member, but moved on? Heard of it, but never signed up? The current iteration of Scripted will amaze you! Streamline your content writing efforts and build your own team of high-quality writers. It's all you need for content writing. Try it free today and meet your next favorite writer or writers!