Top 10 Sales Industry Websites By Organic Traffic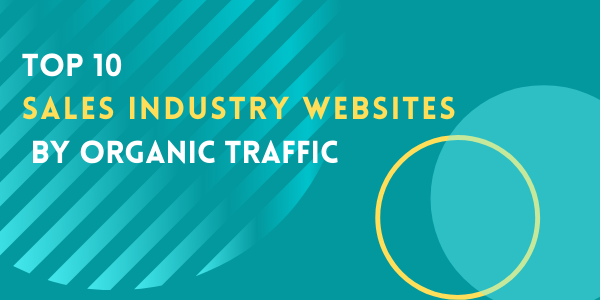 Any business in the sales industry knows that all sorts of hurdles can come their way. Sales cycles can be highly seasonal and less than predictable, and that's why having the right content to steadily increase organic traffic while building up your brand is essential for success.
In this list, we'll review the top 10 sales industry websites (ranked by organic traffic) to showcase what makes for great content and how it can drive results.
What is a Sales Industry Website?
Websites in the sales industry range from B2B to B2C models, with the former offering software, tools, and services to others in the sales industry and the latter offering subscription and SaaS products to consumers. Your website might fall into either category and, regardless of where it sits, you'll soon see how great content plays a crucial role in your brand's growth.
1. Narvar
Nearly 130 million people each month frequent Narvar thanks to their services for branded experiences and package tracking. They also offer a resource library that's filled with insights into the world of sales, particularly in the retail sector.
A variety of content types, ranging from reports to eBooks to webinars, keeps readers interested and increases the value Narvar offers. All of this has helped make them a leading name in sales and consumer insights.
2. Qualtrics

Over 68 million people visit Qaultrics every month. While it's not yet a household name, two major industry players — Forrester and Gartner — have both named Qualtrics a "leader" in customer experience and employee experience insights.
The vast resource library dives deeper into customer, design, and employee experience while offering specific, actionable advice to help businesses of all sizes build up a loyal customer base.
3. Hubspot
With nearly 35 million monthly visitors, HubSpot remains a key player in the sales, marketing, and advertising world. With a whole suite of business management tools, including a robust Customer Relationship Management (CRM) system, most businesses know the HubSpot name pretty well.
When it comes to the world of sales, HubSpot is yet another industry leader that businesses turn to when they want insights and advice they can trust. In addition to a blog and eBooks, HubSpot also offers free courses and certifications for new business owners, salespeople, and customer-facing individuals at every level of a business.
4. SquareUp
Over 30 million people visit the SquareUp website each month, which is operated by Square, Inc. For those unfamiliar, Square is a provider of point-of-sale (POS) hardware and software, allowing people to accept payments with a small, portable card reader that attaches to a mobile phone. Square has also introduced a money management system along with niche-specific guides to help restaurants, retailers, and businesses across sectors adapt to the Square system.
On its blog, Square offers advice for earning more in tips, reducing POS fees, improving the customer payment experience, and more. They also offer insights into sales, especially in-person sales, and how businesses can do more to build brand loyalty through a personalized sales experience.
5. Gemius
With about 28 million visitors per month, Gemius is a global brand offering timely insights into how consumer behavior changes through time, with a particular focus on how the pandemic impacted sales. Unique articles evaluate a wide range of topics, including posing questions like whether a business is using future-proof advertising and how the pandemic has tested it in the real-world.
6. Exact Target
Almost 9 million people visit Exact Target every month, which is now part of the Salesforce umbrella of tools. While Exact Target itself is meant to power email marketing, Salesforce — of course — addresses much more, with tools and resources to help guide businesses through the sales process from start-to-finish.
7. McKinsey
A little under 6 million visitors every month go to the McKinsey website where they can gather insights and resources from this mega management consultant. McKinsey as a whole covers everything from employment to cultural change, but they frame everything in a manner that helps businesses build a stronger brand and improve customer loyalty.
8. LiveChat

Around 2.1 million people visit LiveChat every month, with a great majority of those visitors coming to check out the business' sales and service solutions. LiveChat offers a "complete customer service solution" that aims to boost sales by answering leads' questions, engaging prospects, and nurturing them through the funnel while also improving service for existing customers.
The resource center includes an active community along with product documentation, but the heart of the library is Success, which is LiveChat's business blog. With engaging content about customer engagement, running a SaaS business, and sales in general, LiveChat hits on keywords to increase organic traffic.
9. Outreach
Over 1.7 million people visit Outreach monthly. A clean, modern, and lively site, Outreach offers readers a variety of use cases alongside a selection of customer stories and a whole library of resources. Together, this content informs prospects about their solutions, nurtures leads through the funnel, and — of course — helps them increase organic traffic by targeting several keywords.
In addition to events and webinars, among other resources, Outreach should be applauded for their highly active blog where you'll find industry news, trends, and advice for selling better as a business or sales professional.
10. SalesLoft

A little over 1 million people visit SalesLoft each month where they're greeted with a powerful homepage that showcases video content and compelling copy. Dig a little deeper and you'll find the Content Hub where all of SalesLoft's insights and advice come to life. Within the resource library, you'll also find events, webinars, podcasts, and countless other streamable, sharable, and downloadable materials to increase sales effectively.
What Makes for a Great Sales Industry Website?
One thing is for sure: if your business offers any sort of tools, coaching, or business services related to selling, you should definitely be following in the footsteps of these websites and offering a variety of content. Be it webinars, podcasts, videos, and/or written content, these brands have invested huge amounts of time and money into building up thoughtful "resource libraries" that allow them to target keywords, nurture leads, and improve customer success for those who use their products.
Meanwhile, if you're looking at these sales websites because you're in the business of sales and you want to up your game, consider how these websites focus on lead nurturing and customer success through content. In-depth documentation about your offerings along with use cases and case studies will help you attract and qualify more prospects. The key component is building your strategy around quality content.
Build an Impactful Content Strategy
As you look at this list of websites, you're sure to find a ton of inspiration to guide what you could be doing, but you may begin to feel overwhelmed about whether you can actually pull it off. The secret is to build your strategy with the help of a trusted team of marketing professionals and talented writers.
Here at Scripted, we're proud to feature some of the best sales writers in the industry. With their knowledge and expertise to back your projects, your business will execute an impactful content marketing plan that makes a measurable difference for your traffic, prospects, and customer metrics.
Interested in learning more? Reach out to the team today to review our plans and discuss your options.

---
Published by
Carolyn Heard
on Friday, March 19, 2021
in
Organic
,
Sales
,
Extact Target
,
Gemius
,
Hubspot
,
Live Chat
,
Mc Kinsey
,
Navar
,
Outreach
,
Qualtrics
,
Sales Loft
,
Square Up
.