Increasing Organic Traffic to Your Travel Website: The Complete Guide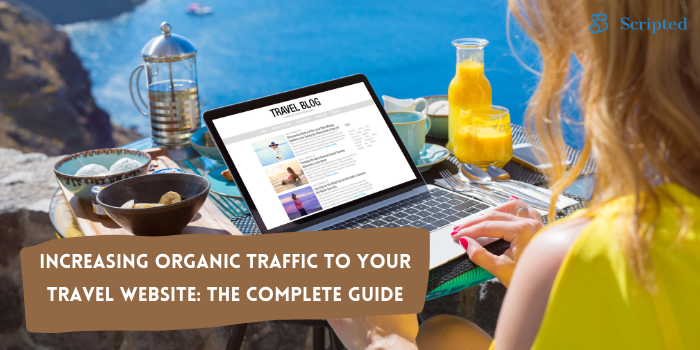 From Australia to Atlanta, travel businesses are always looking for new ways to get more organic traffic to their website.
Search engine optimization (SEO) is the best way to get organic traffic, but it has become increasingly difficult due to intense competition in the industry. Also, it's hard to choose a travel marketing strategy to run with because there are so many options out there.
In this guide, you'll learn how to create organic traffic methods that work fast, without wasting your money or time on methods that don't work.
Many people think organic traffic won't work for them because they haven't got the time, the money, or the skills to do it. However, the organic traffic methods in this guide are easy to learn and will get organic traffic flowing to your website within days, not months.
What Is Organic Traffic?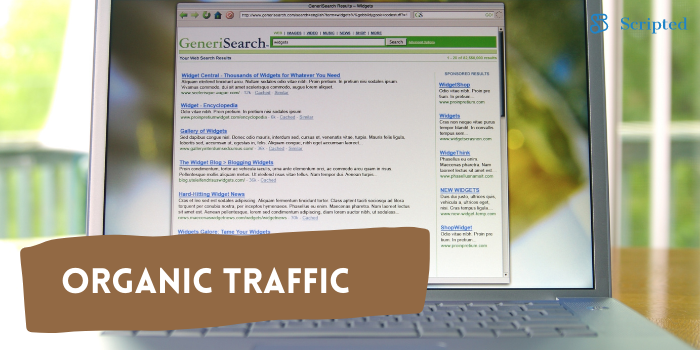 Organic traffic is when someone finds your website organically (i.e., by using search engines). It's the free kind of traffic you get from search engines such as Google.
The organic traffic methods you'll learn here are based on getting your website listed high in organic search results so that people can find you. Once you've done this, all organic traffic is yours … and it won't cost a penny because organic traffic is free.
This organic traffic system explained here will work with any travel industry website. It will help your business acquire new clients without spending money on ads.
Why Would You Want Organic Traffic?
With organic traffic, you'll enjoy better conversion rates because your visitors have come to you on their terms. Organic traffic comes from customers who are really interested in what you have to offer.
They have usually found you by searching for a travel-related topic that is in your area of expertise, which means they will be ready to hear your sales pitch.
They've already shown they are interested in travel by searching for travel-related words, so you're wasting less of your time dealing with people who may or may not be interested in travel.
How Do You Get Organic Traffic?
The organic traffic methods explored here will take your organic traffic to the next level and turn your existing customers into repeat visitors.
Search engines such as Google and Bing use complex algorithms that consist of hundreds of ranking signals to determine the best-quality web pages when a user types in phrases. Ranking factors generally fall into two buckets: on-page SEO, which is about improving your site's content and links, and off-page SEO, which includes things such as social media posts or article submissions. However, first, you need to understand the role that keywords play.
Keywords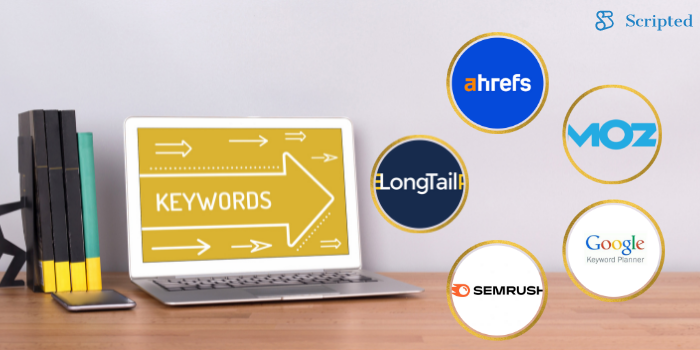 Keywords are the cornerstone of increasing the volume of search traffic. To figure out which keywords potential customers might be searching for, you'll need to conduct some keyword research using a smart tool such as Google's Keyword Planner (free with Google Ads), Moz, Longtail Pro, Ahrefs, or SEMRush.
Let's start by looking at keyword volume, the number of unique searches per month.
Keyword Volume
Keyword volume can vary by many factors, including the location of the search and the season or time of year.
High-volume keywords tend to produce more traffic than low-volume ones. More searches don't always mean that the keyword is any better at generating leads or business though.
Keyword Intent
The higher the intent of a keyword, the better it is. When you know a person's keyword intent, you can. For example, keywords like "Hawaii" have low intent because the user could be looking that up for any number of reasons.
When people use high-intent terms like "hotels in San Francisco" or "vacation destinations in the United Kingdom," you know they're looking to go on a trip.
Keyword Competition
Keyword competition refers to how many websites and pages are trying to rank for a keyword. The higher the keyword volume and the clearer the commercial intent, the more competitive it is. For example, keywords like "cheap rental car in New Zealand" are highly competitive because they have very good search volumes as well as clear commercial intent.
On-Page SEO
On-page SEO is about techniques that help search engines find what your site and individual pages are about. For a search engine to understand what your website is all about, and then match it with relevant keywords, you need to label your content correctly.
There are five key areas that a search engine explores to understand what keywords would be relevant to a page:
URL

Page title

Header tags

Media tags

Metadata
Search engines also care a lot about the user or customer experience. Your goal is to make sure each web page on your site provides an optimal, well-organized, and easy-to-navigate experience for users as they browse content that aligns with what they are looking for.
Off-Page SEO
Off-page SEO is a term used to describe techniques that establish trust and authority signals for websites. The main two off-site ranking factors are backlinks and social media shares, which help search engines determine the organic rankings of web pages.
Backlinks
A backlink is like a vote of confidence for your website. The more people who point their links toward your site, the higher up on search engine pages your site will go and the easier it'll be to find.
Here are some simple ways to get more backlinks:
Encourage other travel websites to link to your content.

Encourage bloggers to mention your business and post about you.

Ask your social media followers to share your links.
Social Media
While not as important as backlinks, social media is also a driver of off-page ranking factors in SEO. The more likes, shares, and retweets you get on social media platforms such as Facebook, Twitter, or Instagram, the more likely your site will rank high in Google's algorithm for popular pages. At a minimum, you should have a Facebook page.
Keywords for the Travel Industry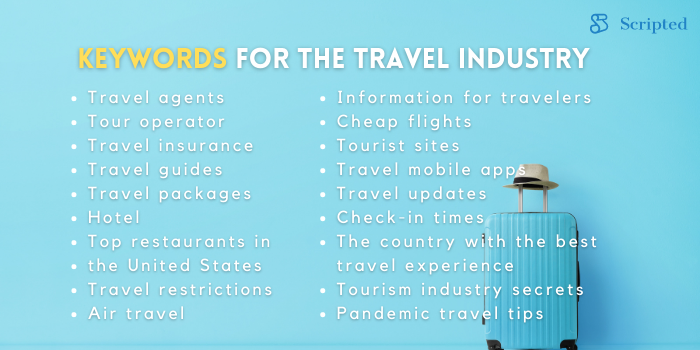 In the travel industry, you can expand and refine your keyword research by adding related keywords such as:
Travel agents

Tour operator

Travel insurance

Travel guides

Travel packages 

Hotel

Top restaurants in the United States

Travel restrictions

Air travel

Information for travelers

Cheap flights

Tourist sites

Travel mobile apps

Travel updates

Check-in times

The country with the best travel experience

Tourism industry secrets

Pandemic travel tips
Types of Content That Resonate With Audiences in the Travel Industry
The easiest way to get organic traffic is to put out high-quality travel content on your travel website. For example, you could write an article about travel tips for beginners or what it's like being a travel blogger.
These travel-related content ideas will help you rank well in the search engines:
Travel deals

Frequently asked questions (FAQ) about travel and travel destinations

Travel tips and hacks

Inspirational travel stories from real customers who have visited the destinations you're selling packages to

Product recommendations

Tutorials and tips for travelers based on their travel patterns, such as "the best camera to take with you on a trip" or "how to choose the right travel insurance"

Traveling as a vegan or vegetarian

How travel makes you a better person

What travel writers love about travel writing

Budget travel tips and hacks

The best travel destinations in the world for foodies and history buffs

Top travel destinations for families with kids or solo travelers
Don't forget to define your audience. It's important to focus on content that attracts a specific audience.
Questions to ask yourself:
Who are the people visiting your travel website?

Do they already travel or do they have plans to travel soon?

What kind of information is relevant to them right now?

What kind of budget do they have?

What do they value when they travel?

How long do they want to spend on their trip?

What kind of travel content resonates with them?

Where do they want to travel to?

How many travel packages do they usually buy per year or trip?
The travel industry is ever-evolving, which means that there will never be a shortage of destinations to write about.
It can be difficult for travel websites to rank well in search engines, especially if they are new and don't have many backlinks yet. One thing that you can do to improve your search engine rankings is to include video content. This is a good strategy because people are much more likely to watch a video than read about the same information. The videos should be travel-related and at least one minute in length.
Examples From Top Sites by Traffic in the Industry
When you're writing articles for your site, it's great to get some inspiration from some of the best travel websites on the internet.
Here are just a few: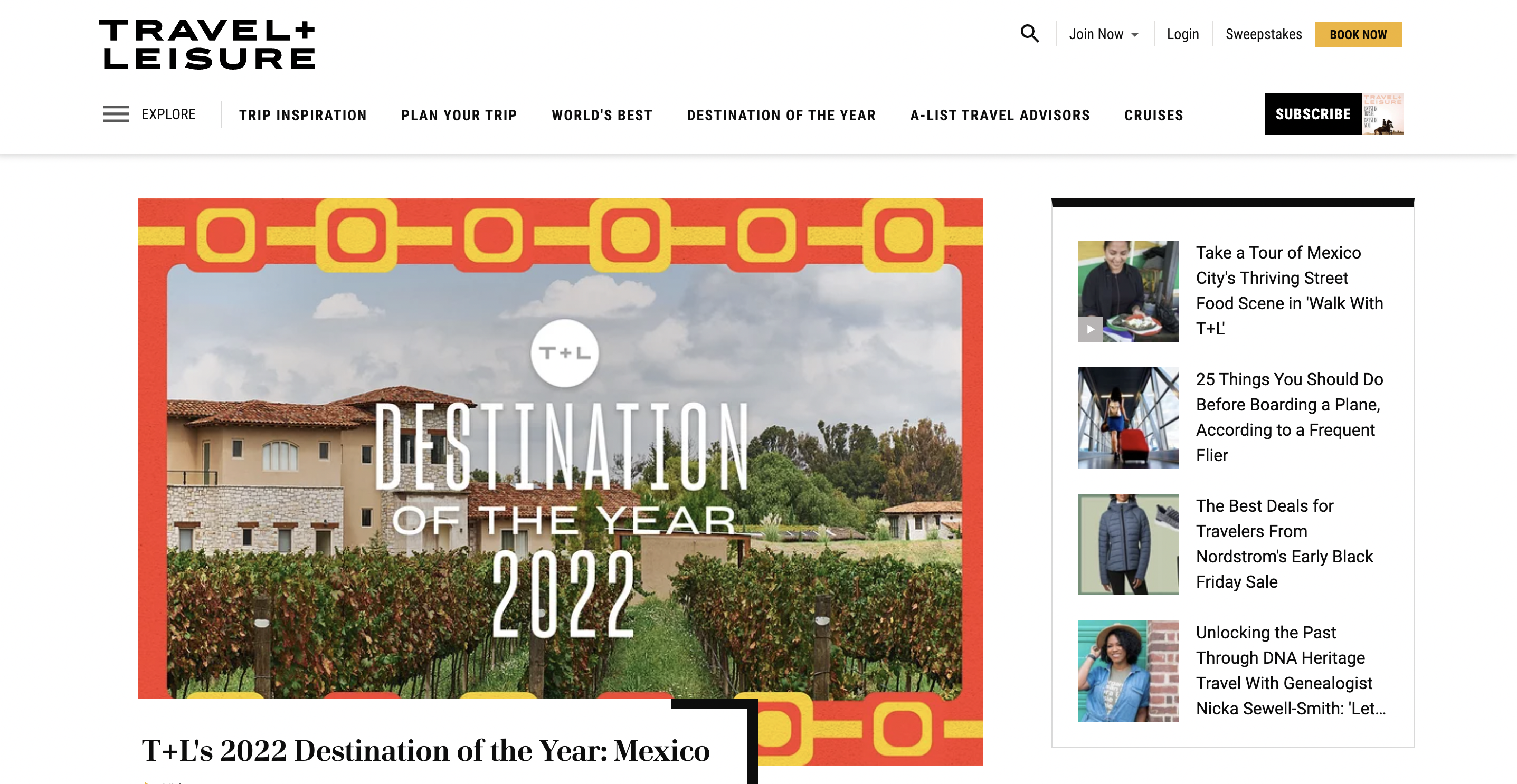 Travel and Leisure (also known as T&L) is a hugely popular site. It publishes news stories such as a list of countries that are open to COVID-19 vaccinated travelers.
It also publishes articles such as:
Planning a trip based on your zodiac sign

Finding the best airfare deal every time

T&L's Destination of the Year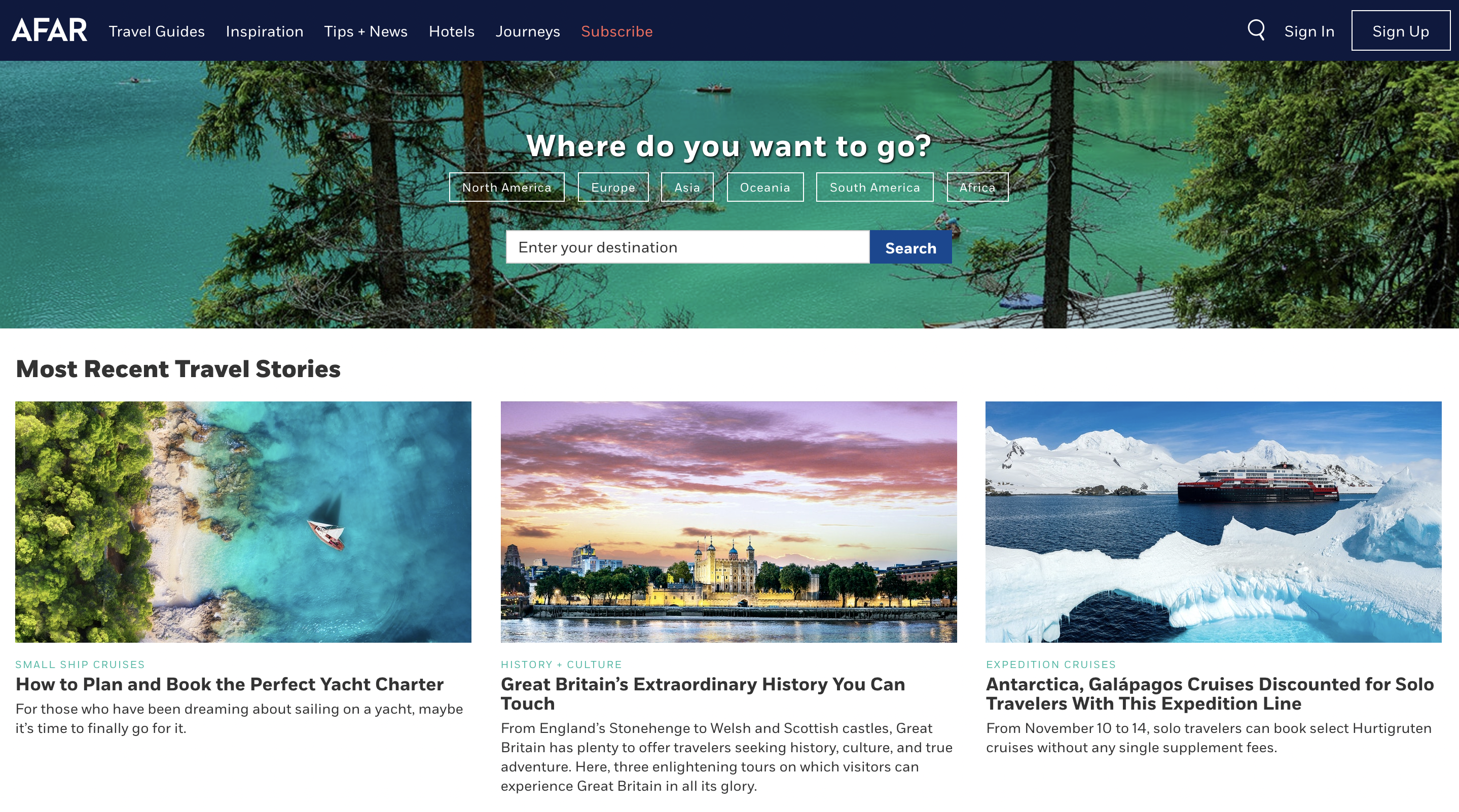 Afar publishes travel tips, news, and in-depth features on topics such as:
A Somali refugee's journey to healing amidst the natural beauty of Maine

Female flamenco guitarists in Spain

A Filipino-American chef's search for a recipe his grandmother used to make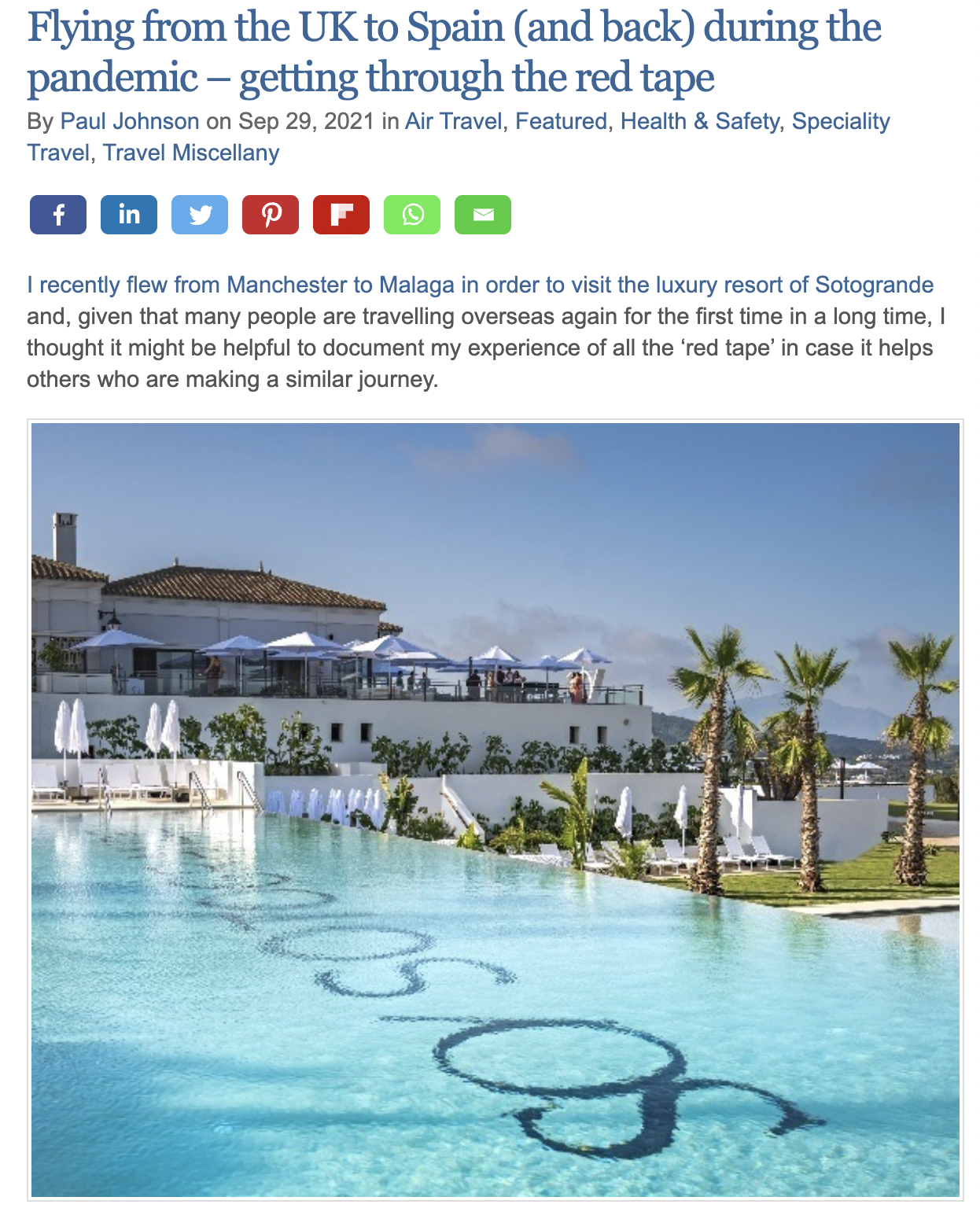 The name makes it pretty clear — A Luxury Travel Blog is a travel site focused on high-end travel experiences.
It publishes articles such as:
Luxury hotels in Tenerife

What to eat in Egypt

The best beaches near Barcelona

Exploring Croatia's eight national parks
How to Measure Your Organic Traffic Results
Here are some key metrics that you can track to gauge your travel website's performance:
Number of visits

Where visitors came from

What they did once logged in

Site revenue

The click-through rate for landing pages and blog articles
Recommendations for Tracking Tools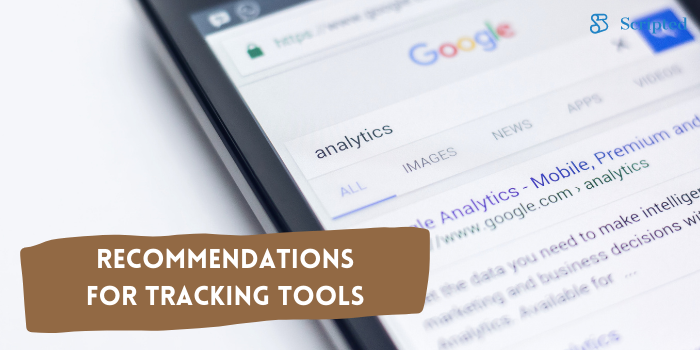 Organic traffic is the lifeblood of a travel website. You might have invested in travel-related keywords to draw targeted visitors, but if you don't know how many people are visiting your site and what they do when they get there, then it's impossible to see the results of your efforts or make adjustments as needed.
Depending on how much time and money you want to invest in tracking tools, there are some different options. For example:
Seolyzer is a powerful tool for analyzing and improving your website's SEO. By crawling through the site log files, Seolyzer identifies any errors on individual pages or redirect issues that can be fixed to improve rank in search engine results pages (SERPs). It also tracks page speed performance so you know which areas need more attention when creating content-rich landing pages.
SEOquake is a free Google Chrome extension that automatically checks your web page's SEO parameters. This includes on-page SEO audits, external link reviews, real-time URLs, and domain comparisons with data file exports.
You can also use it to get detailed descriptions of how all of your links are doing — including URLs and anchor text.
Google Analytics is a free tool that allows marketers to:
Compare organic and paid traffic

Identify which web pages receive the most traffic so you can improve SEO on those pages

Determine engagement metrics and page exit metrics on each web page

Find the conversion rate for landing pages
How to Hire a Travel Content Writer
Travel websites need travel content writers to create travel-related blog articles, but it's hard to find the right person. You know that travel blogs are a great way to rank well in search engines and bring in more traffic, but you're just not sure where to find the right writer.
Scripted is an online marketplace where professional travel writers can be hired on-demand. The best part? Scripted has travel experts who specialize in everything from luxury hotels and family vacations to international destinations and cruises. With Scripted, you'll never have trouble finding the perfect travel writer again.
Scripted offers a free trial, and all work is 100% guaranteed.
Visit our travel industry page to get help with your content strategy.