Copy Editing Versus Developmental Editing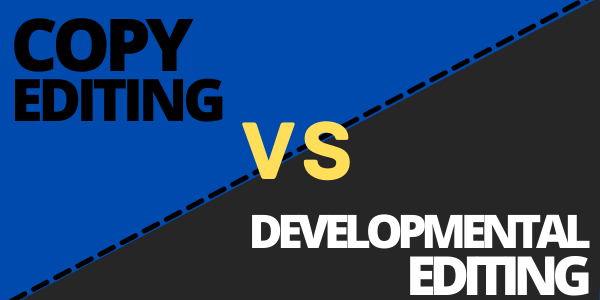 Good content needs an editor to ensure quality and accuracy. Many people don't realize that they can choose different types of editing, though. The following article explains the differences between copy editing and developmental editing and helps you determine when you should use them.
What Is Copy Editing?

Copy editing focuses on correcting spelling and grammatical errors in social media posts, blog entries, websites, and other content. You need copy editing to make your content look and sound professional. A few grammatical problems could make your brand look amateurish. In some circumstances, poor grammar could communicate a message that you do not mean.
The double negative offers an example of how grammatical mistakes could cause miscommunication and confusion. If your blog post says, "we don't never miss deadlines!" some readers will mock your message. While you might mean to emphasize that your company never misses deadlines, using two negatives in one sentence changes the technical meaning to say that your company does miss deadlines. Copy editing would identify and correct this mistake to improve your content's clarity.
Copy editing services can differ depending on the service you choose. Typically, you can expect copy editors to comb through your content and:
Correct spelling

Correct grammatical mistakes

Replace words used incorrectly

Add missing punctuation

Remove unnecessary punctuation

Improve sentence structure

Check hyperlinks for accuracy

Following citations to check facts

Ensure that the content aligns with the style guide
Basic copy editing can make your content more professional and share-worthy. It rarely goes beyond fixing common errors and making minor improvements to your text.
Examples of copy editing
Compare the following two pieces of text to see how copy writing services can improve content.
Unedited text
When we startted BlueVine Media in 1999 we had no idea that it would eventually become the biggest video production company in Atlanta Georgia. We just only wanted to do the thing that we loved and help other people make cherished videos that they would cherish for decades. It's our time honored custom to give every client excelent quality at a affordable price. Our service start at just $100 dollars for a half hour vhs to dvd transfer.
Edited text
When we started BlueVine Media in 1999, we had no idea that it would eventually become the biggest video production company in Atlanta, Georgia. We just wanted to do what we loved and help other people make videos they would cherish for decades. It's our time-honored custom to give every client excellent quality at an affordable price. Our services start at just $100 for a half-hour VHS to DVD transfer.
Notice the differences
Some edits you may notice include:
Adding a comma after 1999

Using the word "cherish" once instead of twice

Hyphenating time-honored

Removing the unnecessary "dollars" in "$100 dollars"

Capitalizing VHS and DVD to meet modern standards
What Is Developmental Editing?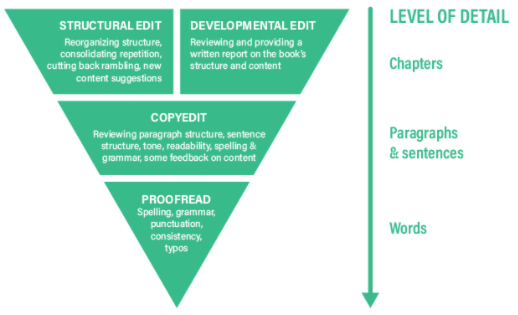 Developmental editing provides a much more intensive opportunity to improve your texts. Development editors will correct grammatical and spelling errors, but they also offer services such as:
Checking facts from multiple sources to ensure accuracy

Changing an article structure to improve the reader's experience

Rewriting sentences that use cliches or might confuse readers

Matching the client's established brand voice to ensure consistency

Using SEO tools to optimize keywords and choose high-authority links

Collaborating with the client to add substance to the content's insights
Developmental editing requires more skills and effort than copy editing. Copy editors rarely need to communicate with their clients. They just correct mistakes and make minor updates. Developmental editors need a deeper understanding of your content, which could mean communicating with you via text, email, or phone.
Developmental editors also need excellent reading skills. They must approach the content from your target audience's perspective. When you want to publish a technical article that will impress your colleagues, a developmental editor will read the content from the perspective of an industry insider. When you want to publish a similar article that targets customers instead of professionals, your editor will read the content to find industry jargon and other material that might confuse the audience.
Examples of developmental editing
Developmental editing usually applies to long-form content. The following excerpts should give you some insight into how editors improve texts.
Unedited content
YouTube videos matter more to marketers than ever. To meet that demand, BlueVine Media now offers digital video production and editing services. Our crew can come to the location of your selection, film your project, edit the video, and upload it to YouTube. We can even take over production by finding writers and actors for you.
Content after developmental editing
Marketing guru Neil Patel reports that 64 to 85 percent of consumers become more likely to purchase products after they watch marketing videos. BlueVine Media now offers digital video production and editing to help you increase online conversions. We can provide:
Professional writers to create scripts that highlight your product

Actors to perform in your video

On-location camera and lighting professionals to ensure quality

Editing and uploading that takes care of the technical aspects for you
Contact BlueVine Media to talk about how our team can help you make an effective digital video.
Notice the differences
The developmental editor does several things to improve the original content. Some changes you might notice include:
Using a bulleted list to help readers understand their service options

Offering a statistic and linking to an authoritative source

Structuring the content in a way that educates and encourages readers

Adding a call-to-action (CTA)
Get Editing Services From Scripted
Scripted has a growing team of writers and editors that can provide the editing services you need. Browse our top writers to find someone with the experience you need for copy editing or developmental editing. Scripted's platform makes it easy for you to recruit editors, manage your projects, and improve the quality of your content!