15 Ways to Make Your Written Content Look Better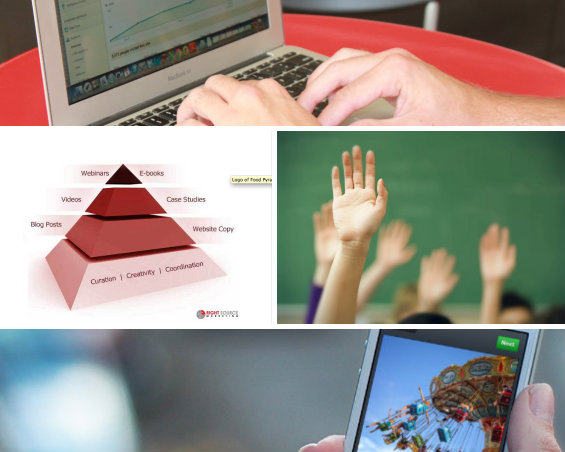 From word clouds to infographics and 3D images, here's a comprehensive list of tools that will help enhance your written content.
Creating
high quality written content
takes plenty of time to produce and manage -- and the same goes for visual content as well. Some content teams have specific people responsible for visuals -- like photo editors or graphic designers -- but that doesn't always have to be the case to produce high quality images. Here are 15 resources that will help you enhance your written content, grab your reader's attention and hopefully increase social shares.
See also: The Pyramid of Written Content (How to Present Your Story Ideas)
If you're a fan of word clouds, check out Tagxedo. You can choose from a variety of shapes and colors, input your own text or even grab text and images off your website to create an eye-catching graphic created entirely out of words that are important to you and your customers.
Wordle is another simple, effective tool for creating a word cloud full of relevant tags. You can paste text or submit a web address in order to generate a visually appealing word cloud, in addition to changing your layout and color scheme via menus on the top of your screen after creating your word cloud.
Visual.ly integrates social media information into compelling infographics for inclusion on your website or social media page. For example, you can connect your Visual.ly account with LinkedIn to create a visual resume. You can use a pre-made template or use Visual.ly's interface to create your own template. This site is best used as part of your promotional content campaign.
Infogr.am is your one-stop shop for creating free infographics based on your data to post on social media, in blog posts or on your website. If you want a chart or diagram to illustrate some statistics that are important to your target market, Infogr.am is the place to do it. You can choose a template and replace the pre-set data with your own to create a professional looking infogram in minutes. You can also create word diagrams or other innovative illustrations for use in your blog or on your website.
Easel.ly allows you to quickly create stunning visual images for inclusion in written content. Easel.ly allows you to drag a theme onto a blank canvas, then edit it; this process is intended to save time when creating infographics, too.
See also: How to Grow an Audience Through Content Creation
GIMP is a free photo editing software available for both Macs and PCs. It has many of the same features as Photoshop, making it ideal for both creating new graphics and editing existing graphics to make them suitable for placement on your website or blog.
If you want to grab readers' attention by adding thought or speech bubbles to photographs, you'll want to use PhotoScape. This application allows you to edit photos to include thought bubbles, captions and other items that can turn your photo into a social media sensation.
Kuso converts photographs into cartoon-like drawings. This tool is useful if you want to create comic strip characters for use in your content (e.g. a character who provides a tutorial for your readers) or provide comic relief via illustrations.
Technical writers will want to download Create.ly. This free tool helps you generate technical flowcharts and diagrams to add to your content. Company managers can also use this tool to create organizational charts.
If you don't need your diagrams to be as detailed as technical writers do, check out Gliffy. This tool allows you to choose from a variety of templates, as well as create your own diagram from scratch. You can also use it to create floor plans, making it an ideal choice if you need visuals to accompany real estate copy.
See also: How to Make Sure Your Content is Suitable for Google News
ZS4 is free-to-use video editing software. If you want to quickly add video to your content, check it out. If you upload images and text to the software, it can create a short, appealing video out of them. You can customize your video to include panning, smooth transitions and special effects as well.
If you want professional-looking videos on your site, consider using Avidemux. This free video editor provides a wide range of tools for editing videos, adding transitions and incorporating music.
Blender is a free-to-use platform for creating 3D artwork. You can convert photos to 3D and animate them using this powerful software.
Pixlr is a free photo-editing software that provides easy ways to edit your images and add text and graphics.
Looking for original photography? Twenty20 is a photo marketplace where users can buy and sell mobile photographs as stock imagery.
Have you used any of these tools? Share your stories with us in the comments section below.
To Read More About Content Creation, Click the Links Below:
How Content Helped LearnVest Become a Trusted Authority in Financial Advice
Ash Davies of Tablo: Empowering Writers to Self-Publish Through eBooks
Alexis Grant of Socialexis: How to Grow an Audience Through Content Creation