Top 10 Travel Websites By Organic Traffic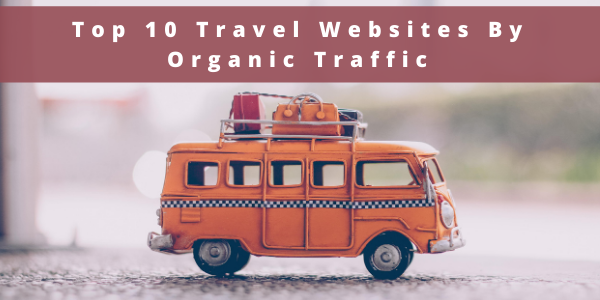 Operating a travel website takes a great deal of effort. Year-over-year, the travel and tourism industry continues to grow to the tune of about $2.9 trillion. For those in the sector, that growth represents opportunity, but it also represents increasing competition.
In this article, we'll look at the top 10 travel websites, ranked by organic traffic, to see what helps a travel site perform well and give you some ideas on what you can do better.
What is a Travel Website?
Travel websites can fall into a long list of sub-categories. While they all share a common focus on traveling and tourism, one website might review destinations or offer money-saving travel tips while another website may be devoted to helping people book airfare, transportation, and/or accommodations. This list contains a mix of travel websites along with a close look at how each of these top-ranking websites is driving organic traffic through great content.
#1 Booking.com

An average of 222 million people visits Booking.com every month. The site's main source of traffic is its booking engine, which helps travelers compare hotels to find the "guaranteed best rate" for their stay. Of course, in addition to Booking.com's service offering — which can help users compare flights, taxis, and car rentals, too — the site also offers a wealth of content.
The brand's travel blog, known as Unpacked, explores destinations near-and-far and covers essential categories like family travel, gadgets, cuisine, and more. While Booking.com tries to keep its content as "evergreen" as possible, they do touch on timely topics with articles covering things like adjusting to working from home and making the most of it.
#2 Airbnb.com

Over 60 million visitors frequent the Airbnb website every month, with the site's main draw being its person-to-person booking engine. While the concept is familiar to most travelers these days, Airbnb broke ground in 2008 when the site launched and gave people an easy way to rent out their spare couch, spare room, or vacant home to travelers.
In the years since, Airbnb has come a long way, and content marketing is definitely a strength of the brand. From their motto "live like a local," Airbnb has created an entire culture around the couch-surfing travel style that started it all. This is made obvious on the Belong Anywhere blog, which speaks about guest-friendly home improvement, responsible travel, and other pertinent topics.
#3 TripAdvisor.com
About 98 million visitors head to TripAdvisor each month to make use of the site's excellent sources. While you can book directly through TripAdvisor, the site's strong suit is definitely its collection of reviews. TripAdvisor is a unique example because they use user-generated content (UGC) more than any site on this list, and that's the beauty of a quality review website.
Of course, Trip Advisor supplements user reviews with a steady supply of in-depth content about various destinations and accommodations. The blog, which is run "for travelers by travelers," talks about the best destinations for various activities, explored award-winning hotels, and more. It also helps travelers discover out-of-the-box things to do wherever they find themselves.
#4 Uber.com
Around 90 million people visit Uber each month, with the brand being most well-known for its ridesharing mobile app. However, Uber has grown to offer a lot more than cheap rides in commuters' cars. Uber Eats, for instance, competes with the likes of DoorDash and Postmates to help hungry users get their favorite restaurants delivered to their door. Meanwhile, Uber also offers freight transport services for businesses, along with bike and scooter rentals in certain areas.
All of that said, Uber's blog is one of the best examples of modern content marketing at work. It's devoted to showcasing the best in drivers, travelers, and local businesses, helping to promote Uber's offerings while also helping travelers and locals alike learn more about the place they live and the places they love.
#5 VRBO.com

VRBO sees around 39 million visitors each month. This brand has a business model very similar to Airbnb, but maybe best known for its unique advertising campaigns. Within the Discovery Hub, VRBO explores evergreen and timely content alike, with articles ranging from advice on sanitizing between guests to case studies on how a welcome guide helped one rental get more reviews.
#6 Expedia.com
Around 34 million people visit Expedia each month, which is surprising considering Expedia is still listed as the top travel booking website on most experts' lists. The brand continues charging forward with the ViewFinder blog, which explores travel trends and tips in the form of evergreen content while also taking on timely issues front-and-center.
An excellent example of the latter is Expedia's content regarding Black History Month, where they link to virtual events and resources while tying in travel by looking at destinations that are pertinent to the discussion. This type of timely and unique content is both engaging and highly sharable, and it definitely contributes to the blog's on-going, steady success.
#7 agoda.com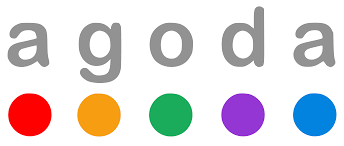 Agoda sees about 29 million visitors each month, although it's not a very well-known name. Many people may consider it "yet another" hotel and flight booking site, but it's actually a service that's been steadily growing since its founding in Thailand in 1998. The unique thing about Agoda is that they allow you to search hotels and homes, along with private stays (i.e., entire houses) and monthly stays using one website.
The Agoda blog has a simple layout, showing a long excerpt from the most recent post in a long, classic scrolling style. Beautiful photos catch the eye but, other than that, the content holds its own. From fuss-free family holiday advice to the best places to see winter lights, the blog explores a wide variety of topics while staying true to travelers' changing interests throughout the seasons and over time.
#8 Southwest.com

One of the most popular sites in air travel, Southwest sees about 25 million visitors each month. As an airline, Southwest spends a great deal of time advertising their fare deals and explaining the perks of their partnerships with hotel and rental car companies. However, the brand also spends time adding engaging content to the company blog.
From articles announcing themed challenges, like the Acts of Kindness Challenge, to promote user-generated content to brand-building content showing off the airlines' loyal customers and hard-working teams, Southwest is a leading example of personal, human marketing done right.
#9 American Airlines

American Airlines' website gets about 21 million visitors each month. Similar to Southwest, the airfare booking tool and links to the latest travel deals often take center stage. Still, the AA Newsroom routinely produces fresh content that shares the latest news about flying with AA and travel in general.
Impactful stories about the brand and how it's doing good are the stars of the Newsroom, like articles showing how AA partnered with the Red Cross to help those experiencing severe power outages due to winter storms. It's that type of content that helps AA build and sustain its brand and show off its values.
#10 Hotels.com
Around 21 million people a month go to the Hotels.com website to find and compare hotel deals. With an excellent rewards program where eligible stays help users earn free nights across hotel brands, many choose Hotels.com if they aren't loyal to a specific portfolio of hotels or resorts. Interestingly, though, Hotels.com doesn't maintain a blog.
Instead, you can read the "Go Guides," which Hotels.com maintains to help people explore the destinations they're considering visiting. Go Guides are static, eliminating new or timely content from the Hotels.com website. This is an interesting choice, and definitely something most smaller brands couldn't pull off. Of course, with the brand's advertising budget, it's a bit easier to achieve.
What Makes for a Great Travel Website?
From looking at these travel websites and their top-performing content, here are some takeaways to guide your own content strategy:
Offer value.

Whether you're just writing "Go Guides" to explore destinations or offering a fully-fledged guide, make sure that everything you publish offers real value. When possible, quote experts, locals, and seasoned travelers.

Keep it focused.

Travelers want information here and now about travel restrictions, luggage sizing, the best transport options, and so on. Get into your travelers' shoes and consider what they care most about.

Make it entertaining.

Whether traveling for business or pleasure, traveling should be fun! So, make sure you keep your content upbeat and entertaining, even in the face of delays or challenges.
Lastly, whenever you publish content for your brand, make sure you reinforce your brand values. Look to American Airlines and other big brands for inspiration on how you can constantly bring out your brand's values and connect with followers on a deeper level.
Need Content? Choose Scripted
Think that your travel website needs a boost? Scripted's team of travel writers can help. With engaging writing styles, vast traveling experience, and all kinds of tips and tricks to share, our travel writers can help bring your blog to life. Reach out to the team today to learn more about our self-service options or our fully-managed Cruise Control service.

---
Published by
Carolyn Heard
on Thursday, March 11, 2021
in
Content Marketing
,
Seo
,
Travel & Lifestyle
,
Agoda
,
Air Bn B
,
American Airlines
,
Booking.Com
,
Expedia
,
Hotels.Com
,
Southwest
,
Trip Advisor
,
Uber
,
Vrbo
.