The Must-See Speakers of Social Media Marketing World 2015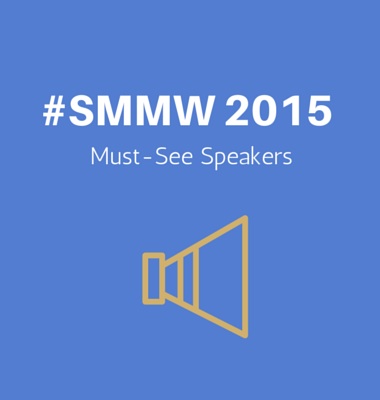 Headed to San Diego for Social Media Marketing World? Here's our list of sessions that you won't want to miss.
Marketers around the world are flocking to sunny San Diego this week to learn more about how to improve their social media efforts. This shouldn't be a difficult task given that the roster of talent is pretty incredible -- almost to the point of being overwhelming. To help you prioritize sessions to attend, we've assembled a short list of the must-see speakers at the conference.
Guy Kawasaki
Whether he's more known for turning down an offer to be CEO of Yahoo back in the early days, or for his well-known mantra-- "Never trust a social media expert who has fewer followers than you do" -- Guy is unquestionably a genuine star in the space. And regarding those follower counts, he certainly drinks his own champagne -- 1.45 million followers can't be wrong!
Building a Content Team? Download Our E-book
What he's speaking about: 10 Proven Ways to Pack a Punch with Visual Marketing
When: March 26 @ 11:30 am
Michael Stelzner
Michael founded Social Media Examiner, which is by just about all measures one of the most influential business sites out there. Winner of a seemingly endless parade of awards, the site has also made a vital name for itself as a publisher of studies and a promoter of conferences. Michael himself is understandably one of the most important - and most experienced - voices in the social media marketing space.
What he's speaking about: Social Media Marketing in 2015: What the Newest Research Reveals
When: March 26 @ 8:00 am
Peg Fitzpatrick
As co-author of "The Art of Social Media" with the aforementioned Guy Kawasaki, Peg Fitzpatrick is about as influential as it gets when it comes to understanding social media marketing. Whether independently as author and speaker, or via her roles at Canva and 12 Most, Peg is omnipresent in the best ways. She is also a champion of common sense, and exudes positivity at every turn.
What she's speaking about: How to Use Pinterest to Build a Loyal Following for your Brand
When: March 27 @ 11:45 am
Sue B. Zimmerman
Sue an expert when it comes to all aspects of social media marketing, but where she has really made her presence felt is as a proponent of Instagram for business. She is the author of the best-selling e-book "Instagram Basics for your Business," and the founder of the online Instagram course Insta-Results. If you're interested in genuine ROI and the power of visuals, Sue is an essential voice to hear on the subject of B2B social media marketing.
What she's speaking about: Instagram Marketing: How to Leverage Instant Photos for Massive Exposure
When: March 26 @ 11:30 am
Lee Odden
TopRank's Online Marketing Blog is one of the most popular and influential marketing blogs on the web, and that puts Top Rank's CEO, editor and publisher Lee Odden squarely at the center of the social media marketing universe. Lee is also the author of "Optimize: How to Attract and Engage More Customers by Integrating SEO, Social Media and Content Marketing," and a much sought-after public speaker in the space.
See also: Lee Odden on Defining High-Quality Content, The Future of SEO & More
What he's speaking about: Repurposing On Purpose: How to Create Personalized Content for Specific Target Audiences Without Breaking the Bank
When: March 27 @ 3:00 pm
Joe Pulizzi
As the founder of Content Marketing Institute, it can be said that Joe Pulizzi helped launch the content marketing movement. His book "Epic Content Marketing" was named one of the top five business books of 2013 by Fortune magazine, and the Content Marketing Institute produces what is now the largest content marketing event in the world: Content Marketing World.
See also: Content Marketing Advice from Joe Pulizzi [Interview]
What he's speaking about: How to Create a Content Marketing Strategy
When: March 26 @ 10:30 am
This is just a sampling of the talent offering at this event. Try to hear as many speakers as you can, of course, but if you have to make the hard choices, at least see the experts above. They're not called "must-see" for nothing. Check out the full schedule here.
Who do you want to see at #SMMW? Share your thoughts with us below.
Read More About Content Marketing:
Content Promotion Strategies: 4 Roads to Success What Social Media Visits Bring to Your Content Marketing Strategy Promoting Content on Social Media: How to Increase Your Shares [Interview]
Ready to put your content into overdrive?
Introducing Scripted Cruise Control: Content marketing strategy, content creation, account management, and analytics starting at $1499/mo.
Learn More

Ready to put your content into overdrive?
Introducing Scripted Cruise Control: Content marketing strategy, content creation, account management, and analytics starting at $1499/mo.
Learn More
Subscribe for the latest in Content Marketing & Freelance Writing!
Get Started
Try Scripted
Free

for a Month

Your first month is on us.