Your 2016 Guide to Producing Summer Content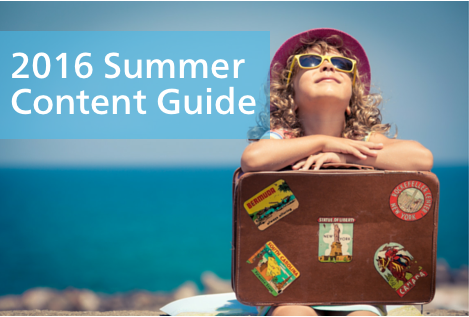 Take advantage of all the exciting events in the coming months to keep your summer content relevant and engaging for your readers.
Ah summertime. That wonderful time of year when the sun finally begins to shine through the clouds once again. From Los Angeles to New York, families and friends are gathering outdoors to take advantage of this amazing weather. However, as content marketers know, this time outside often leads to a significant
drop in traffic for our blogs
. So how do you keep your audience engaged during this time of year? Simple, by taking advantage of the few, but major, summer events that occur. We put together a list of notable upcoming events, along with some summer content suggestions around them.
See also:
5 Ways to Keep Your Blog Going This Summer
Ongoing - July 10: Euro Cup and Copa America (Until June 26)
A great way to make your content timely is by following current events. The European and American soccer championships have already grabbed readers' attention in several publications, but it's not too late to jump on these international event; games will be held until July 10. This is an opportunity to get
creative with your content
. Perhaps you can play with gamification or weigh in on how your respective industry has been participating in Euro Cup conversations through ads, content and more.
See also: 7 Steps to Creating a Comprehensive Blog Post
July 4: Independence Day
July 4th is always one of the biggest holidays of the year. This holiday celebrates the birth of the United States with fireworks, food and fun. As
a content marketer
, there's an infinite number of ways to take advantage of this holiday. The holiday is surrounded by broad themes of independence, individuality, patriotism, history and summer fun. You can promote content based on these themes or simply poll readers about what they're doing on that day.
June 27 - July 10: Wimbledon
Wimbledon is an annual tennis championship that is often a main topic of conversation in late June and early July. Similar to the Euro Cup and Copa America, use this as an opportunity to have fun with your content and come up with creative story ideas that have a tennis edge.
August 10: National S'mores Day
Nothing says summer like making s'mores by a bonfire. Celebrate this day by creating guides to some outside the box s'more ideas. This could include topics like interesting s'mores recipes, or infographics on the importance of a well balanced content strategy (just like a s'more!).
August 5-21: Summer Olympics in Rio
In case you haven't noticed this is a summer that is jam packed with athletic competitions, with the biggest of them all being the Summer Olympics happening in Rio in August. Marketers around the world will be devoting millions in ad spend to try and capture the attention on this global event. However, marketing for this event doesn't require a large budget, just a few creative content ideas. Try creating infographics or pieces which leverage national pride. These could comparisons of marketing brands to countries, or simply polling your readers to see who their olympic favorites are!
See also: Which Type of Content Creator are YOU? [Quiz]
September 5: Labor Day
Labor Day is the first Monday in September. It's meant to acknowledge the contributions that American workers have made in the labor movement towards workers' rights issues. Unfortunately, it's also seen as the end of summer. You can build content around both themes to help readers follow you into the fall season.
Summer may seem like a slow time of year for your business, but it doesn't have to be. If you organize content around all the summer holidays, you'll keep your readers coming back for more.
How are you planning your content this summer? Share your thoughts with us below.
Need help producing content for your blog this summer? Find your perfect writer on Scripted, and leave the writing to us.