8 Percent of Americans Get News on Twitter:
An estimated one in ten adults get their news from Twitter, according to a new report. Is your business tweeting at optimal hours to reach a valuable audience?
A new study published by
the Pew Research Center
today has been making headlines in the tech and business world. The report states that 8 percent of Americans consume news content that they come across on Twitter -- that's half of the 16 percent of Americans who are actually on Twitter. In comparison to its social media counterpart, the report says 30 percent of Americans consume news on Facebook. However, according to the report consumers on Twitter are "younger, more mobile and more educated." Another key difference is that 85 percent of Twitter news consumers are on mobile devices; only 64 percent of Facebook news consumers on a mobile device.
See also: How to Use Scripted's Scheduler for Twitter (Our awesome scheduler will pre-time and write tweets for you!)
An ongoing debate in social media marketing has evolved around one question: How often should a company tweet? According to a data report from
Sales Force Marketing Cloud,
77 percent of marketers say that Twitter is an important part of their social media strategy. Undoubtedly, this is because Twitter boasts 140 million active users who produce 340 million tweets everyday; making sure that your company has a successful presence in the "Twitterverse" requires more than crafting clever tweets. Marketing studies reveal that the science of Twitter success is determined by what you tweet, how you tweet, when you tweet, and how often you tweet -- so exactly how often is that?
The Big Picture
Before deciding how often to tweet, there are several things you have to get right to reach maximum impact on Twitter. Here are some pointers to help you get the best results on Twitter:
Know What Time to Tweet
When it comes to Twitter, most businesses tend to slack off on the weekend: wrong move. In general, engagement increases 17 percent on the weekend, according to the Sales Force study. For the entertainment and publishing industries, weekend engagement increases by 23 and 29 percent respectively. In addition, tweets that are posted during business hours are most effective. Engagement is highest from 8 AM to 7PM.
Here at Scripted, we took a look at our own Twitter stats and it's pretty in sync with what the study shows.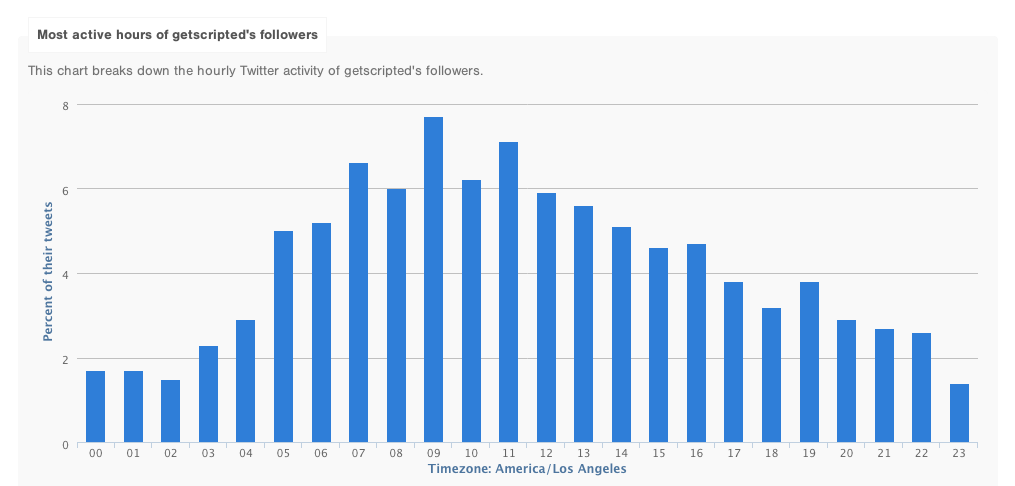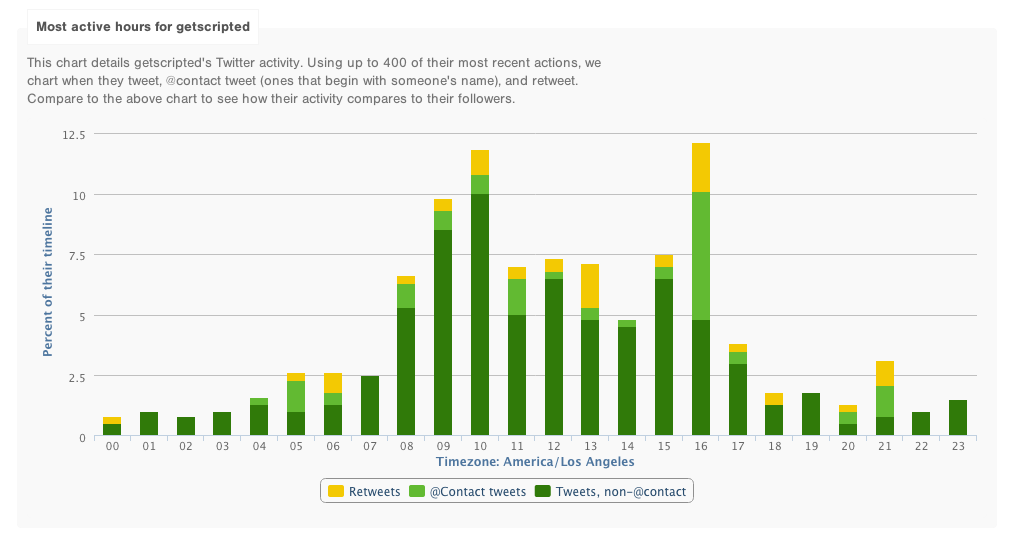 Quality Determines Engagement
Not all tweets are created equal. How tweets are structured influences engagement. The factors that determine how far your tweets go depend upon several parameters: length, links, hashtags, request for retweets, and pictures. Here's how these factors influence tweet engagement:


Length: The ideal tweet has 100 characters. In the world of the new haiku, 140 characters is too chatty.


Links: Are essential to maximize engagement. Tweets with links have a retweet rate that is 86 percent higher that those without.


Hashtags (#): Make it easier for users to find specific conversation strings. They also signify what topics are trending on Twitter. Tweets with hashtags are two times more likely to spark engagement. Dont overdo it, though. Engagement falls off when you use more than two.


Retweets: A request for a retweet or "RT" increases the changes of being retweeted. Using the word "retweet" is more effective that the abbreviation, RT.


Images: Tweets with pictures are two times more likely to result in engagement.


Success Stories
According to
Forbes
, some of the most successful brands on Twitter are: NASA, Walt Disney, and MTV. NASA used a very creative Twitter strategy when it targeted Justin Bieber's female fans who might be interested in STEM (science, technology, engineering, and math).
How Much Is Too Much?
So, after you've adjusted the length, added a link and hashtags, attached a picture, asked for a retweet and are poised for when and what time to tweet, you might be wondering how often you should release your well-honed missives. Opinions vary for how often you should tweet.
New Media Force
recommends two per hour for peak hours, and one per hour for non-peak hours. Sales Force Marketing Cloud is less generous. Their study says that the window for the optimal number of daily tweets is actually quite narrow. If you tweet more than four times per day, your tweets will become less engaging. It seems the Twitterverse might have a point of diminishing returns. Between the two extremes there is a lot of room for experimentation. The best token of advice is to establish your best days and times, and find the number that is best for your company and your audience.
[poll id="6"]
To Read More About Content Marketing & Social Media, Click the Links Below:
How Small Businesses Can Use LinkedIn's Publishing Platform
How to Make Sure Your Content's Quality is Suitable for Google News
How to Use Twitter for Customer Service
Powered by
Scripted.com