5 Ways to Keep Your Blog Going this Summer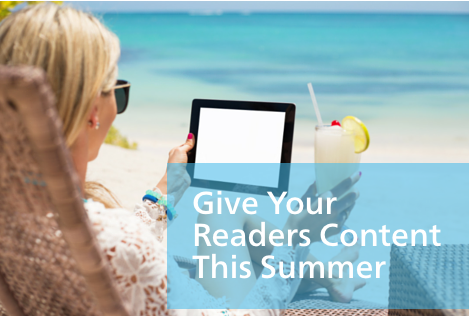 For marketers, summer is a time when all of our hard blogging work washes away as web traffic dips, but it doesn't have to be that way -- learn how to continue to engage your readers' while they hit the beach during these hot months.
Marketers have long understood the
seasonality behind summer traffic dips
. Many of your readers will be going on vacation or simply reading a book in the summer sun. While you may not be able to keep all of your readers coming back this summer, there are a few ways to ensure you don't lose all the progress you've made during the year.
See also: Your 2016 Guide to Creating Summer Content
1. Optimize Content for Mobile
While your audience may leave their laptops behind when they head outside, many will still take a cell phone or tablet with them. By understanding how your content will be read this summer, you can ensure readers who do come to your blog will not have issues viewing your content. There are a few best practices you can follow to make your content mobile-friendly, for example: including high-res images, making your articles scannable through subheads and
including podcasts
in your
editorial calendar
.
See also: Make Your Content Responsive Now
2. Keep to a Consistent Publishing Schedule
It's vital to
your marketing campaign
that you maintain your editorial calendar during the summer and don't disappoint the readers that still visit - indeed, these are often your best customers. Stay consistent by adhering to a regular publishing schedule which readers can expect to come back to on a daily basis (even on Summer Fridays!).
3. Offer Discounts for Travelers
The following months are an ideal time to promote ongoing summer deals and features. If it makes sense for your business, you can tailor these specifically to vacationing and other summer activities as well. This keeps readers visiting before and during their trip, in addition to fostering new co-marketing relationships.
4. Focus Content on Summer-Related Issues
Shift your focus to
themes surrounding summer
. These could entail anything from entertaining the kids during break to preparing for emergencies that may arise from the summer swelter. Think about what problems your customers are likely to experience
because
it's summer and write content with solutions around those issues.
5. Engage Your Newcomers
Finally, one of the best ways to keep
your audience engaged
is to listen to what they want. Focus some of your energy during the summer on acquiring new followers, subscribers and listening to what they're saying on social media and in the comments section. Additionally, you can write new content around what these newcomers want to read and are interested in learning about.
Summer is a challenging time because both content managers and customers slip into vacation mode. However, if you pay attention these types of factors, you can make the summer months an opportunity to improve the quality of your content and build your audience.
How do you keep readers engaged during the summer? Share your thoughts with us below.
Need help creating content this summer? Find the perfect writer for your need on Scripted today, and leave the writing to us.